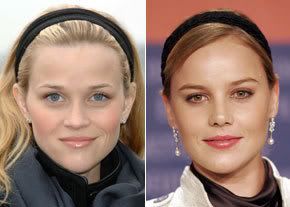 Unlike Kate Hudson, who still hasn't filed for divorce despite announcing her separation three months ago, Reese Witherspoon has not wasted any time making her split from Ryan Phillippe official, and has filed divorce papers citing "irreconcilable differences."
Reese checked the box terminating Ryan's right to spousal support, and has written in that she requests "Exclusive use of the family residence," meaning Ryan has to get out of their mansion, or has already done so. She is seeking primary physical custody of their two children, Deacon, 3, and Ava, 7, but plans to grant visitation rights to Ryan.
Meanwhile Reese was spotted at a cafe in Austin, Texas – less than a mile and a half away from the Asian restaurant where her husband was busted making out with his costar Abbie Cornish a month ago. (I actually looked this up and would call it an exclusive, but it wasn't that brilliant of a connection.)
Academy Award winner Reese Witherspoon dined Tuesday night at Austin Java Co. on Barton Springs Road with an unidentified man and dog.
Witherspoon, wearing a lavender and black jumpsuit, sat on the front porch of the popular South Austin restaurant and ate half of a chicken sandwich.
She seemed to go unnoticed by diners, but smiled at a couple of folks who recognized her as she walked out.
What was Reese doing in Austin? Ryan and Abby Cornish are said to have cheated after hooking up on the set of their movie "Stop Loss," which was filming there. A half-assed Google search yielded no connection between Reese and Austin, and she grew up in the city of Nashville. It's possible that Reese had a business meeting there, but it seems more likely to me – and much more salacious to report – that she was trying to get to the bottom of her husband's cheating. Who was the guy she was having lunch with? Was he an on-set spy? An industry insider giving Reese the dirt?
Reese is due to start filming the thriller "Rendition," but filming is said to be taking place in LA, Washington DC, Morocco and Cape Town. Austin is not on the list.
Phillippe never denied that he cheated on Reese, and gave a statement to People that "I'm not a perfect person, but I'm not guilty of a lot of the things I have been accused of. My priority is and always has been the health and safety of my family."
Us Weekly points out how much Ryan's new maybe-girlfriend looks like Reese (composite image above), and cites a relationship expert who claims that men look for another version of their wife who is more appreciative of them and easily dominated.