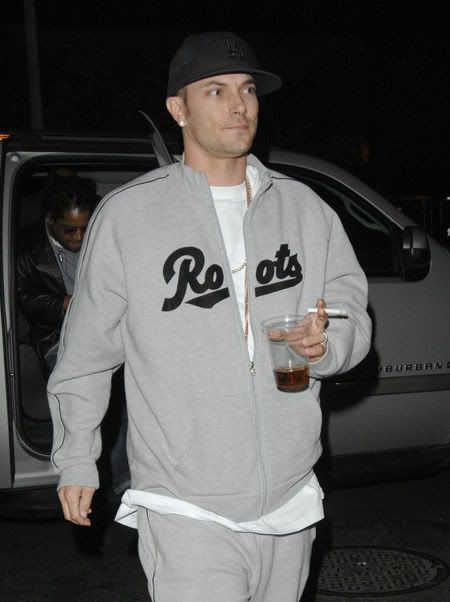 Everyone is saying that K-Fed didn't know the divorce was coming since he went on and on about how he was in a partnership with Britney, and was captured on videotape receiving the divorce news via text message.
I wonder if he'll ever regret bragging about how much he loves tacky bling and luxury cars? He told Salon magazine that he still feels "poor" despite a "fetish" for items that could feed entire African villages for a year.
He also said that his relationship with his wife is worth way more than all the material goods he covets and accumulates. Let's see how he really feels about that when he's trying to get a chunk of her money:
The watch you're wearing is worth more money than I've made in the last five years.

That's my baby. Whenever I made some money that's the first thing I went and bought.

So there are certain aspects of the lifestyle you probably enjoy.

Of course, of course. I have my fetishes like everybody else does. My shoes — my kick game is ridiculous.

How many shoes do you have?

Probably like 80 to 100 pairs. My watch game is ridiculous — just jewelry in general. It's an investment. I bought this [points to his watch], and it's already gone up in value. All the jewelry I'm wearing has already gone up in value.

You're not planning on selling it anytime soon are you?

Hell no. I ain't getting rid of it. I'm going to go out and get some more. It's great to be able to go and do that stuff, but you really sit back and think about it … You could have all the money in the world and within two months of having that … Say you hit the lotto, right? Two months of having that money, you go and buy a mansion, you buy a big-ass boat, you travel all around the world, you do everything in two months. That's not gonna buy you happiness. That's not gonna define who I am. It only goes so far. There's something way beyond that that's deep that I have with my wife that nobody will ever understand…

What's the last book you read?
o
Last book I read was either — man, somebody just asked me this shit today — it was either Russell Simmons' or Puffy's book. I'm really studying people who have been in this business and people who have really made themselves into a business from nothing because basically that's … you see the watch and you see the jewelry and even though, yeah, I do have money, in a sense, I act like I really don't. Right now the way I look at it is that I'm broke and I'm struggling to get this shit off.
He also claimed that he's rapping because he loves to, and not because he needs the money. Most incredibly, though, he claims that his terrible rap-like music would have been super popular if he never hooked up with Britney! "If people didn't know who I was, a couple of the records that I've thrown out would've probably blown up huge by now. It would've just come out of nowhere — people wouldn't know what to expect."