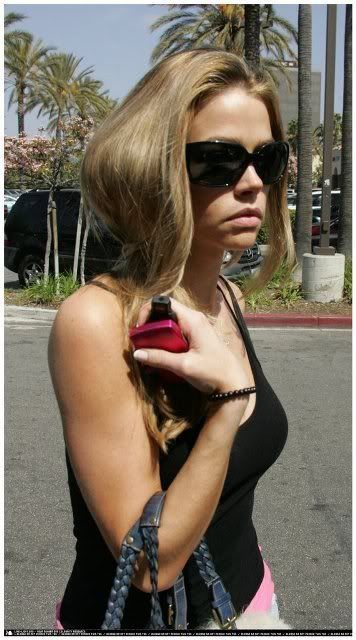 Denise Richards got in a heated argument with a photographer at a hotel near where she is shooting her new movie, "Blonde and Blonder," with Pamela Anderson in Vancouver, British Columbia. She stormed up to his hotel room and ended up having a hissy fit and throwing his laptop off the balcony. People reports that an 80 year-old woman in a wheelchair was passing by on the ground floor at the time and got hit in the arm with the falling computer. She is said to have suffered only minor injuries and to have been treated at the scene.
Lainey's gossip reports that she spoke to the photographer and that two women were injured, including a 91 year-old, but People says that it was just the one:
The River Rock Casino where Denise and Pam are shooting Blonde and Blonder – huge drama, a small village of witnesses, police are on site RIGHT NOW (6:30pm PST)!!!

A couple of photographers are taking photos from a balcony overlooking the concourse where Denise was getting ready for her scene. She sees them, she storms up the stairs, a heated exchange ensues, she's overheard cussing at them, an eye and ear witness tells me he heard the word "cocksucker", they're cussing back at her… and then!

And then!

She grabs one of their laptops and THROWS IT OVER THE BALCONY!!!

The laptop goes flying and it HITS AN OLDER LADY IN THE ARM!!!

This was observed by everyone on the set not to mention many, many casino patrons…

I was the only one to speak to the photographer involved in the incident tonight. Rik Fedyck is a freelance photographer in Vancouver.

He confirmed to me and to CTV news exclusively that Denise Richards stormed up the stairs at the River Rock Casino and Resort on Wednesday late afternoon and after a heated exchange, grabbed his laptop and threw it off the balcony.

He also told me that two elderly women were struck. According to Rik, one of the women was 91 years old.
Yep. I can see getting annoyed at some photographers, but throwing a laptop off a balcony? That just goes to show what kind of temper she has.
Richie Sambora has recently said that he wants to start a family with Denise Richards and that he wants more children. The two neighbors started a rebound relationship after breaking up with their respective partners this spring. I wonder if this latest incident will make him rethink his plans?
Look at how nasty Denise looks in these candids taken on set on 11/4. You could see how she would go off like that.
Update Photos removed at request of photographer, who may have had his laptop destroyed for these pictures, but that's speculation on my part.