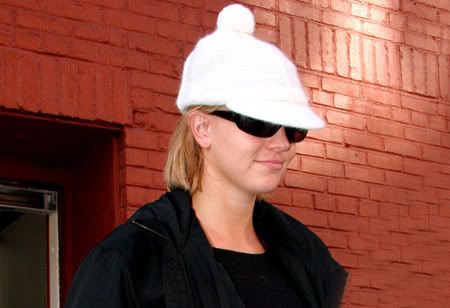 There's all sorts of Britney news today. I was going to break it up into several stories, but I'll just give the highlights here.
Britney was crying after being stood up by Kevin at dinner. She was wearing a Vegas-worthy red dress and fishnets while waiting in vain for her husband to show up at the restaurant. That may have been the straw that broke Britney's back, OR
Britney might have asked the front desk for a key to the room Kevin was staying in at a separate hotel. She may have busted in and seen chicks in bed with Kevin, prompting her to file for divorce.

Whatever the reason, Britney knew what she was doing. She timed her prenup exactly 25 months after she was married to Kevin so that she wouldn't have to pay him for three years of marriage instead of two.

And Britney's first public wedding to K-Fed in September, 2004 was an elaborate fake affair, complete with legal documents to keep it non-binding. It seems they didn't have the details of their prenup worked out and staged a ceremony for family and friends, knowing it was not a real wedding. Just like Anna Nicole. They were not actually married until October 6, 2004.

Britney's comeback is in full force. She was seen outside the Sony Music Studios in New York a day after the news of her divorce came out.

And amidst all this furor over Britney's divorce everyone seems to forget that little Jayden James has been more elusive than baby Suri. No one has seen the nearly two month-old yet and there are only far-away blurry pictures. You think Britney would shop the pictures around to the highest bidder, but Jossip reports that she's willing to give them away free for a flattering non-gossip rag magazine cover and a sympathetic article. K-Fed would reap some of the profit if the pics were sold, so she's said to be digging the screws in a little harder by giving the coveted photos of their newborn away.

Thanks to DListed and Splash News for these pictures of Britney. The makeover was short lived. I could do my makeup better than that if all I had to work with was Wet 'N Wild.