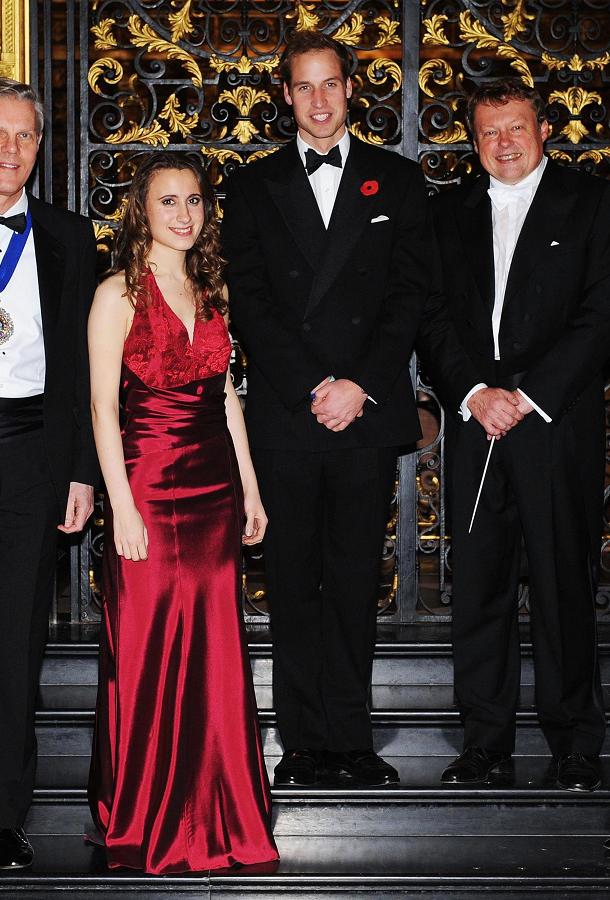 Prince William at a different charity event on Wednesday night.
One very lucky British woman got to picture Prince William naked recently –with his permission! The prince was at a benefit for a London homeless charity last night when a very nervous fan approached him. She stammers when she's nervous, and to calm her down the prince used the old, "Just picture them naked" line – about himself.
"Think of me naked." That was Prince William's bold suggestion to one female fan in London Thursday night.

But girlfriend Kate Middleton has nothing to worry about. The 26-year-old prince was simply trying to help calm a nervous young woman at an event for the Centrepoint charity.

"I have a stammer," 18-year-old Jasmine Edwards told reporters after their exchange. "He helped me by moving me away from everyone. He was down to earth and I really liked talking to him and hope I can meet him again."

So what was her response to the prince's invitation? "I thought of him naked!" Edwards replied with a laugh.
[From People]
Lucky girl. It's funny that suggesting a person imagine someone else naked to calm their nerves sounds fine, but suggesting a person imagine you naked to calm their nerves sounds a little more questionable. Although for the life of me I have never understood how any version of visualizing people naked is supposed to relax a tense person.
The exchange took place at a benefit for Centrepoint, a charity Princess Diana was involved with. Prince William now supports it, and made a few funny quips.
William was on hand to mark the 40th anniversary of Centrepoint, an anti-homelessness charity that was close to his late mother's heart. (The prince became its patron in 2005.)

"I feel very close links to Centrepoint. It's a charity with which both my mother and father became passionately involved," William said last night.

He also recalled visiting a homeless shelter for the first time with Princess Diana. "I was much younger, better looking and more naive back then," he quipped.
[From People]
He's still pretty good looking. He's grown to look a bit more like his father, but he's certainly still a very handsome man. And I'm guessing that nervous young lady probably agrees.
Here's Prince William, who is the patron of the Lord Mayor's Appeal, posing at St. Paul's Cathedral in London on Wednesday at a concert supporting Wellbeing of Women. Header of Prince William chatting with solo violonist Jennifer Pike. Images thanks to WENN.