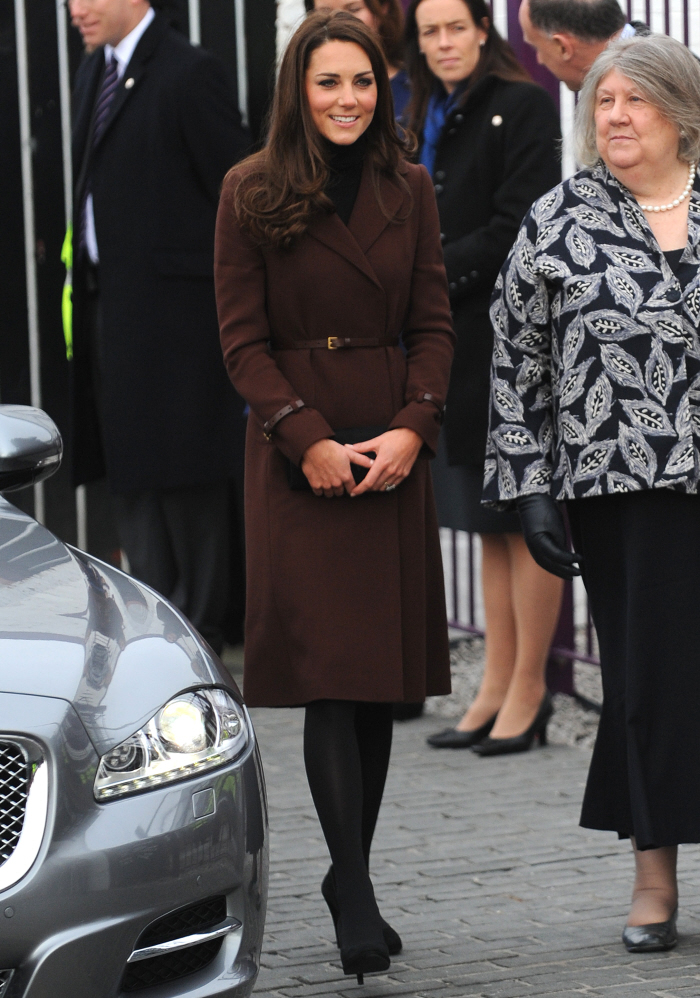 Here are some photos of Kate, the Duchess of Cambridge, doing her second solo event. And by "solo" I mean "without William but with extensive staff surrounding her." William is still in the Falklands, so poor, depressed Kate has no choice but to do some charity work. Last week, Kate went to a preview event of a Lucian Freud exhibit at the National Portrait Gallery, where she is a patroness. Today she made an appearance in Liverpool at The Brink Bar, "Liverpool's first non-alcoholic bar." The bar is run by Action on Addiction, another one of Kate's new charities.
As for the fashion, it seems like Kate is wearing all-black underneath a rich, chocolate coat. Black turtleneck, black skirt, black tights and black shoes, all underneath a discounted wool crepe brown belted coat from Hobbs. The coat originally retailed for something like $550, but it's believed that Kate bought it half-off. Because she's always shopping, and she likes a good deal. Here's more about the Liverpool events:
With William thousands of miles away in the Falkland Islands, Kate would have been forgiven for spending this Valentine's Day cuddled up at home with her new cocker spaniel for company. Instead, the glamorous Duchess of Cambridge donned a £369 belted coat from high street store Hobbs and proved her mettle as a working royal with a solo tour of a host of Liverpool's charities.

Crowds lining the streets cheered and waved flags, while eight-year-old Jaqson Johnston-Lynch practised the speech he plans to give to Kate when he hands her a Valentine's Day cupcake and flowers later today.

Her first stop was The Brink, an alcohol-free bar set up for recovering addicts that is run by Action on Addiction charity, for which Kate is a patron. The organisation helps addicts recover from drink and drug dependency. Looking relaxed, Kate shook hands with staff and met community leaders as the bar's resident choir – made up of recovering addicts called the Raucous Caucus Recovery Chorus – serenaded her with a traditional native American Indian song titled Wings Of A Dove.

Michael Edwards, 32, from Kensington, Liverpool, and a member of the choir, said: 'It's a song about hope and happiness.

'I got involved in the choir because I'm in recovery from drugs and alcohol. Doing this, it's built my confidence, it's risen up. I didn't have any before. It's a bit scary with a royal audience but this is what the choir has done for me, to give me the confidence to sing in front of people. Everybody has been excited here for weeks because of the royal visit, that something this good is happening here.'

During the visit, Kate was given a Valentine's Day gift by eight-year-old Jaqson Johnston-Lynch, who presented the Duchess with a bouquet of red roses, a cupcake and a Valentine's Day card. Speaking shortly before Kate's arrival, he said: 'I have wrote in the card 'Dear Kate, Happy Valentine's Day, I love you, from Jaqson'. I'm also giving her some flowers, red roses, and little cupcake.'

Jaqson, who attends St Vincent de Paul School in Liverpool, said he had a little speech prepared.

'I'm going to say 'Happy Valentine's Day, your Royal Highness. I'm sorry Prince William can't be here'.'

Later today, her Valentine's Day visit will take her to the Alder Hey Children's hospital where she is set to meet the six-year-old victim of a rare heart condition. The hospital is the busiest children's hospital in the UK, providing care for more than 200,000 children each year.
[From The Mail]
That Mail article has a lot more information about various people that Kate will be meeting on her Liverpool trip. I don't know if this is a multi-day trip, or if Kate is simply packing a ton of activities into one day, and then going home to London tonight.
Kate also told little Jaqson that William sent her a card and flowers for Valentine's Day. What, no jewelry?!?! Isn't that the whole reason to marry a prince – to get the jewelry?
PS… the eyeliner is still a big problem, right? If anything, I think she's wearing MORE makeup than usual.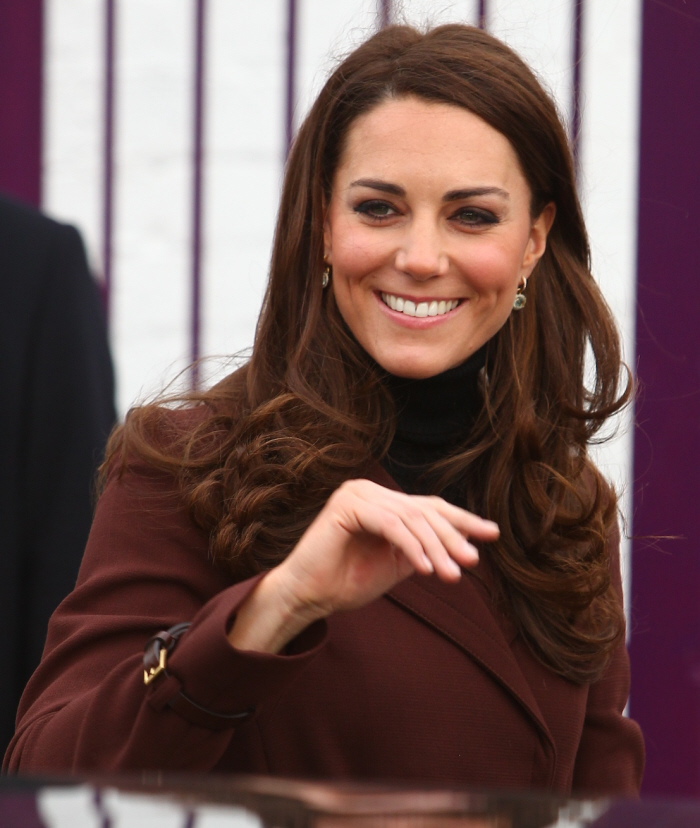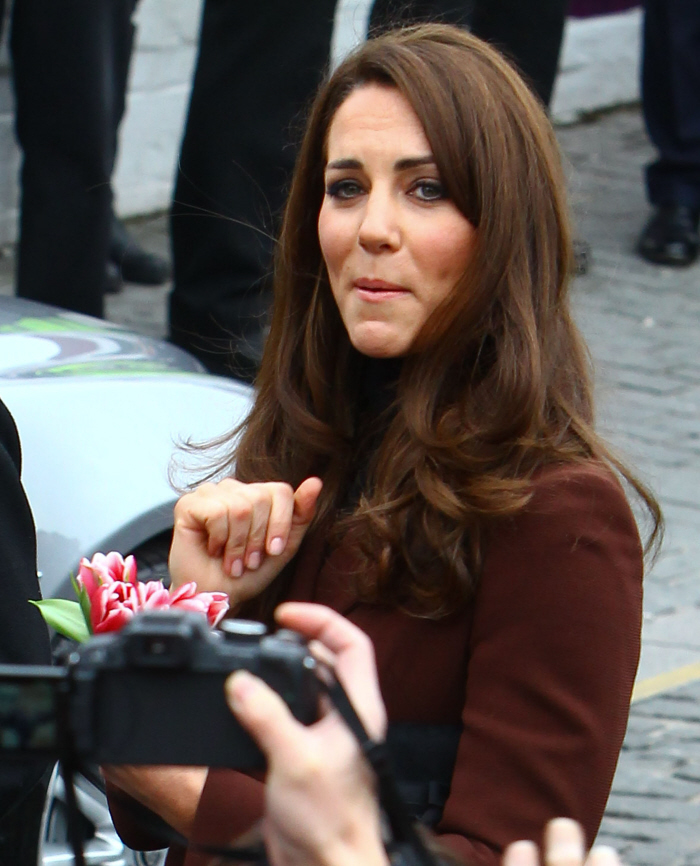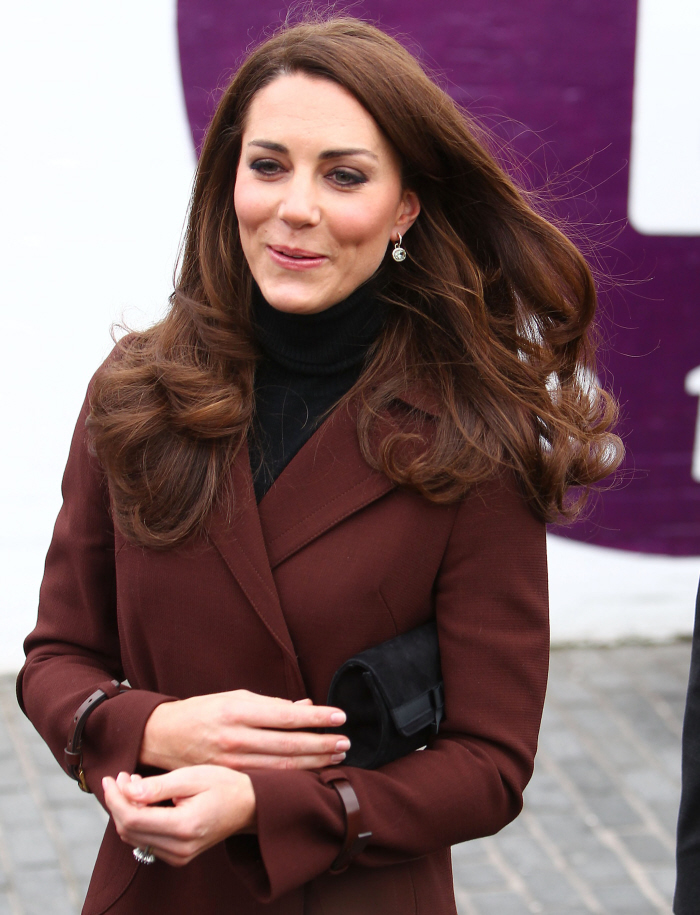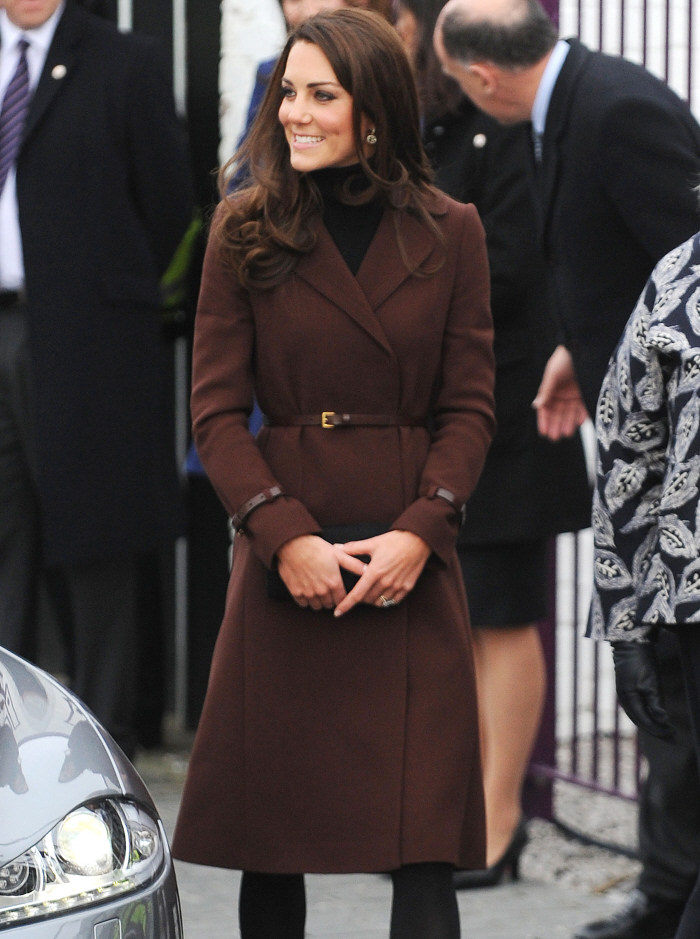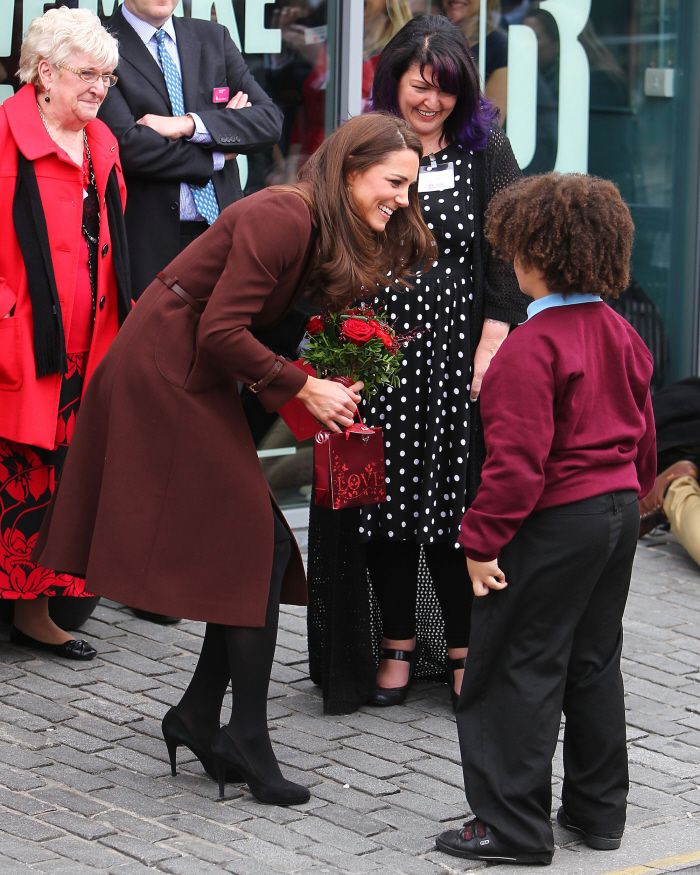 Photos courtesy of WENN.