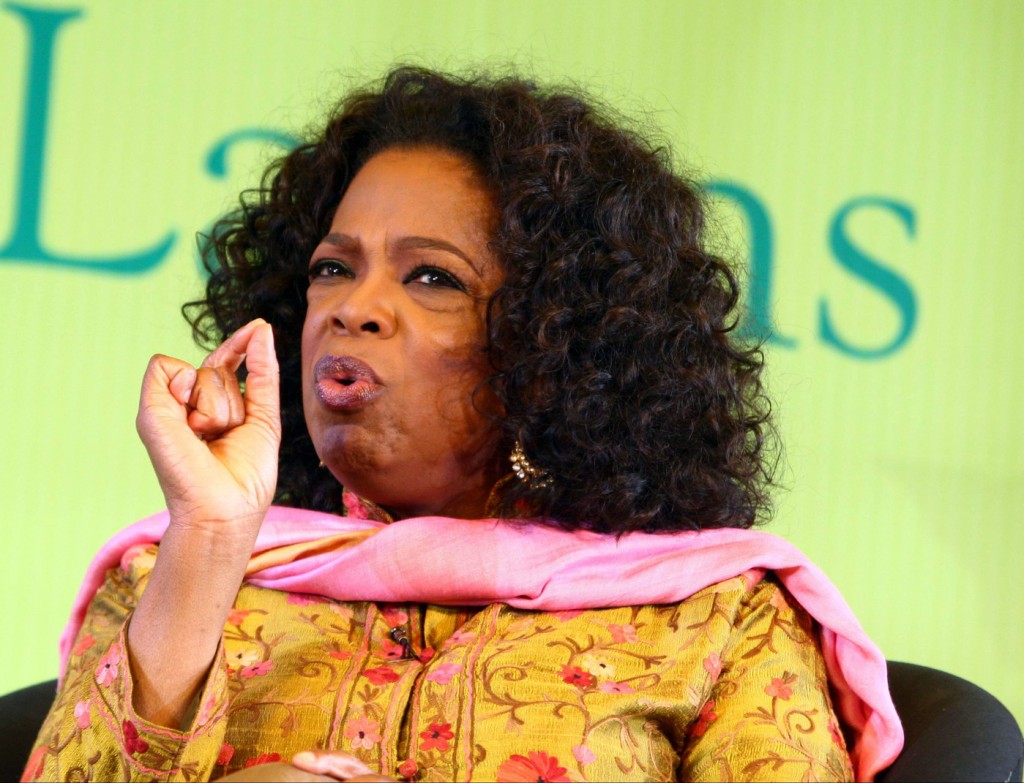 I don't know how much interest there will be in this story, but I like talking about Oprah and wanted to cover it. As you probably know, Oprah's new OWN network is really tanking in the ratings. Everyone thought Oprah could pull it off because she's Oprah but not many people are watching OWN. Oprah launched a new talkshow last month in which she interviews celebrities, similar to what she was doing on her syndicated show, and it did boost ratings comparatively, but she's still struggling to make her network a success.
I get that channel, and I tried for about 20 minutes to watch two different episodes of the Shania Twain "reality show." It was mind-numbingly boring and featured Shania talking at length about how she was putting the pieces back together and challenging herself to grow after she got cheated on and split with her husband. Shania's story has all the elements of a fascinating one: her husband shacked up with the secretary who also happened to be her best friend, and the secretary's hot husband clued her in on it. Shania subsequently busted her husband and then married the secretary's husband, who was a definite trade-up, looks wise. She also trashed the other woman publicly. Still, the Oprah special on Shania made it seem really dull and repetitive all about self actualization.
Oprah has expressed her disdain at the Real Housewives shows, but her people are struggling to produce programs that are consistently interesting. Granted the RH shows take it way too far, but Oprah just seems unable to sensationalize beyond pushing her self actualization line. Her vision is a network through which we better ourselves, but a constant diet of that is boring, and her viewership is reflecting that.
Anyway Oprah needs to make "Oprah's Next Chapter" (close the book) popular and she seems a little desperate to promote it. She tweeted that Nielsen watchers should tune in so that her ratings would improve. Then she realized she shouldn't have written that and apologized, sort-of:
Oprah Winfrey found herself embroiled in a Twitter furore and offered an apology Monday after she took to the microblogging site a day earlier urging her fans — especially Nielsen households — to watch her struggling cable channel OWN instead of the Grammy Awards.

"Every 1 who can please turn to OWN especially if u have a Nielsen box," the former talk show host tweeted to more than nine million followers Sunday, just before her new interview show "Oprah's Next Chapter" started, Entertainment Weekly reported.

While some tweeted their thanks to Winfrey for the reminder, the overwhelming response was negative, with readers criticizing Oprah for "begging for viewers" and being "desperate."

A defiant Winfrey defended herself, writing in a series of tweets, "The word 'please' is used as courtesy not a beg … 'desperate' not ever a part of my vocab … 'unethical' a little harsh don't u think? Seemed like it made sense to me. Sorry if u're offended."

However, on Monday morning, Winfrey issued a statement saying, "I removed the tweet at the request of Nielsen. I intended no harm and apologize for the reference."

According to the New York Times, the apology came after Nielsen and OWN executives corresponded Monday morning.

Nielsen measures TV viewership by a sample of about 25,000 households across the country. Networks are not allowed to appeal to Nielsen viewers directly or attempt to influence their viewing habits.
"It is Nielsen's policy to note attempts to single out panel members to either change their viewing habits or otherwise influence or affect their reporting," Nielsen spokesman, Matt Anchin, said in an email.

The company said that it would attach an asterisk to OWN's ratings at the time of Winfrey's tweet, with a note stating that the figures may have been the result of a "possible biasing effect."
Ironically, Winfrey was among the 39.9 million people who watched the Grammys on Sunday night.

The Times, citing Winfrey's executive producer, Sheri Salata, said that the Atlanta hotel the pair were staying in did not carry OWN, and five minutes after the Nielsen tweet, during a Grammys commercial break, Winfrey wrote, "Grammy people..u can turn to OWN."
[From MY Fox DC]
When even Oprah gets into trouble on Twitter, you know that it's not a good idea for celebrities to tweet unsupervised and unedited. Whatever meager ratings Oprah's show got on Sunday will be tainted by her tweet, but according to Oprah she's not "desperate" and it wasn't "unethical" to ask Nielsen people to tune in.
I used to like Oprah, but I think she got too far up her own butt and lost touch with what is popular and interesting. I like when Oprah helps people with their lives, but she's like medicine: best taken in small doses.
Oprah will air a special on Whitney Houston on Thursday. Oprah scored the first interview with Whitney during her alleged sobriety and brief comeback in 2009. At that time Whitney admitted to smoking crack and marijunana during her marriage to Bobby Brown and said "I wasn't getting high by myself. It was me and him together. We were partners." The special on Whitney could be interesting.
Oprah will also air a two hour Oscar special on Wednesday featuring Octavia Spencer, Viola Davis and Jonah Hill.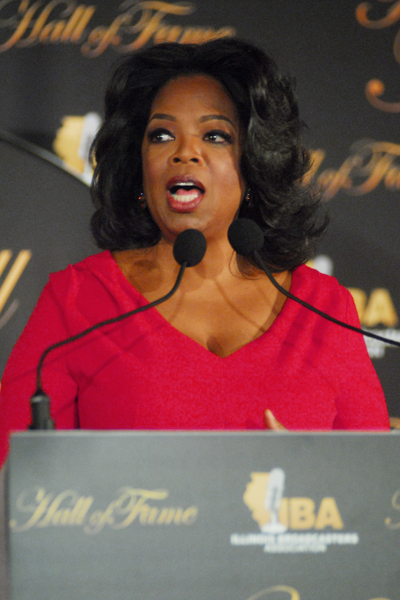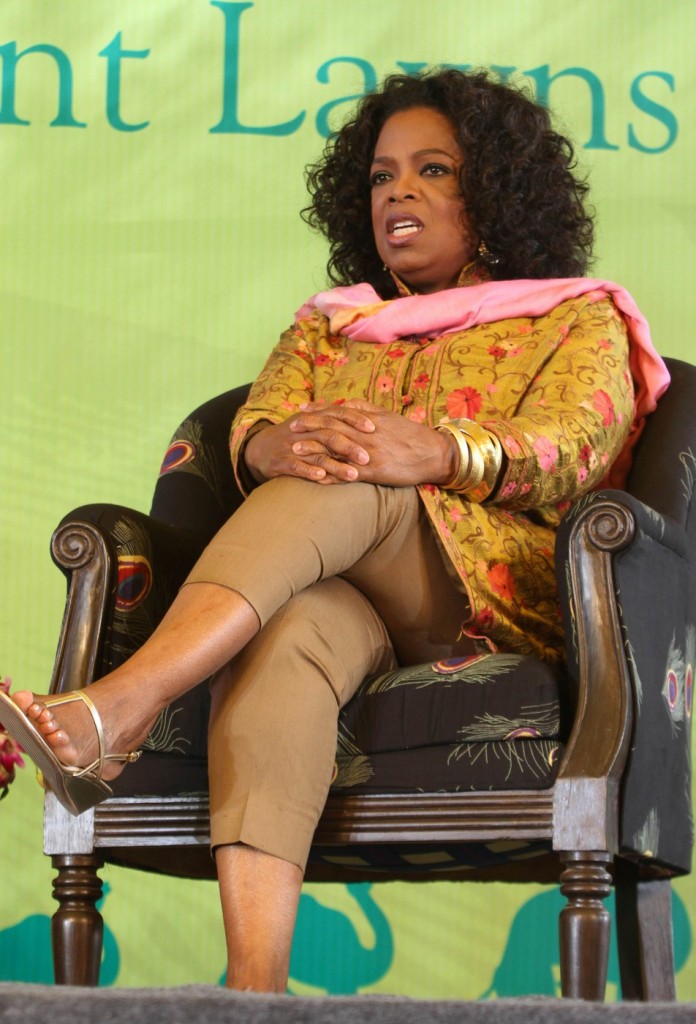 Oprah is shown at the Jaipur Literature Festival in India on 1-22-12. Credit: Solarpix, PacificCoastNews.com. She's also shown on 5-3-11 at the Illinois Broadcasters Hall of Fame Induction Ceremony. Credit: Daniel Locke / PR Photos