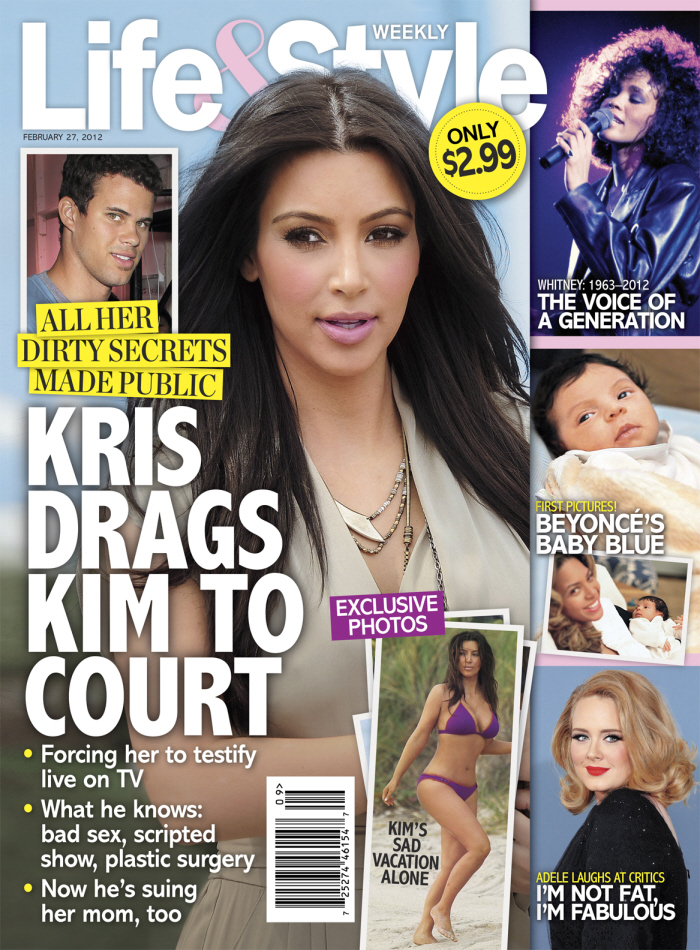 You might find this Life & Style cover story boring, but it actually amused me. I think it was Todd at IDLYITW who pointed this out first – that Kris Humphries' current legal strategy is "trying to annul the marriage so the prenup isn't a factor, then taking all of the Kardashian money." You may cheer Kris Humphries on for that, but please remember this – Kris Humphries is a d-bag, and when asked anything about anything, he just stutters, "Basketball… um, er… basketball… um… basketball." Go ahead and hate on Kim Kardashian too… but don't do it at the expensive of hating on Humphries. They're BOTH d-bags. Does it make a difference if Kris Humphries seems to have the better team of lawyers, though? Because it sounds like he does. And it sounds like he's about to legally destroy Kim.
There's soon to be more drama on the way for Kim Kardashian! Life & Style has learned that Kris Humphries is moving forward with his plans to take Kim to court, and he's bringing the family with her.

The new issue of Life & Style, on newsstands now, reveals that New Jersey Nets forward Kris has petitioned to have his Minnesota-licensed attorney practice in California. To Kim's dismay, any nondisclosure agreements he signed associated with their prenup or Kourtney & Kim Take New York would be void in court.

"When you're requested to answer under oath," notes an insider close to Kris, "it's a legal obligation. If he's asked certain questions, he'll be compelled to answer."

Not only does Kris want Kim to admit that she knew she would divorce him after just 72 days, but he also wants to reveal intimate details about their non-existent sex life!

"Kim's freaking out," a source tells Life & Style. "All of her dirty laundry will be aired and there is a lot to air. Kim is a calculating person who does things to benefit her wallet. That's her top priority! Everything will come out in court — even their sex life."

Another source adds that Kim and Kris stopped having sex after they were married on Aug. 22 in the lavish Montecito, Calif., ceremony: "Almost immediately after the wedding, they stopped having sex."

And as if watching her daughter go through turmoil weren't bad enough, Kris Jenner is now at the center of her own courtroom drama. Life & Style has learned exclusively that Kris is filing suit against his former mother-in-law, citing breach of fiduciary duty.

He thinks that the momager gave special treatment to Kim when she was supposed to be brokering deals for them as a couple, according to an insider. "When you have two clients, they're supposed to be treated equally," notes the insider. "It was a conflict of interest."

"We're going to let litigation take its course," his attorney, Lee Hutton, exclusively tells Life & Style. "We plan to fully pursue all legal options."

But Kris reportedly has big plans to air Kim's dirty laundry. He wants to prove the show Kourtney & Kim Take New York was scripted and that Kim used Kris to make money.

"Kim has no interest in dragging out the divorce," a source adds. "Or having it play out on TV. Believe it or not, she's a private person. She feels like she's trapped in a nightmare that just won't end"
[From Hollywood Life & Life & Style]
I think the weakest legal argument is that "Kris Humphries was too dumb to get his own lawyers and managers, and that's why you should give him money." But put that argument with everything else… and I think Kris is getting a large chunk of change from the Kardashian coffers. My guess is that Kim doesn't want to see this litigation all the way through – she'll offer Humphries a large settlement and a non-disclosure agreement. We'll see if he takes it.
Oh, and they never had sex once they were married? LOL, do you believe that?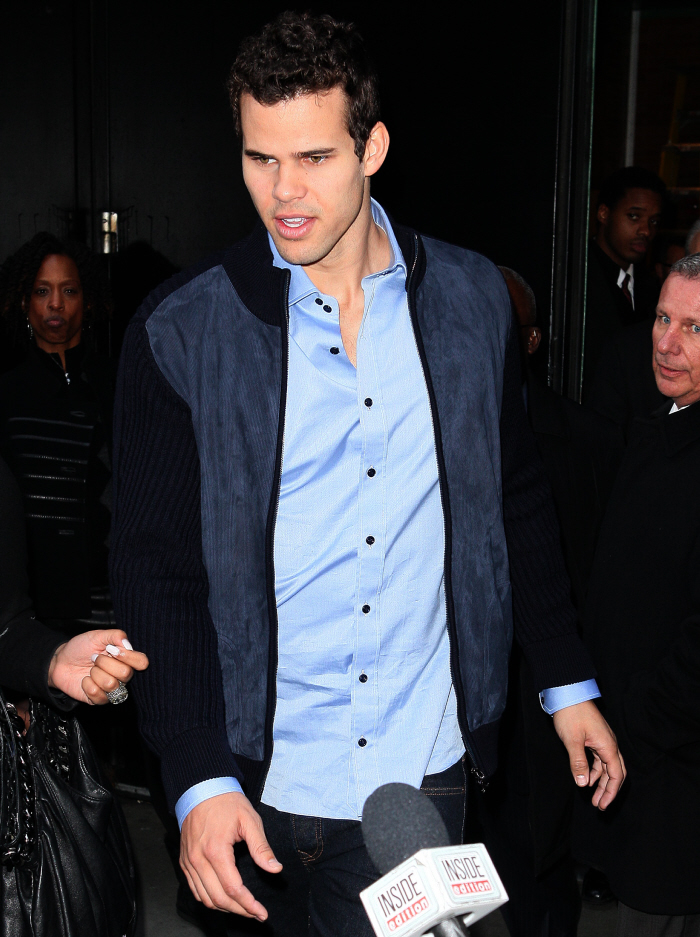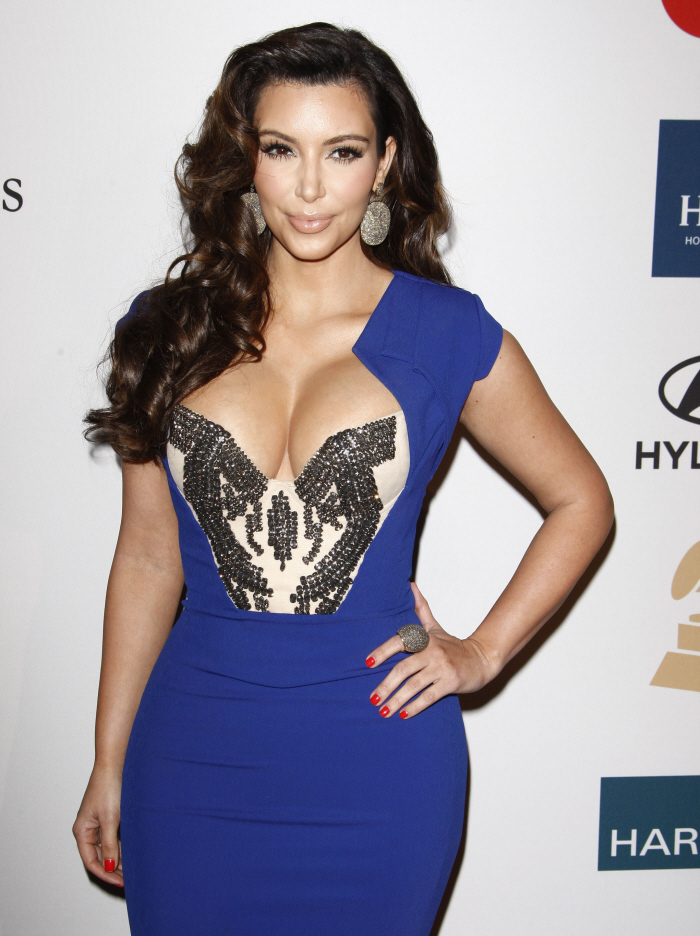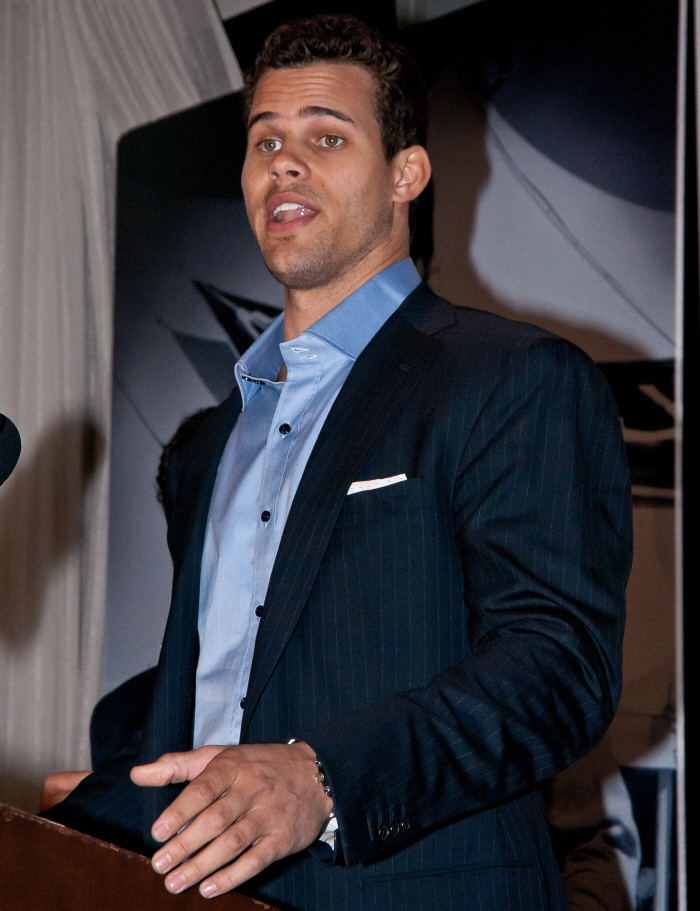 Photos courtesy of WENN.