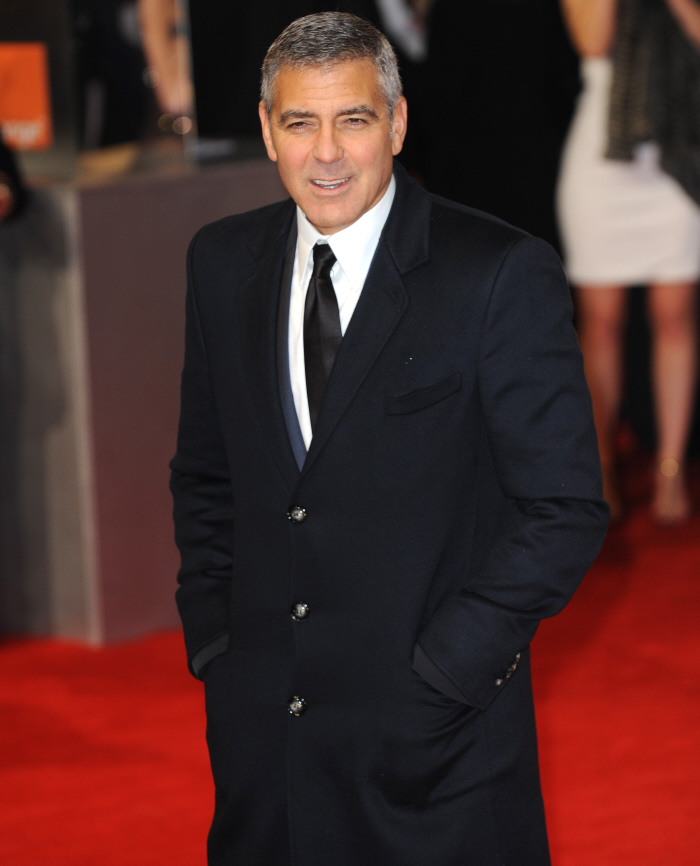 George Clooney covers the new issue of The Hollywood Reporter, and dear God, this man can TALK. He wants the Oscar so badly – does his blatant desire make you like him more or less? This bitch of an article is NINE PAGES. You can read the whole thing here – I'm going to try to do some highlights below:
George watches TV: He watches ESPN and Modern Family as well as everything from The Soup to Jersey Shore. He is in bed by 10 p.m. almost every evening, wakes multiple times a night and loathes going to bed without the TV on. "Turning off the television causes me to think, and once I start that vision roaring, I have a very tough time getting to sleep," he admits. With the flickering screen, "I'm able to numb out." Even then, "Without question, I wake every night five times."

He drinks too much sometimes: "I drink at times too much. I do enjoy drinking, and there have been times in my life when it's crossed the line from being fun to having to drink late at night for absolutely no reason. So what I do is, I stop. I haven't had a drink since New Year's Eve."

Clooney's not about the money: The combined budgets of his two current movies are a fraction of Batman's and about the equivalent of most superstars' fees — $12 million for Ides and $20 million for Descendants. Clooney took a humble $300,000 upfront for the latter. It's one of his more intriguing aspects that he has remained so powerful and prominent in our imagination without bigger hits or taking more than scale — at most a few hundred thousand dollars, backend excluded — since the $10 million he received for 2000's The Perfect Storm. He is singularly unmotivated by money, though time and again he returns to the theme, expressing an awareness that, if necessary, he will sell one of his homes. (He puts nothing in the stock market, which he describes as "Vegas, without the fun.")

Clooney the writer: "I woke and sat down and wrote the whole scene in the kitchen between Ryan [Gosling] and myself: 'You want to be president. … You can start a war, you can lie, you can cheat, you can bankrupt the country, but you can't f– the interns.' " He personally attended the 2010 American Film Market — that annual November gathering in Santa Monica where buyers and sellers haggle over rights — just to raise money for the film, then gave away his share of profits to get it made. "[Co-writer] Grant Heslov and I sat there for a day and a half, and they'd bring in 12 people from Japan, from the Netherlands, and I would pitch them the whole movie, and then the next group would come in," he says with a laugh. "I was an encyclopedia salesman!"

How he lives, and THR brings up the Clooney Dilemma: Clooney's house, bought for $980,000 back in 1995 with ER paychecks (hardly chump change, but not the kind of price that proclaims movie-star excess), looks as if it could belong to any normal man who happened to make some money, apart from its subtle and discreet taste. There are no Oscars, Emmys or other awards visible in public places, no servants bustling in hushed tones — just his personal assistant of many years, Angel, and a black cocker spaniel named Einstein that Clooney adopted from a local shelter. A few days earlier, Einstein ate all the loose cash left out by Clooney's present girlfriend, Stacy Keibler of Dancing With the Stars (a former professional wrestler). The women who pass in and out of his life, few lasting longer than two or three years, have been the source of endless Internet speculation, likely because they rarely appear to be his professional or intellectual equals, and range from waitresses to models to an Italian starlet.

His relationship with Keibler, and marriage: He won't go into his relationship with Keibler because "there is so little in my life that is private," but he does admit that this man who once won a bet with Michelle Pfeiffer that he wouldn't be married again by 40 hasn't ruled it out. Divorced from actress Talia Balsam, he has in the past rejected the idea; now he argues, "I don't even think about it, really."

On Brad Pitt: "Brad is one of the great guys," he says. "We're good friends, but it's different from what people think, meaning we don't spend a lot of time together. He has been to my home in Como; we motorcycle together. But until recently, I hadn't seen Brad in a year."

Lonely Boy: "Anyone would be lying if they said they didn't get lonely at times," he says. "The loneliest you will get is in the most public of arenas: You will go to a place and end up in the smallest compartment possible, because it's a distraction to everybody, and you end up not getting to enjoy it like everyone else." He adds, "I have been infinitely more alone in a bad relationship; there's nothing more isolating. I have been in places in my life where that has existed." He also has been cheated on and even ditched "and left for someone; all those things. And it was sometimes a surprise, and sometimes you saw it coming. The most painful was when I kept trying to get [one woman] back. But we all make dumb mistakes."

A Brad Pitt story: "A couple of years ago, [Brad Pitt] really nailed me. He did one of those shows and they asked him when he was going to marry Angie, and he said, 'I'll marry when George can legally marry [a man].' " He laughs. "He really got me badly, something I have had to deal with the past few years. But I could give a shit. I have to live in the world that I care about and that's all that matters."

Criticizing the Iraq War: "They did a half-hour show on Fox saying my career was over, and there was a cover of one of those magazines with the word 'traitor' written on it, and the White House was passing out a deck of weasels and I was on one of the cards," he recalls. After initial anger, there was a brief moment when he felt afraid. "I called my dad and said, 'Am I in trouble?' And he said, 'Grow up. You've got money. You've got a job. You can't demand freedom of speech and then say, "But don't say bad things about me." ' And he was right."

Bell's palsy: At 14, a pivotal age for anyone, disaster struck in the form of Bell's palsy, a kind of paralysis whose cause is unknown that leads to dysfunction in the facial nerves. Clooney has made light of the matter, but it lasted far longer than most of his friends realize. "As I started high school, half my face was paralyzed for six months," he says. "That's a long, long time. You wake up one morning and your tongue is numb, and you can't drink. Milk starts pouring out of the side of your face. You don't know when it's going to end; you don't know if it is going to end. And there's no treatment."

He's tried coke: He drank, partied and even sampled cocaine, though he says, "I didn't have an issue with it. I'm not a big druggie, not at all. Blow is absolutely a nonstarter."

On his Three Kings director David O. Russell: "I saw David [O. Russell, the director with whom Clooney had a famous falling-out] a few weeks ago at a party. There was a bunch of filmmakers there. And I felt compelled to go over and go, 'So are we done?' And he goes, 'Please.' And I said, 'OK.' Because we made a really, really great film, and we had a really rough time together, but it's a case of both of us getting older. I really do appreciate the work he continues to do, and I think he appreciates what I'm trying to do."
[From The Hollywood Reporter]
You won't even believe how much I had to cut out. Seriously. This man can TALK. He talks a lot about his childhood, about his back injury and dealing with years of pain (which he's still dealing with). He talks about his friends and the lean years of Hollywood and all of that. Most of it you've heard before, because Clooney says the same stuff over and over. But it's a decent read. He seemed really vulnerable in this piece, honestly. I do kind of feel bad for him. Poor Lonely Boy.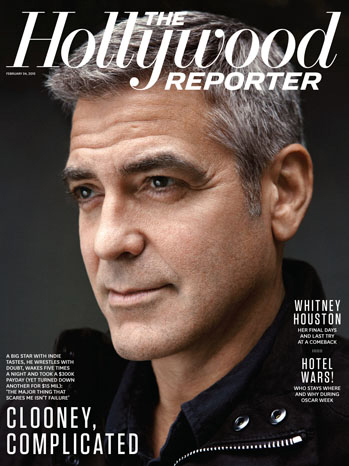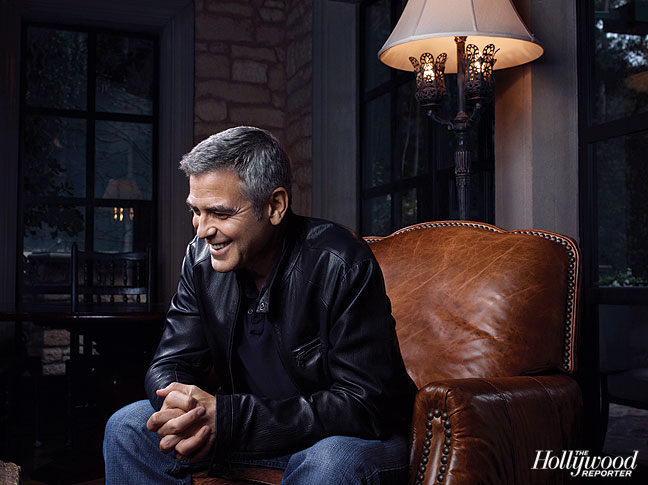 Photos courtesy of The Hollywood Reporter, WENN.