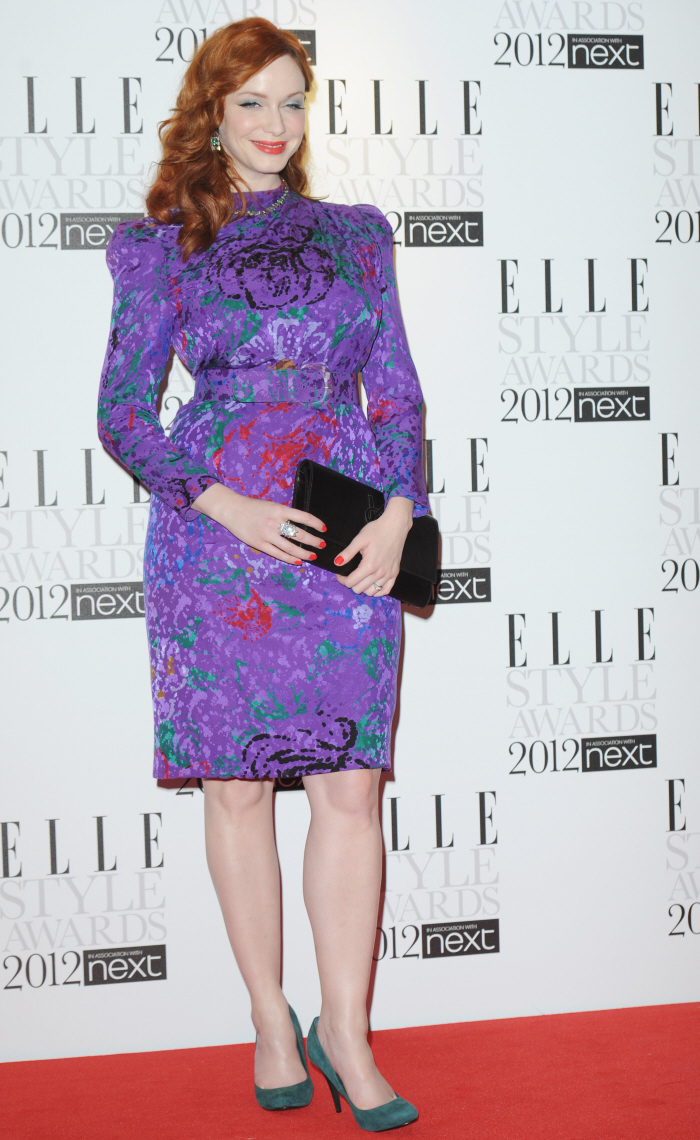 Christina Hendricks has a new, longish interview with The Mirror – you can read the full thing here. You know I like Christina, or Titsy McCleavage-Wall, as I have recently started calling her. I've always liked her, I've always defended her, mostly because I think she's a decent actress, and it's nice to see a woman with a different kind of body type on television, and I enjoy how Christina's figure is so celebrated. That being said, some of this interview kind of pissed me off. Christina is jumping on the "I was bullied" bandwagon, which… I dislike when celebrities do this. I understand that many of them are trying to reach out to young kids who are bullied, and trying to let them know that this too shall pass. But mostly I think celebrities talk about being fake-bullied because they want to position themselves as victims. As for Christina – she was "bullied" because she dyed her hair. For reals.
Christina on being bullied: "My school days were pretty unhappy. I had the worst high school experience ever. I went to a very mean school and was bullied like crazy. I was a bit of a goth with purple hair and I was also part of the drama group, so my friends and I were all weird theatre people and everyone just hated us. There was a long corridor with lockers on either side and kids would sit on top of them and spit on you. It was like something out of Lord of the Flies."

Her family moved to Virginia when she was a teenager: "The girls there had purses and I still had my backpack from Idaho. Moving as a teenager is never easy. So I tried to set myself apart and it ended up with multi-coloured hair. It was how I was expressing myself. I was a goth kid. I dyed my hair about 42 different colours, shaved it at the back and wore black make-up. Kids can be pretty judgmental about people who are different. But instead of breaking down and conforming, I stood firm. That is also probably why I was unhappy. My mother was mortified and kept telling me how horrible and ugly I looked. Strangers would walk by with a look of shock on their face, so I never felt pretty. I just always felt awkward. If I could go back and tell my 14-year-old self anything it would be, 'Don't worry. You're going to be doing exactly what you want to be doing and those people who are a***holes now are still going to be a***holes in 20 years. So let it go!'"

Realizing she was pretty: After leaving school Christina was persuaded to enter a contest to appear on the cover of Seventeen magazine. Wearing a wig she posed for pictures in a cemetery. And even though she didn't win the competition, those photographs proved a revelation. "When I got the pictures back my mum and I started crying because I had no idea I could be pretty," she recalls. "I'd always felt awkward. It was the first time I really felt pretty. It just sort of changed my perspective of myself."

Size: At 5ft 8in tall and weighing 11st, Christina is a UK size 14 and those famous curves reportedly measure 38DD-32-38. But when she started modeling straight out of high school, "I'd done ballet for years and was tiny then, a size 4 [UK size 8], so I didn't have any problems about conforming to a certain body type. As you get older your body changes. I've tried to embrace how I look at every stage."

Gaining weight: "When I was working in Italy I was having cappuccinos every day. I'd take my clothes off in front of the mirror and be like, 'Oh, I look like a woman.' I felt beautiful and I never tried to lose it 'cos I loved it. I was 20lb lighter than I am now, but modelling agencies used to tell me to lose 10, 15, 20lb. I'd be like 'That's bone – I can't. That's not going anywhere!'"

Christina is "credited" with the rise in demand for boob jobs: "I hope I'm not encouraging that. If there's anything to be learned from me it's that I'm learning to celebrate what I was born with, even though it's sometimes been inconvenient. Having larger breasts has made it harder to shop, but I've learned to love it… But now I feel like everyone talks about my bust in public."
[From The Mirror]
I know, I know. She talked about her boobs again. That's something you have to realize about us girls who are well-endowed – we think about our boobs a lot. We talk about our boobs a lot. It's because they feel so big sometimes, we just figure that everyone has noticed them and we might as well talk about them. As for whether Christina's are real (and really 38 DD? – she seems bigger) – she's already claimed hers are real.
Here are some photos of Christina and her husband in London last night. They were photographed leaving the Vivienne Westwood party – Christina is the face of Westwood's jewelry line. I like the way her husband is so supportive of her, aren't you? I think they work together.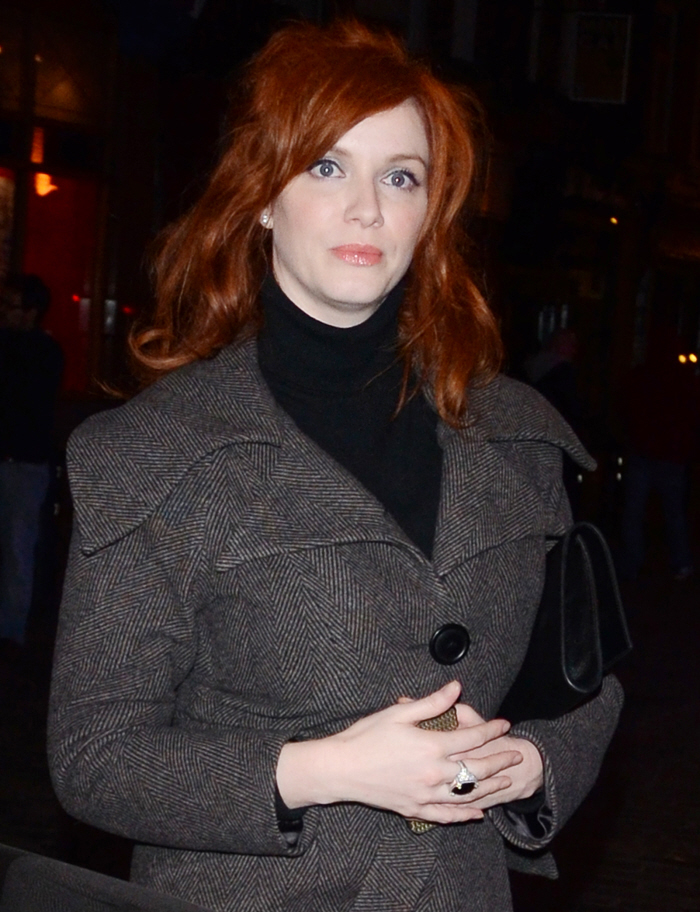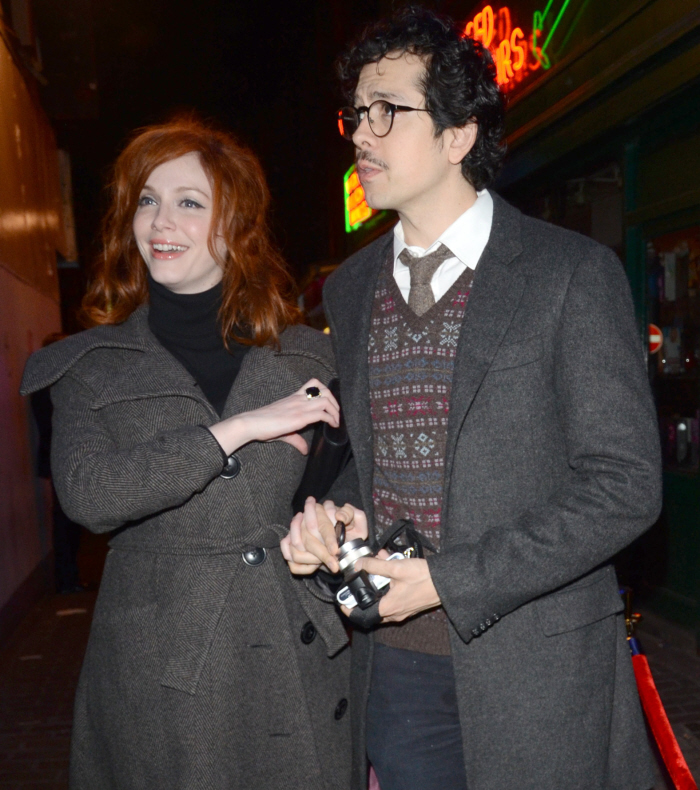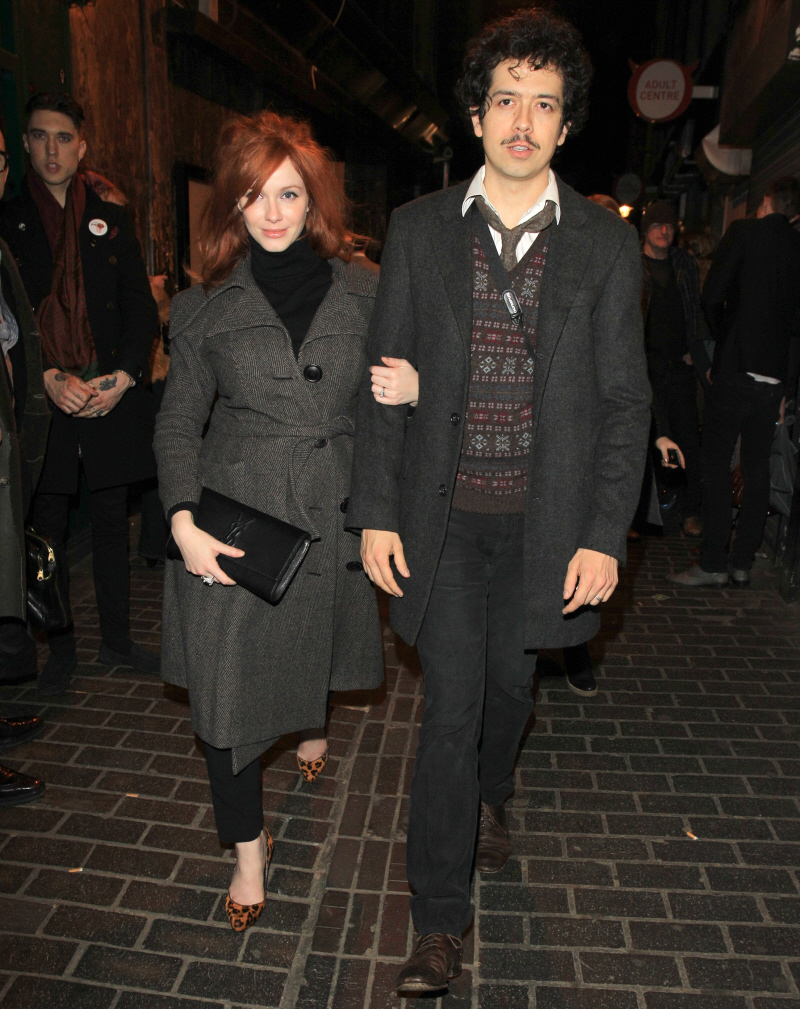 Photos courtesy of Fame/Flynet, WENN.