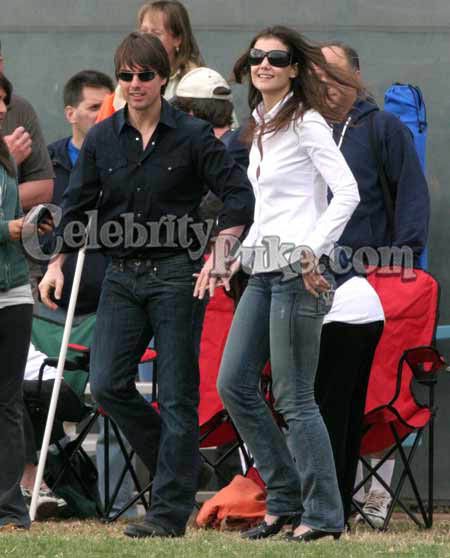 Katie Holmes and Tom Cruise arrived in Rome separately and will soon head to Bracciano, where they are said to be having a lavish wedding at a 15th century castle. Even the elusive baby Suri will join them, and a bundle presumed to be the tot was photographed from afar getting out of Tom's private jet.
Katie recently dropped $3,000 on honeymoon lingerie, including a crystal-studded bra and matching thong. Georgio Armani designed her wedding dress and all the outfits she'll wear during the weekend-long festivities, so she'll need some overpriced knickers underneath. Armani also designed Tom's tuxedo along with the attire for the groomsmen and bridesmaids.
Celebrities who will attend Tom and Katie's November 18th wedding include John Travolta, Kelly Preston, Kirstie Alley, and David and Victoria Beckham.
One celebrity who won't be attending is Oprah. Chances are she was asked directly if she was invited, but her answer has a tinge of bitterness if I'm not mistaken. Maybe I just attribute bitterness to Oprah in general:
"It's not that I'm not going," Winfrey tells Extra's AJ Calloway in a segment to air on Tuesday. "It's that they had a limited number of people that they could invite. I was not one the invitees. That's fine. I don't get invited to everyone's wedding. I don't invite them to everything I do. But I wish them the best."

She continues, "I have a great deal of regard for their relationship and so I'm trying to think of what to get them."
Yes Oprah, we all have "a great deal of regard for their relationship." It's not like we distrust them for freaking out on TV about it or anything.
Thanks to Celebrity Puke for the header image of Tom and Katie at Isabella's soccer game.
Update: More pictures of Tom and Katie that haven't been seen anywhere else. Thanks to Celebrity Puke for sending them!