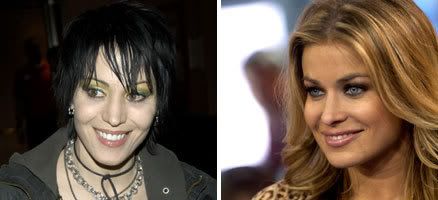 Carmen Electra said she had a crush on singer Joan Jett when she was a girl, and now recently-single Carmen had the opportunity to make her childhood dreams come true. The unlikely pair was said to be all over each other backstage at a concert:
Carmen Electra, and rocker Joan Jett were getting hot and heavy, and they certainly were not trying to hide it. After Joan performed at the Music Box, the two were spotted backstage aggressively kissing, hugging, and touching. According to bystanders, the intensity between the pair translated to the real thing; true love may be in the air for this duo. Their relationship began in May when Carmen made an appearance in Joan's new "A.C.D.C." video. According to Carmen's rep, "Carmen was at the concert. She is a really big fan of Joan's and I guess this was her way of thanking her for the front row seats." Wow, Carmen's got some way of showing her gratitude!
[From the Star magazine e-mail newsletter]
That's hot! Carmen played Joan Jett's lover in that video and maybe it moved off screen for them. It might have been just a friendly kiss, but it sure doesn't sound like it.
Composite picture from Afonbladet.