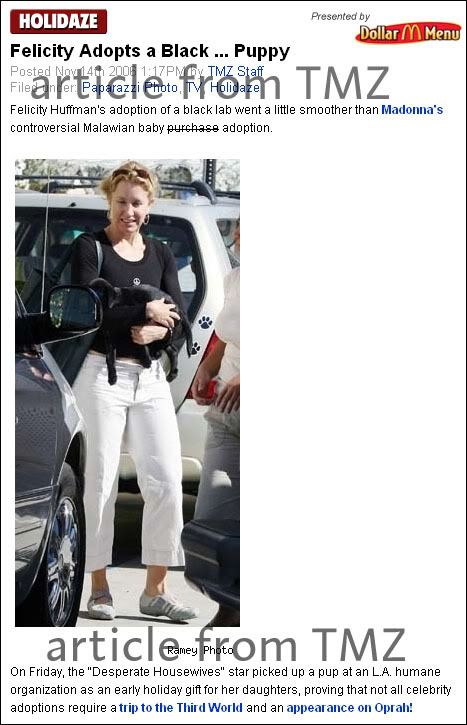 TMZ is running a story on this not super-titillating gossip day (it's pretty average from my experience, but may seem like a lull in comparison to the Reese and Britney split days) with the title "Felicity (Huffman) Adopts a Black… Puppy." They make a silly comparison to Madonna's recent baby-snatching, saying that Felicity managed to adopt without controversy.
A screenshot is above because chances are they'll pull it or retitle the article once they realize the blunder.
Initial commentors are focusing on the fact that they're comparing a dog to an African infant:
1. Are you people comparing a BLACK puppy to a BLACK innocent child? I guess you think that's cute. Shame on you TMZ! – Offended
3. Ok…there are plenty of other things in this world that could offend me…but I do think this was in pretty bad taste. Get it together guys! You usually entertain me through my humdrum work day…but this is just wrong. Just the heading alone is going to piss people off. I am a person with an easygoing spirit (and a black woman!) so I can forgive it…but alot of other people are not going to like this! – In bad taste
From my perspective, they could have just titled the dumb non-article "Felicity adopts… a puppy."
It would never occur to me to point out that the puppy happens to be black. You could simply compare adoptions without noting the dog's color. What's the point?
I get miffed when fellow gossip writers point out someone's race when it's obvious who they're talking about. Like when someone says "Check out that black guy in the background," and there's one guy. Why make a reference to his race? If you need an adjective, say "surprised." To me, it's not being PC so much as sensible. There's no reason to make race – or dog color – an issue.