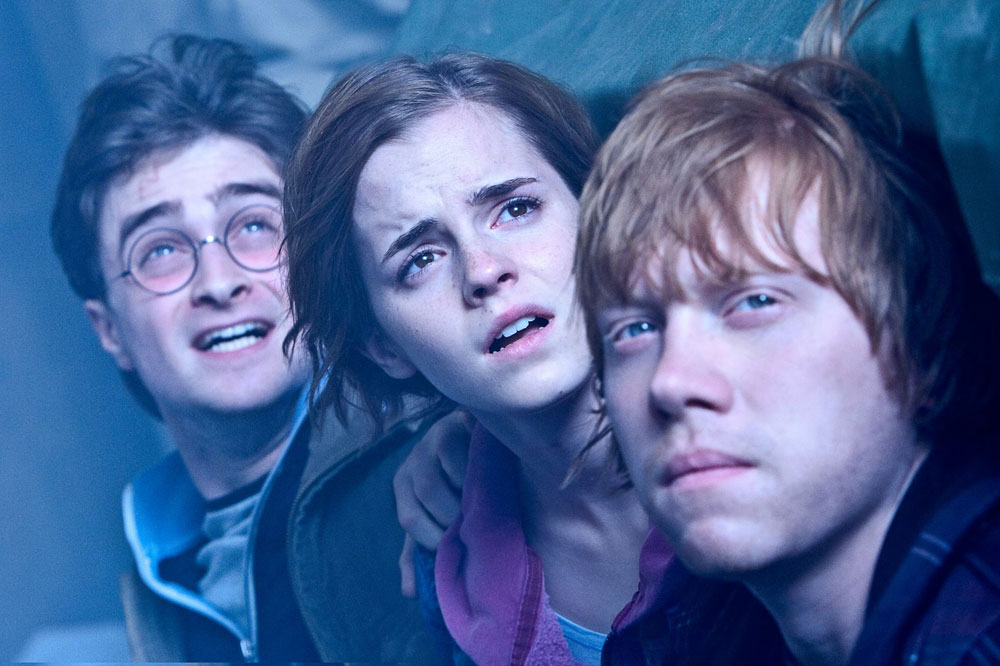 Yesterday I was talking to someone about the Oscars and she said she'd watched some of the beginning, but that she wasn't that interested because the only nominated films she's seen were Harry Potter and The Help. (She also agreed with me that the video entertainment segments Sunday night didn't make sense.) The thing about Harry Potter and the Deathly Hallows Part 2, indeed the thing about the entire Harry Potter film series, is that they've never been nominated for Best Picture by the Academy. They've only been nominated for technical awards, 12 in total, but they've never won anything and people have really noticed.
Despite saying last month that the lack of a Best Picture Oscar nod "didn't faze" him or his co-workers, star Daniel Radcliffe has said that there's some "snobbery" in the Academy, that they "don't like commercial films," and admitted he was "slightly miffed" that Hugo was nominated in the Best Picture category but that his movie wasn't. Radcliffe's comments are toward the end of this article, thanks to MTV:
The only thing "Harry Potter" got during the Oscars ceremony was a joke from host Billy Crystal saying that, despite how much money the series has made in the box office, it's only had to pay 14 percent in income taxes. It certainly was a poor send-off for one of the most beloved and highest-grossing movie franchises in film history.

The series has never been honored by the Academy of Motion Picture Arts and Sciences. Sunday night's (February 26) three losses — for art direction, makeup and visual effects — brought the total number of losses to 12 for the eight films.

"Harry Potter and the Deathly Hallows, Part 2" lost twice to "Hugo" (a fellow children's film) and once to "The Iron Lady." "Harry Potter" leading man Daniel Radcliffe gave his take on the lack of respect for the big-screen adaptation of J.K. Rowling's franchise in a recent interview.

"There's a certain amount of snobbery [in the Academy]," Radcliffe said. "It's kind of disheartening. I never thought I'd care. But it would've been nice to have some recognition, just for the hours put in."

He added, "I don't think the Oscars like commercial films, or kids' films, unless they're directed by Martin Scorsese. I was watching 'Hugo' the other day and going, 'Why was this nominated and we're not?' I was slightly miffed."

The Academy didn't even offer "Harry Potter" a series achievement award like the BAFTAs did last year. Some "Potter" fans had expected the series to be rewarded by the Academy for its many years of financial and critical acclaim the same way Peter Jackson's "Lord of the Rings" trilogy was. Unfortunately, that did not end up being the case.
[From MTV]
I don't get the politics involved with not awarding Harry Potter with any Oscars. As the article mentions, the Lord of The Rings trilogy did clean up at the Academy Awards and won a total of 17 Oscars over the three films. Some may argue that Lord of The Rings was better than Harry Potter, but it could also be that it was aimed at an older audience. The Academy doesn't pay a lot of attention to comedies or children's films. (Although HP definitely got more mature over time.) Also when it comes to Harry Potter, the movies were around for 10 years. It may have just been the case that voters took them for granted. Still, it would have been nice to have seen the series acknowledged in some way. HP was a huge commercial success, but they were also solidly entertaining and incredibly unique films that were hits with critics too. Like LOTR, HP created a whole new world that transported us to another place. I'll miss it.