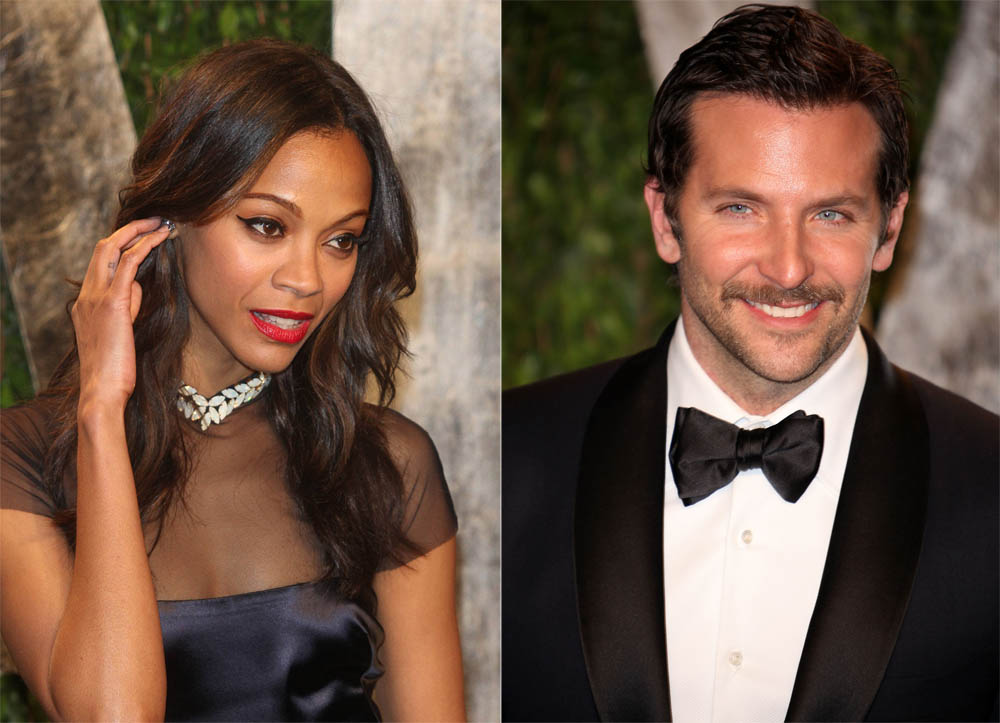 When I think of couples making out at parties, it's usually teens and drunken college students who are in the throes of passion and don't have somewhere to go for privacy since they live with roommates or their parents. It's not something that established adult couples usually do. Too much PDA in public seems immature, is what I'm saying. So when I heard that Bradley Cooper and Zoe Saldana were making out at a pre-Oscar party I thought "really?" and "maybe he didn't want to take her home that night because he lives with his mom." Then I read that Bradley's mom and Zoe's sister were there at the party, and that his maybe-ex Scarlet Johansson was in view with her new douchey boyfriend when Bradley and Zoe were all over each other. This whole story smacks of try hard and "look at me, I've got a new girlfriend. I'm over you!"
Bradley Cooper spent Oscars eve making out with his new girlfriend and catching up with an old one.

The "Limitless" actor attended the Weinstein Company's star-studded annual pre-Oscars bash with a group that included his new love interest Zoe Saldana, her sister Mariel and his mother, Gloria .

Although the "Limitless" actor walked into the backroom of the Soho House West Hollywood hand-in-hand with his mother and Saldana a few steps behind, the two recently linked actors soon closed the gap — but not before Cooper shared a warm embrace with his "He's Just Not That Into You" co-star Scarlett Johansson.

Saldana had left Cooper's side when he caught the Ferrari-curved Johansson's eye at the Weinstein soiree. In September, Cooper and Johansson were reportedly holding hands at the NYC club Provocateur, although they never confirmed that they dated.

Cooper has since been linked with Saldana, and Johansson with ad exec Nate Naylor, who was her date at Soho House.

When Johansson spotted Cooper, she jumped up and embraced both Cooper and his mom in a group hug and gave each of them a kiss. She then motioned for Naylor to join her.

Naylor spoke to Cooper's mom, while the two actors caught up. "Did you cut your hair?" Cooper asked Johansson.

When Saldana rejoined Cooper, he gave the "Colombiana" star a big hug as he introduced her to Johansson.

After the introductions, Johansson and Naylor returned to their table, while Cooper did not let his mom's presence deter him from engaging in a makeout session with Saldana.

Johansson eventually invited Cooper's crew to sit at her table, where Saldana continued to show affection for her new beau by rubbing his back and hugging him over the course of the night.
[From The NY Daily News]
Maybe this isn't as cut and dried as the Daily News is making it out to be. Maybe Bradley and Zoe shared a kiss and weren't pawing all over each other manically while their family and Scarlett tried to examine their manicures. Or maybe they're just one of those PDA couples who is so into each other they're touching and feeling all night. Those people bug me. Maybe I'm too uptight, but get a room. At least it wasn't the Vanity Fair Oscar Party.
Well now I'm buying their relationship is real and not a showmance at least. Zoe has even been bonding with Bradley's mom, just like his ex Renee Zellweger did. It doesn't make me any more interested in Bradley and Zoe as a couple, though. But they make a lot of sense together.
Here are Zoe and Bradley at the Vanity Fair Oscar Party. Thankfully this isn't where they were making out. Zoe is wearing Marios Schwab. It's not a terrible dress, but I really dislike those short skirts with sheer overlays. Bradley looks like Hook to me here. I dislike that facial hair.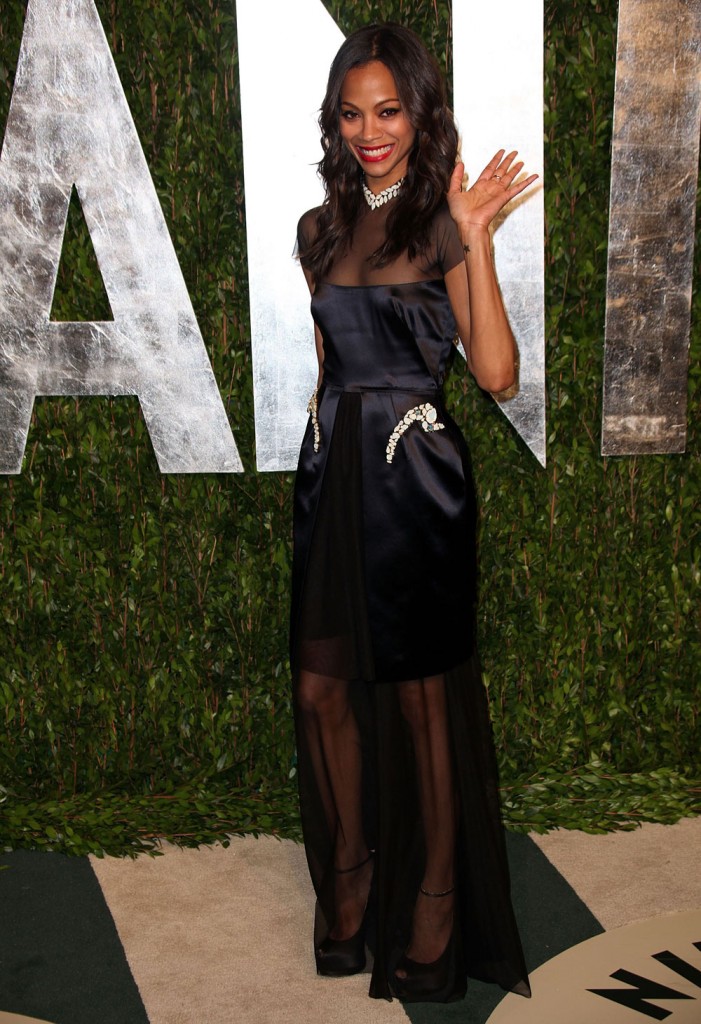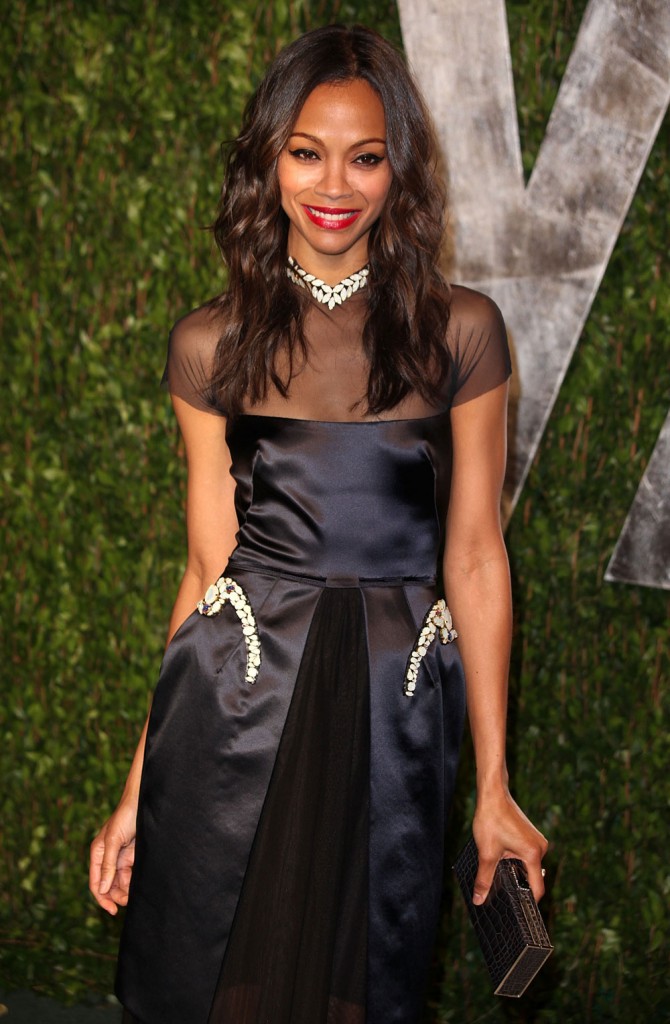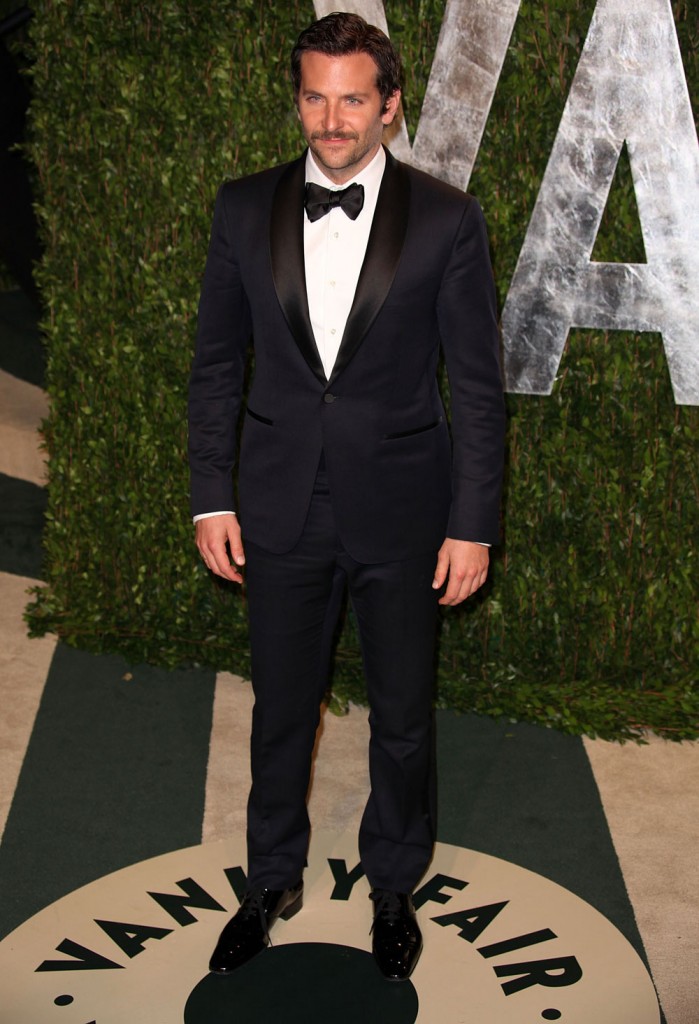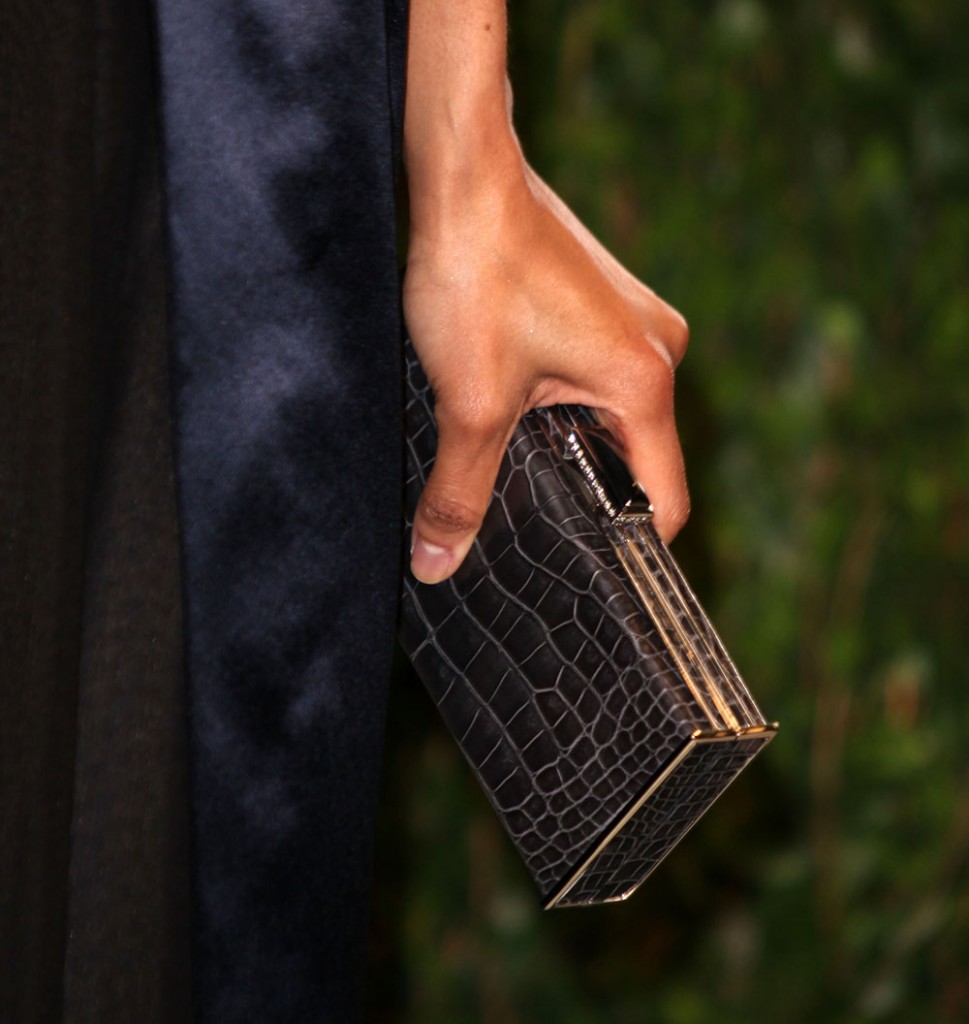 Photo credit: WENN.com