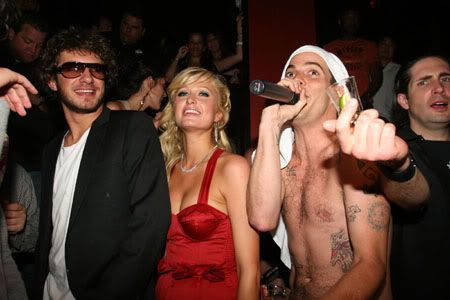 Maybe Paris Hilton can act. According to the Swedish newspaper, Aftonbladet, the hard-partying heiress cried to get out of a ticket for driving without a registration for her new car:
Paris Hilton visited several nightclubs the night between thursday and friday. The wealthy heiress drove around in her brand new Mercedes SLR – worth almost half a million dollars – when she suddenly was pulled over by the police. The reason was that her car didn't have a valid registration for the state of California, which technically gives the police the right to tow the car. But according to several witnesses, Paris started crying real bad, which made the female officer feel sorry for her and eventually give in. Shortly after, Paris could drive away with only a warning.
So Paris didn't even get a ticket for driving with an unregistered vehicle. She's had the car for about a month, so you think she could send one of her minions to the DMV for her. Here are some pictures of Paris getting a parking ticket, so she's at least suffered that indignity.
Here's a German commercial for online yellow pages featuring Paris ordering some rolls:
And here are pictures of Paris celebrating her boyfriend Stavros Niarchos III's 21st Birthday Party at Tao Night Club in Las Vegas on 4/22. [via]
Update: pictures of Hilton at the opening of the "replay" clothing store in LA last night. Brandon Davis is launching his line of jeans at the new store. Davis is a former friend of Hilton, and spoke out against her last year, calling her a racist. Nick Hilton also attending the opening.
Paris will host a rock concert at an Austrian ski resort this weekend, and will have to introduce Pink to the crowd. Pink mocks the skinny heiress in her video "Stupid Girls."
PARIS HILTON will travel to the ski resort of Ischgl, Austria, on Sunday. While she's sure to get in some exercise, some posing, some dating, she is actually there to serve as the host of the Top of the Mountain concert series. Among her duties, she'll introduce rocker Pink, who closes the concert.