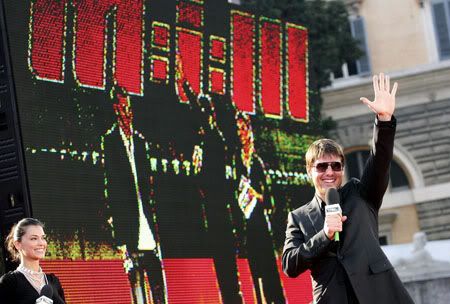 Tom Cruise told the crowd at the opening of Mission Impossible 3 in Rome yesterday that he loves changing his newborn's diapers and revealed that Katie is breastfeeding:
According to the Daily Star, Cruise said to the Roman crowd: "My mission impossible was to be here today.
"My daughter was just born, and I didn't want top leave her and her mother…"
He added: "I changed her first: I change diapers all the time. I have to tell you, I love it.
"We have a whole system worked out. It's the B and B – she does the breastfeeding and I do the burping and changing the diapers. It's teamwork. It's fun."
My husband changed our baby a lot right after he was born, too. It's not that bad if they're breastfed. At least Katie is breastfeeding. We were concerned that she would use the barley-based formula that L. Ron Hubbard recommended. We were also worried that the baby would be abandoned for its first day in accordance with Scientology tradition, but that may not have happened.
Cruise initially said that he had cancelled all promotional appearances for the film due to the birth of baby Suri, but must have been unable to stay away. He said Katie gave him permission to go to the premiere in Rome, but she may have done it half-heartedly, as Jaunted mentions:
"I wasn't going to come and then Kate said, you know, 'Go. Go.' … So I'm here. And
I'll be here for a few hours and then I'll get back on an airplane and go back home to Kate and Suri.
"
Something tells us it was one of those conversations where your girlfriend is saying you should go, but really means, don't even think about it. Or it would have been, if he hadn't upped Katie's dosage first.
The London premiere of Mission Impossible is tonight. We'll have to see if Tom attends that too.
Update: Cruise will be in London. Go figure.
Here are pictures of Tom in Rome yesterday at the MI3 premiere. He stood on top of a car to get a better view of the crowd. [via]