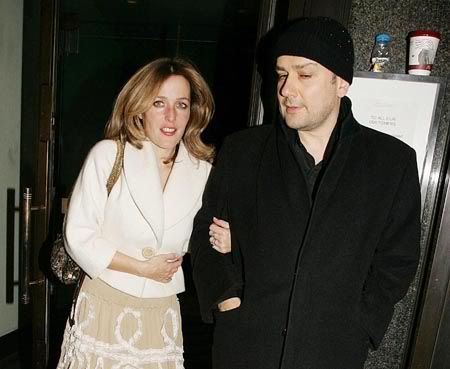 Actress Gillian Anderson and her husband of 16 months, documentary filmmaker Julian Ozanne, have broken up. They announced their pending divorce:
"Gillian Anderson and her husband, Julian Ozanne, are saddened to announce that their marriage is at an end and they are in the process of separating," read the statement released by Schillings Law Firm late Friday. "At this difficult time they request that their privacy is respected. There will be no further comment."
Anderson, 37, and Ozanne, 42, a Kenya-born photojournalist, married at a friend's beach house on Lamu's Shelly Island, just off the Kenyan coast, on Dec. 29, 2004.
They had lived in London with Anderson's daughter from a previous marriage, 11-year-old Piper.
It's sad that it didn't work out for them. We took a while to report this as we were looking for these pictures of Anderson out with Ozanne last month. Thanks to "Hollywood Whore 2005" on the JJB board for finding them so quickly for us.
We think that Anderson has a drinking problem and that may have contributed to her marital problems. She looks wasted in these pictures with her soon-to-be ex husband, and she also seemed drunk at a public appearance at the end of March.
Anderson suffered from drunken air rage in January, and reportedly told a man to pay more attention his wife who was struggling to take care of his son. She also fell down the stairs in her home two years ago, injuring her back. The accident took place in the middle of the night, and who falls down the stairs in the middle of the night when they're sober?
Here are Anderson and Ozanne in happier times.