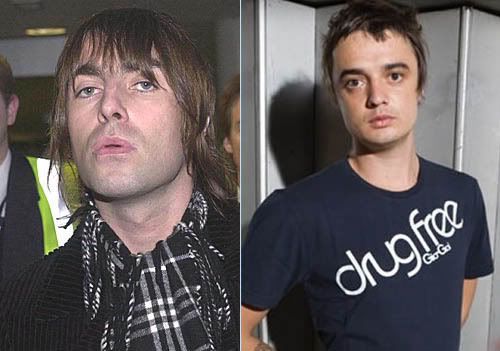 In a brilliant follow-up to his line of T-Shirts celebrating his fragile sobriety, Pete Doherty and Liam Gallagher, the less arrogant brother in Oasis, are planning to open a retro-themed pub together in North London.
The 34-year-old Oasis star came up with the plan after being persuaded by the Babyshambles singer during a chat in a boozer near the home of Pete's lover Kate Moss.

An insider said: "Liam loves the old days of north London where his group would hang at cool boozers such as the Good Mixer in Camden.

"But there just isn't the same vibe anymore, even at the live music venues there. Pete knows Liam through singer Lisa Moorish, with whom they both have children, and got talking to him one night and suggested they start their own cool venue. Somewhere with traditional ales, lagers and spirits with a good old-fashioned pub grub vibe – square pies, bangers and mash and all that. But the main element is somewhere late where up-and-coming artists and bands can showcase their new music.

"It would have a retro feel and be somewhere cool where luvvies, music industry types and models could feel at home…"

Our mole added: "Pete and Liam are looking at a place in Kentish Town near the Pineapple pub on Leverton Street."
What a great idea for a guy who went to rehab multiple times to open a pub. Alcohol is probably not forbidden in Pete's recovery plan, but at least he's supposedly off the smack.
Pete and Kate Moss are said to be planning to marry in late December, with Alexander McQueen designing a unique black and white wedding dress for the affair. Now they'll have a place to hang out at as a happily married drunken couple. They'll even be able to bring their eventual kids there!