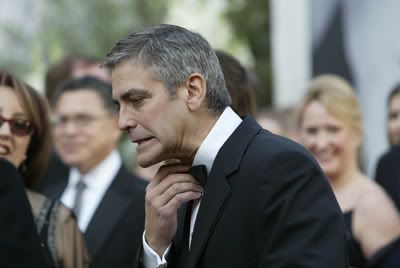 George Clooney is the new sexiest man alive according to People magazine, but is he deserving of this two-time honor? I say that in order to be sexy you have to be able to make a commitment – potbellied pigs do not count. Clooney is a notorious cad who has been linked with all sorts of women, but never for very long. His standards seem to involve the proximity of the woman to him at the time.
He broke his neighbor Teri Hatcher's heart after just a couple months of dating, prompting her to reveal her childhood abuse to Vanity Fair in a vain attempt to get back at him. He was also linked with his co-star Ellen Barkin, who joked during a tribute to Clooney that she screwed him. She probably did.
Clooney has a recent on-again off-again relationship with hottie Krista Allen, but he never made a commitment to her.
He dated British TV presenter Lisa Snowdon for nearly five years, ending the relationship in 2005 after both parties said that it was too difficult to maintain a long distance relationship.
Clooney was engaged to French law student Celine Balitran in 1998, but their relationship ended in 1999 after three years together. Clooney did set her up with a house and enough money to live comfortably in LA after they broke up.
And he was actually married from the age of 28 to 32 to actress Talia Balsam, 2 years his senior.
It seems as if Clooney tried commitment a few times and kind of gave up, preferring to spend a few weeks here and there with whomever was convenient.
He may be sexy, but he's not good relationship material. Indeed, Clooney has said as much. Referring to his relationship with Celine Balitran, he said "I'm actually a much better ex-boyfriend than I am a boyfriend."
Most of my ex boyfriends kind of seem like jerks to me, and it would never occur to me that they were still sexy. Clooney is the celebrity ex boyfriend that has something about him, but you realize it wouldn't be worth it to go there.