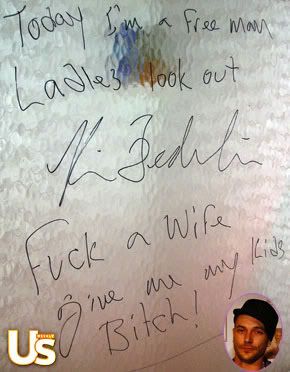 From my extensive analysis of K-Fed's signature on the legal paperwork acknowledging their fake wedding, I can say that I truly believe that this scrawled message found in his dressing room at the House of Blues is indeed from Kevin Federline. US Weekly, who have the exclusive on this fine find, say that his signature also matches a signed K-Fed poster they have hanging in their break room:
Rapper and noted prose stylist Kevin Federline, 28, took up his Sharpie and left behind a love note* on the shower door of his dressing room at the House of Blues in Chicago, where he performed November 8. The message, written the day after wife Britney Spears, 24, filed for divorce, reads:

Today I'm a free man
Ladies look out
F–k a wife
Give me my kids B-tch!
–Kevin Federline
That's really going to make him look good in court.
The NY Post reports that Britney cut off K-Fed's cell phone and credit cards, and that he was spotted scarfing down free food at a strip joint that inexplicably comped him and his entire poser posse. K-Fed asked for tons of food to take home with him and even tried to sneak out liquor bottles under his jacket.
At first I thought "What establishment would be dumb enough to comp K-Fed?" and then I realized that it was pretty media savvy of them to do so and they probably planted a snitch next to him and called up Page Six themselves for the free publicity.