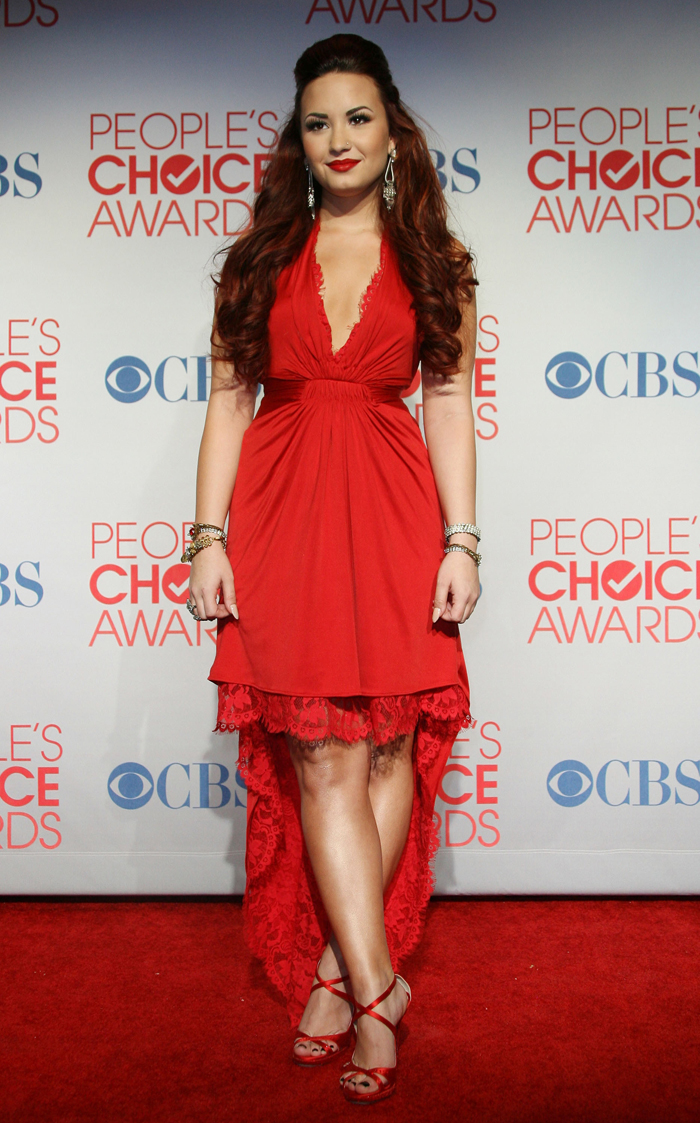 I can't help but feel some degree of empathy for Demi Lovato. Of course, she's been the subject of recent blind items concerning an alleged repeat visit to rehab, but I agree with CB's perspective of not putting too much faith into blind items. The gist of the latest round of rumors was that Demi's recent spa trip (during which she missed the Grammys) was actually a cover for some hardcore inpatient therapy, but MTV spoke with Demi's team, who asserts the following: (1) She wasn't even scheduled to appear at the Grammys; (2) She was merely taking advantage of a prescheduled week off from work; and (3) She definitely wasn't back in rehab.
In an ongoing struggle, Demi continues her progress after a 2010 rehab visit for for emotional issues and an eating disorder, and she has readily admitted that she'll fight those urges for the rest of her life. In the meantime, she hasn't been afraid to speak out against critics who say that she's been gaining weight. Demi also took on the Disney Channel over an insensitive eating disorder joke that appeared on "Shake It Up." Now Demi's starring in her own MTV special to spread her message to young girls:
Her past troubles and stint in rehab have been well documented but looking at Demi Lovato today she appears happy and healthy with her career back on track. [T]he 19-year-old singer has revealed she is still facing a daily battle with her demons opening up in her revealing documentary "Stay Strong" – which aired on MTV tonight.

During the one-hour special Demi admitted: "I cannot tell you that I haven't thrown up since treatment – I cannot tell you that I have not cut myself since treatment. This has been a daily battle. When I was four years old and I remember looking in the mirror and thinking I was fat I was constantly feeling guilty about my weight. I was overeating to compensate for not feeling worthy enough and then not knowing what to do. Even when I did lose 20lbs when I turned 12 because I stopped eating, it's never enough. It was an obsession of the mind."

Demi, who says she was able to hide her problems well, threw herself into her work with a tour followed by an album followed by a TV show – she never took a break. Speaking of her schedule she said: "I loved it but it was kinda when I got a little crazy and maybe, possibly, out of control. It literally ended up driving me insane. 'I was not eating and purging and self-harming."

It was at this point during a tour in 2010 that her parents stepped in and sat her down telling her they had a plane waiting for her to take her to treatment. Her reaction was one that many in her position would take she explained: "I was so mad at my parents I was like 'I hate you guys.'"

Despite her reluctance, Demi checked in to Timberline Knolls centre in Illinois in October 2010 where she spent the next months working on herself – missing Halloween, Thanksgiving, Christmas and New Year's Eve in the process.

While she missed family and friends and this point the documentary captured an insight of her ongoing battle – when she visited Texas for Thanksgiving. The copious amounts of food was clearly overwhelming for the young starlet but she tackled the day with confidence – and the help of her sponsor who was on the phone throughout the day.

Demi was seen eating the holiday food sharing the day with her close family and friends she explained: "Last year I didn't get to spend Thanksgiving with my family. This year I am not taking any holiday for granted."

But while the holiday itself was successful – she revealed she had kept all her food down – the consequences of consuming such a large amount of food for her brought several days of anxiety.

Demi spoke at her anxieties about putting on weight and said: "Last night was pretty bad, right before I went on stage I was crying in my dressing room. I know it's silly to the average person. It really messed with my head."

While the young star was open about her problems and her issues she displayed a strong sense of self – a confidence that she was working hard to keep on track and she wasn't going to let up on her determination.

She told the group: "It's not an easy road — it gets easier. I wasn't given this voice just to sing I think it was given to me for a bigger purpose. Recovery doesn't have a day off … I don't think there is a finish line I just think you keep going.'
[From Daily Mail]
Yes, it sounds like Demi has been beating the same drum for quite some time to promote her latest album, Skyscraper. However, I honestly have faith in this girl and hope that I don't have to eat my words by saying that she's one of the good ones. Early on, Demi realized that she had a problem, and she didn't go into denial and/or let it fester in manner of a Lohan. Demi has a lot of issues — including abandonment, eating disorders, and self-harm — but she's on track, realizes that she's a role model for young girls, and would do anything to inspire them not to fall into the same traps as her own. Naturally I'm feeling a little bit of fatique from witnessing Demi discussing the same topics, but she has a valid point, and her heart is in the right place. If she can save just a few girls with tales of her experiences, then it'll all be worth it in the end.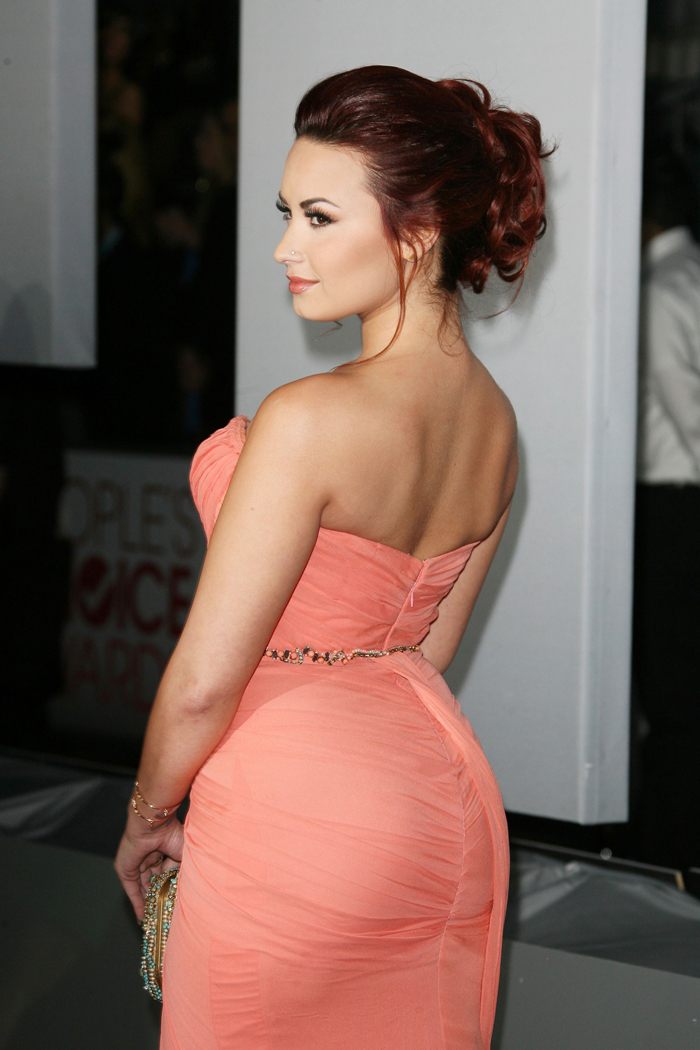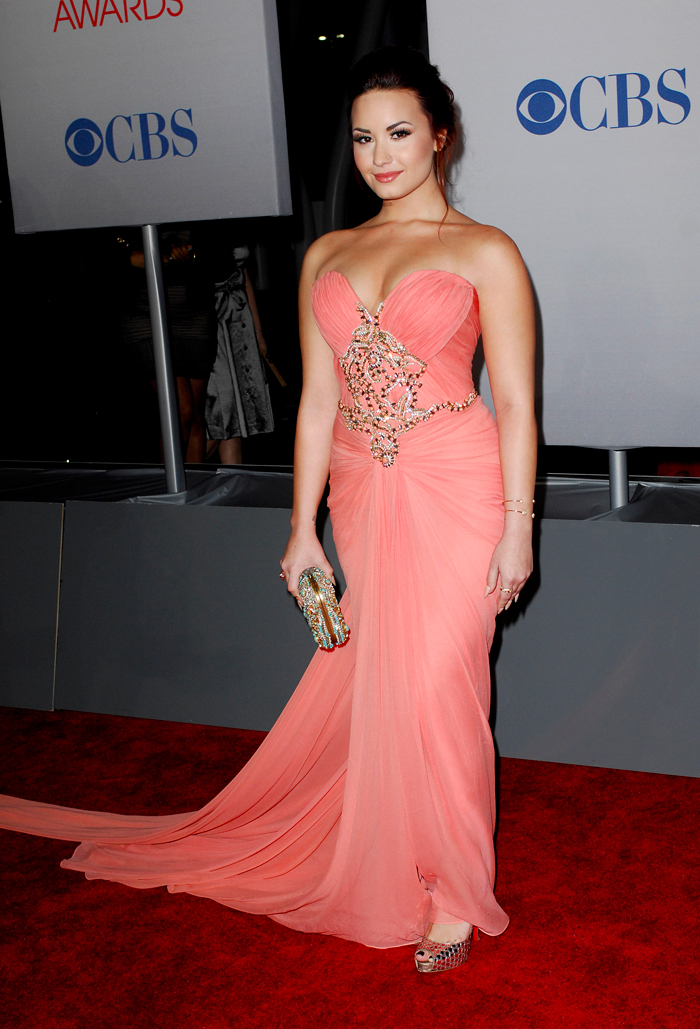 Photos courtesy of WENN