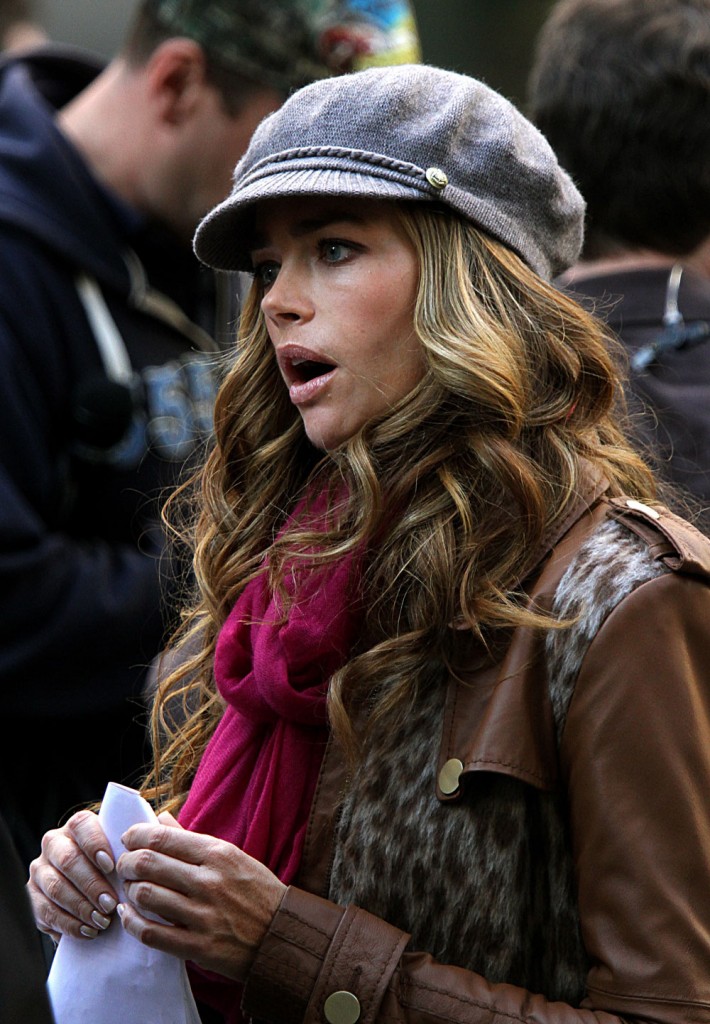 Denise Richards is earning money the Stacy Keibler way, by throwing us a tidbit of information in exchange for a plug for a product or service she's endorsing. We just saw Denise posing in staged candid photos plugging kitty litter (they're here, I hope she got paid for that) and now she's trying to sell us on a workout called Physique 57. In a new interview with ET Denise talked about her famous ex, Charlie Sheen, and the "craziest rumor" that's been floated about her, that she was a hooker working for Heidi Fleiss when she met Charlie Sheen. It's well established that Charlie was one of Fleiss' best customers, and that his addiction to hiring hookers and trying to legitimize them by moving them in continues to this day. So it's not so much of a stretch to assume that this is how he met Denise too, but she assures us it's not. I've heard these rumors for a while, and I guess she denied them last year too, but this is the first time I've paid attention to it.
On rumors that she's been a hooker
The craziest rumor that's ever been written about me is that I was a prostitute for Heidi Fleiss. I think my ex-husband [Charlie Sheen] would vouch for me, and Heidi I'm sure would too, that I was not. I've never been a hooker.

On her relationship with her ex, Charlie Sheen
We went through a lot, but it takes two people to make that commitment and make it about the kids. If we can do it and get to the other side and… have a great relationship for our kids. I think anyone can get there if we were able to.

On saying that she and Charlie are like brother and sister
I probably shouldn't have said that… it sounded a little creepy. What I meant was we're in a good place and we get along.
[From Entertainment Tonight]
Well Denise has to talk about something to get our interest, and this worked. It's got to be hard to deal with seeing your ex husband give multiple nonsensical interviews with the two 20 year-old porn stars he moved into his house, but she handled it all with more grace than I could ever show in that situation.
Charlie and Denise were seen attending their daughter soccer game together on Monday and they looked very peaceful and happy. (Apart from the fact that Charlie forgot to put his teeth in.) Denise is pushing her adopted baby daughter, Eloise, in a stroller. People have floated the theory that Eloise is actually Charlie Sheen's daughter from another woman, and was given up to Denise to raise. The baby does look like him, so I wouldn't be surprised.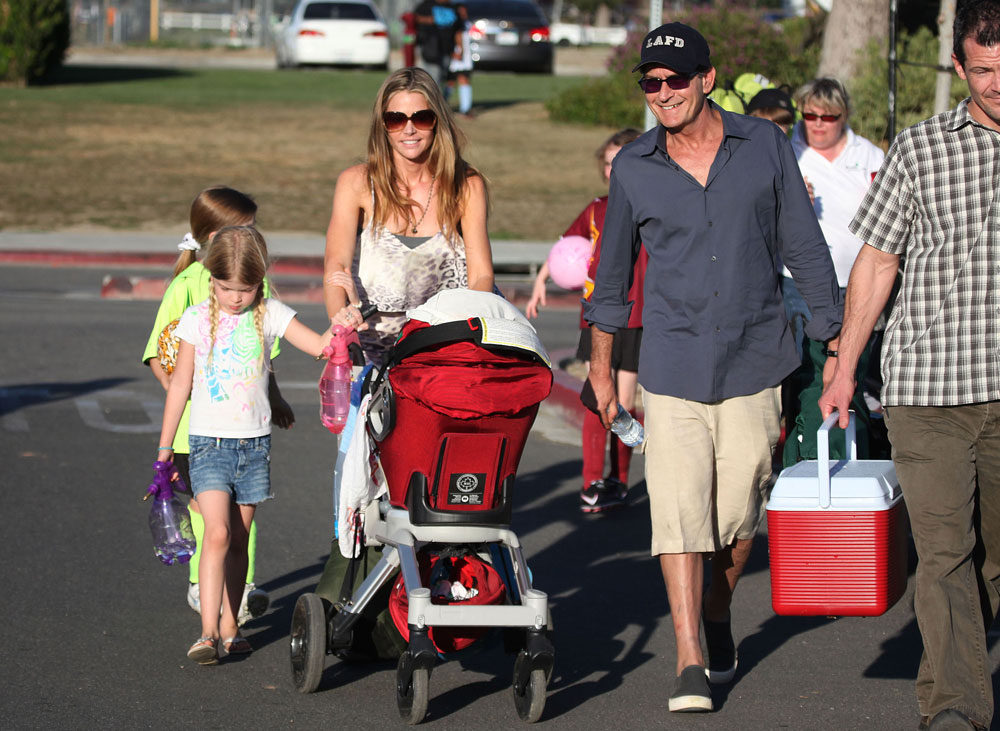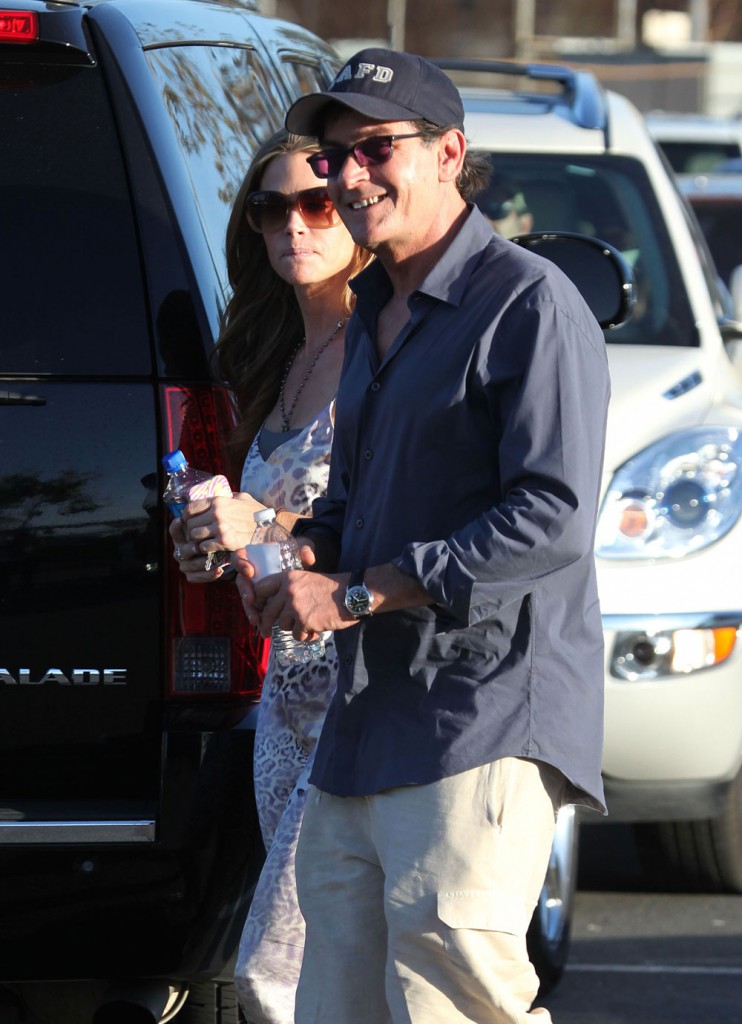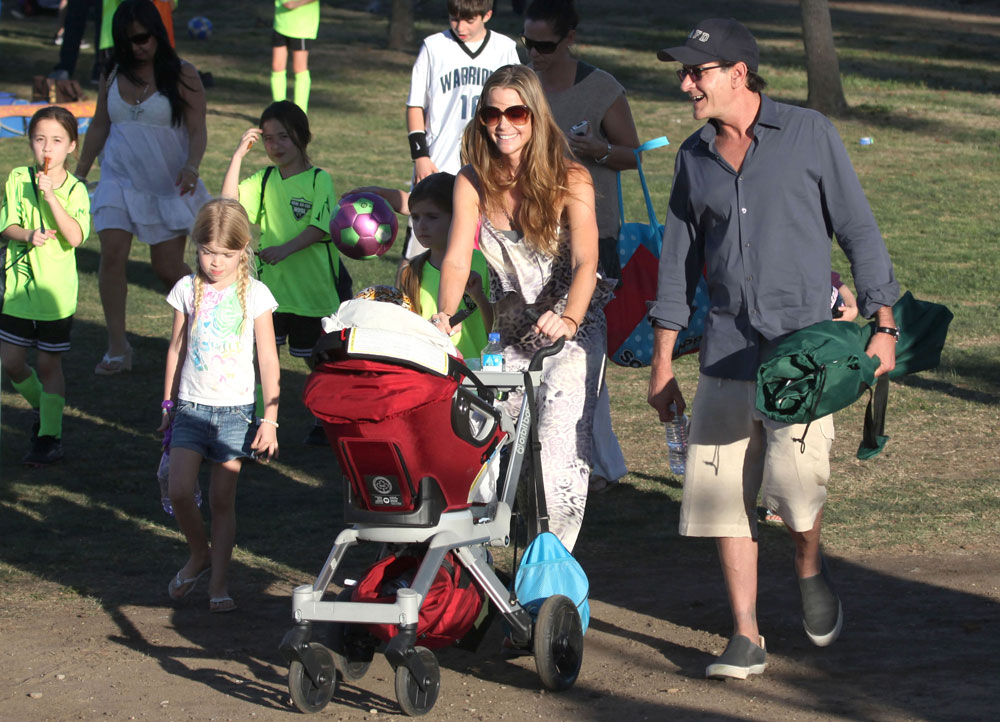 Header image is from October. Credit: WENN.com. Other images credit: Fame Flynet