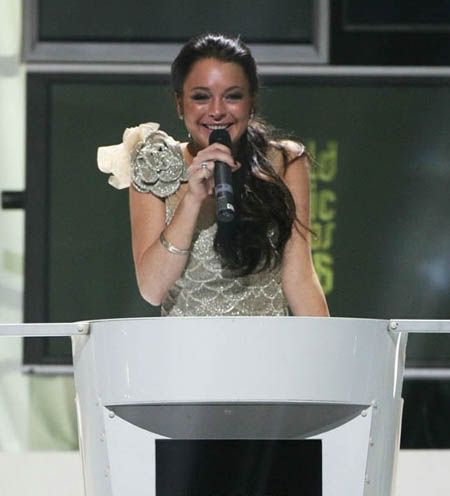 Lindsay Lohan, the intended host of the World Music Awards, was met with boos whenever she went on stage last night. She was so upset that she tripped and fell down some stairs backstage. She stopped hosting about half way through after her accident, but that didn't stop her from partying it up afterwards:
It was the night from hell for Lindsay Lohan at the World Music Awards.

She was visibly upset when the audience booed her every time she took to the stage, she fell down the stairs and was forced to abandon her role as main host of the ceremony.

The 20-year-old actress pulled out halfway through after tumbling down a flight of stairs backstage.

An onlooker at the awards in Earls Court revealed: "Lindsay was devastated, she came off stage and fell, and so she had to give up. It looked incredibly painful."

Her role was from then on taken up by the individual awards presenters. Luckily, she was not seriously hurt – she was well enough to go partying afterwards, the only sign of injury a blue sticking plaster on a finger.
It seems like the Brits are fond of booing and that it's more common there, judging from what I've seen of their sessions of Parliament, but I would like to see footage of Lohan getting booed. Did anyone see the Awards and can they verify the booing? The highlight video that was posted on The Daily Mail website did not include clips of Lindsay hosting, and nothing has hit YouTube yet.
Of course she went out partying afterwards. That always seems to take priority over her work obligations, no matter how obscenely paid she is.
Here is Lohan looking exceptionally orange at the WMAs last night. [via]