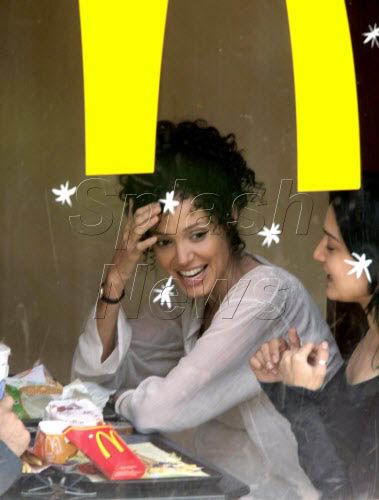 Brad Pitt is said to have told his family in Springfield, Mo. that he has a big surprise for them over the holidays when he is planning to visit with Angelina and their three children. Star speculates that Angelina is pregnant, and that's his big news.
Brad Pitt's family in Springfield, Mo., can't wait for the holidays! Not only is Brad planning to bring Angelina Jolie and their three children to town for the Christmas holidays — to stay in the palatial house he just had built only a quarter of a mile away from Brad's folks, but Brangelina also has an exciting announcement they want to make!

One way or another, sources say, their little family is about to expand. "Brad is telling his family he'll have big news for them all," a source tells Star. "He calls it his holiday surprise. Everybody in his family already thinks it's what they've suspected for weeks now — that there is news about a baby No. 4 for the Jolie-Pitts."

On one hand, as Star has reported, Angelina, 31, has been showing some signs of early pregnancy while in India with Brad, 42, and their kids shooting A Mighty Heart, her new movie about murdered Wall Street Journal reporter Daniel Pearl.

"She's taking prenatal vitamins," says a source. "It's like she can't seem to keep food down. Even the smell of Indian food is enough to make her turn pale."

But there's more than one way to expand a family. Two of their children — Maddox, 5, and Zahara, 22 months — are adopted (baby Shiloh, 6 months, is their only biological child), and sources tell Star that the glamorous couple is seriously considering going the adoption route again.
We'll have to see what happens with Brad and Angelina, but I'm still not buying the "Angelina's pregnant again" rumors, even with all the fainting and black clothing she's wearing. It could be true, we'll just have to wait and see.
Everyone seems shocked that Angelina is in a McDonalds on a break from filming "A Mighty Heart," but I remember reading that she took Maddox to McDonalds a few times so it's not like she's dead set against it. Just Jared reports that she ate a veggie burger and fries. Sounds delicious.
Pictures courtesy of Splash News Online and also found at I'm Not Obsessed and Angelinaweb.