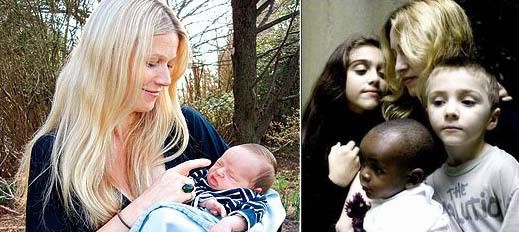 There's this cute story about how Madonna is taking her new little half-orphan 13 month-old David to visit Gwyneth Paltrow's 9 month-old son, Moses. Stella McCartney's 19 month-old son, Miller, and Kate Winslet's three year-old boy, Joe, are also said to have joined them a few times:
Madonna's adopted son has been enjoying play dates with Gwyneth Paltrow's baby boy Moses.

The 'Hung Up' singer has been taking 13-month-old David – who she gained interim custody of on October 12 – to the 'Shakespeare In Love' actress'North London home so the two tots can get to know each other.

A source close to the pop superstar is quoted by Britain's The Sun newspaper as saying: "Madonna was keen for David to get friends his own age group."

The two famous babies have also been joined by fashion designer Stella McCartney's 19-month-old son Miller and actress Kate Winslet's three-year-old boy Joe on several occasions.
This sounds really cute and all, but I don't know if I believe that all these famous babies got together. I mean, where are the pictures of the mommies outside their homes? We see Madonna and Gwyneth's every gym visit, wouldn't this be bigger news if they were visiting each other with their babies?
Maybe it's true that Madonna and Gwyneth had a few glasses of wine and talked about their vacation plans in those fake British accent while the nannies watched their babies, but I'm not sure that Kate Winslet and Stella McCartney came along and dropped off ther tots too.