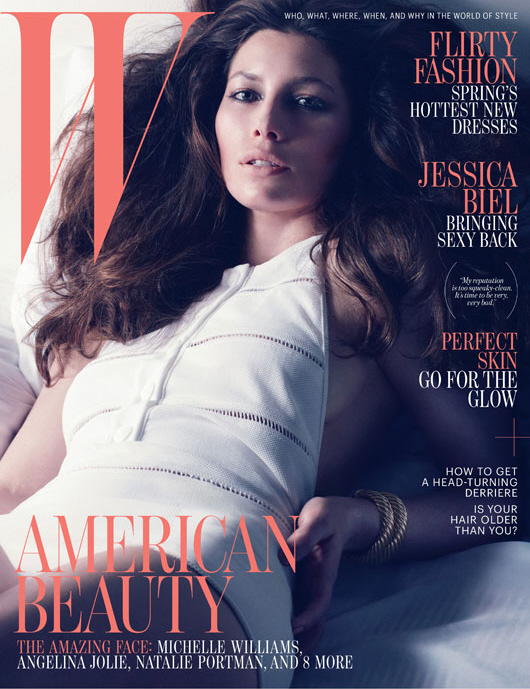 Jessica Biel covers the April issue of W Magazine. There's some debate on some of the fashion sites as to why exactly Biel deserved the cover – technically, she's doing some early promotion for the reboot/remake of Total Recall, which doesn't come out until August. So what is Biel really promoting? Could it be her engagement to Justin Timberlake? The timing of the cover fits – she gets engaged over Christmas, and her publicist is able to arrange this cover shoot within weeks, which Biel likely did in February. So, basically, Biel is just going to be known as Justin Timberlake's fiancée/wife now. But she doesn't mention Justin – which makes the short interview super-boring. You can see W Magazine's slideshow here, and go here for the full W Magazine interview. Here are some highlights:
She's a tomboy: "[The first movie I remember seeing was] The Goonies. I never identified with girls, and the cast was all boys. Girls were nervous about going into caves; they were scaredy-cats—and I wasn't into that at all. I loved the idea of being with a crew and having an adventure. I was really interested in pits full of snakes."

She had Barbies: "I did, but it was always, "Let's play sex with Barbies!" My Barbies were usually naked. Once, I took their heads off, cut their hair, drew on their short, spiky hair with some markers, then stuck the heads on Christmas lights. Every year, we'd string our tree with those Barbie heads. It looked demonic. My parents were so cool—they saw it as a form of self-expression."

W Magazine: 7th Heaven was known for its wholesome, all-American, quasi-­religious message. The parents were literally and figuratively blond and blue-eyed. It always seemed to me that, physically, you looked like you belonged in another family.
Biel: Looking back I can see that, but at the time I literally didn't care if I was the wrong race or wrong gender; I wanted that part. I wanted any part. And that show was fun. I was a basketball player who was going through all the stuff that a 14-year-old goes through, which is, as you know, completely psychotic.

She's physical: "I've always been physical. I have no concept of what life is like without physical activity."

Fighting with Kate Beckinsale in Total Recall: "Fun—so fun! Our fight scene isn't overtly sexy: just two trained fighters who happen to be women kicking the sh-t out of each other. It could be two dudes, but we just happened to have long hair and boobs and…other things [laughs]… Kate and I usually fight men in movies, and when you knock into a man, he doesn't care. But every two seconds, Kate and I were saying, "I'm so sorry—are you okay?" We were both so nervous about fighting another woman. Which is strange, because I have no problem fighting with a guy. In truth, I like doing anything that requires breaking a sweat."

She's one of the few who cops to living healthy: "I know. I think I need to destroy my reputation. This whole I'm outdoorsy, I'm really healthy—it's too squeaky-clean [laughs]. That's going to be my new thing: Go dark and unhealthy. It's time to be very, very bad."
[From W Magazine]
Does anyone else think it's funny that Biel still gets questions about 7th Heaven? Lots of actresses get their start on TV shows, and lots of actresses outgrow it. Biel is more than a decade removed from 7th Heaven, but it's still one of the things that most people know about her: she did a churchy TV show and she's with Justin Timberlake. Here's a real question: if she was open to it, do you think Jessica Biel would find renewed career success in television? I have my doubts. But it doesn't matter – I don't think she would ever go back to TV. She's hellbent on making this film career work.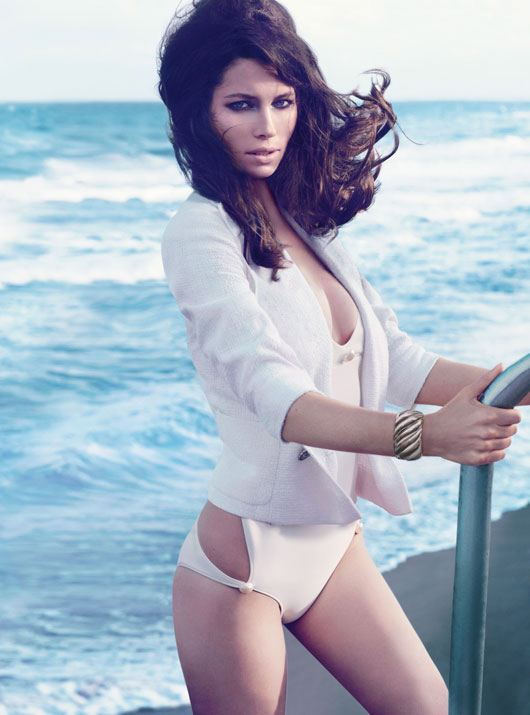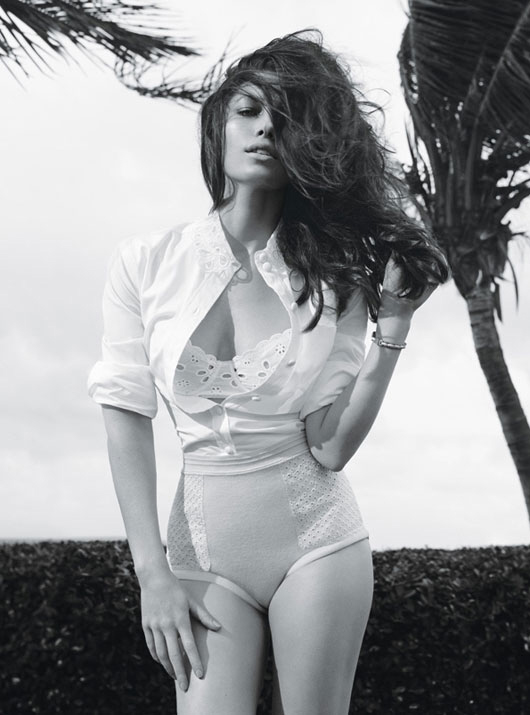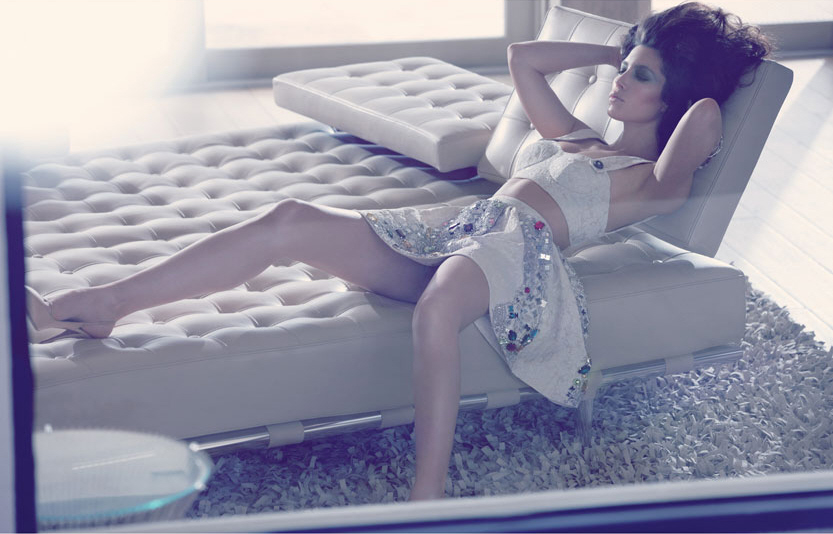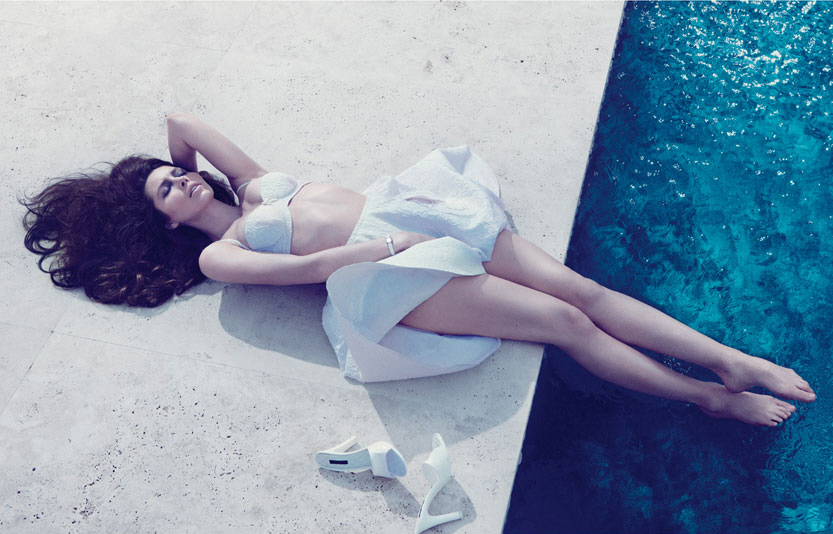 Photos courtesy of W Magazine's slideshow.