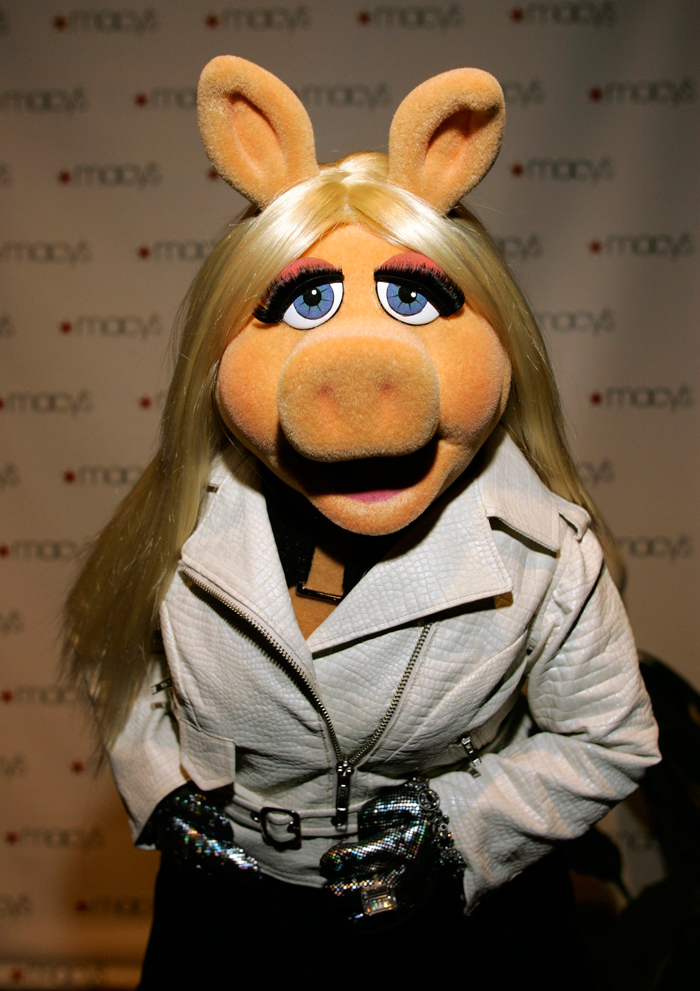 This is an adorable and highly inspiring story. In recent days, we've collectively surveyed the ills of plastic surgery topics ranging from fillers (Ashley Judd), Botox and lifts (Cindy Crawford), and plastic surgery in general (Emmanuelle Beart). Now Miss Piggy (of Muppets fame) has decided to open up a bit on Anderson Cooper's talk show and discuss her own Botox addiction. What follows is a harrowing (and somewhat heartening) account of one pig's dependence on a certain cosmetic-enhancing toxin:
Miss Piggy first appeared on The Muppets in 1974, since then the buxom blonde has barely aged a day and remained a youthful piglet with a spring in her trotters, and now RadarOnline.com can reveal her age-defying secret.

"I have at one time said I am 99 percent Botox but that might be underestimating," Kermit the Frog's main squeeze revealed to Anderson Cooper on Thursday's episode of his talk show.

Her fellow guest on the show, CNN's Dr. Sanjay Gupta pointed out that the pink pint-sized star did boast a very immobile look, "That forehead doesn't move at all does it?" he asked.

"No it doesn't. There's hardly a single expression I can make on this face," confessed the actress and singer, who exuded glamour in a gold dress, pearls and long black gloves.

A concerned Cooper asked Gupta if so many injectables were safe from "a medical standpoint?"

"First of all Miss Piggy, you look beautiful," gushed Dr. Gupta. "You need absolutely no work whatsoever. I do think it is possible to go overboard when it comes to plastic surgery or even Botox.

"Botox is something that can be safe but one of the potential concerns if you use too much of it you can actually make your eyelids droop, you can cause headaches, you can cause other problems. Luckily it's temporary. She looks great though," he added.

Miss Piggy, also known as Piggy Lee, looked flattered by the compliment, although it was hard to tell her frozen face if she was smiling or not. While she has not admitted to ever having more invasive surgery, The Muppets star has been rumored to have had her snout softened with rhinoplasty, her ears pinned back, pig cheek implants and fillers.

The full interview airs on the new episode of Anderson on Thursday, March 15.
[From Radar]
Isn't it refreshing that at least one aging Hollywood starlet can admit her dependence on Botox and will also candidly point out its ill effects? Miss Piggy might not be a role model to many, but she deserves a lot of credit for coming clean on the cause of her (clearly) immobile face. I can only hope that, one day in the near future, she can kick this nasty habit. By the way, here's a video clip of Miss Piggy's appearance on The Coop's show:
In somewhat Muppet-related news, TMZ reports that Courtney Love has accused The Muppets movie of "rape." Yes, she is perfectly serious and obviously doesn't realize the gravity of her own words:
Courtney Love believes Kermit the Frog and his gang of Muppet friends "raped" the memory of her late husband Kurt Cobain — by bastardizing Nirvana's "Smells Like Teen Spirit" in their 2011 movie … without her permission.

Courtney says she has the absolute power to approve or nix the use of Kurt's music for commercial purposes, and she never gave the OK for the 2 companies to use the song for the 2011 Muppets movie.

But there's another side to this … We're told Courtney sold off half of her rights to Kurt's music to a company called Primary Wave Music. And there's more … Courtney also gave Primary Wave the exclusive right to distribute Nirvana's entire catalog.

As far as "Smells Like Teen Spirit" goes … not only did Primary Wave approve the use in the Muppet's movie, they got permission from the two surviving Nirvana members — Dave Grohl and Krist Novoselic. And Dave is even in the movie.
[From TMZ]
Eh. Courtney has no room to complain on this issue since she's already sold off the relevant sections of the Nirvana catalog, and I'm sure that Dave and Krist are well accustomed to dealing with her incoherent crap. Ultimately, I'm figuring that Courtney probably talked to TMZ, fired off several tweets about this latest perceived audacity, took a few benzos, and promptly fell asleep, never to remember anything of this incident.
Whatever the case, Miss Piggy should not feel at all slighted by Courtney's complaints. Furthermore, she should probably lay off the Botox a little bit too. I've got a hunch that Kermie loves her just the way she is already.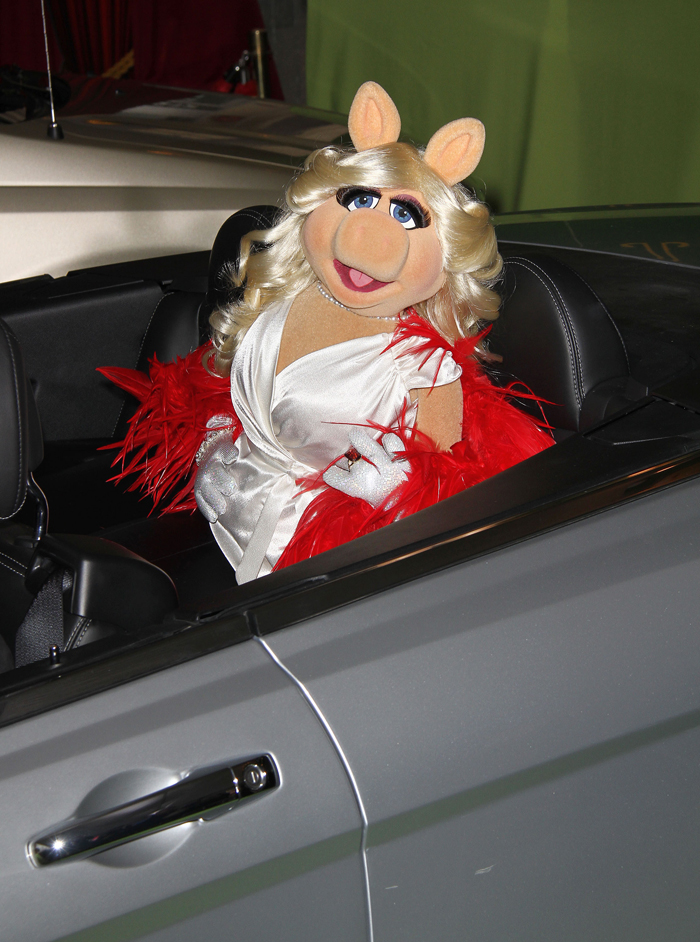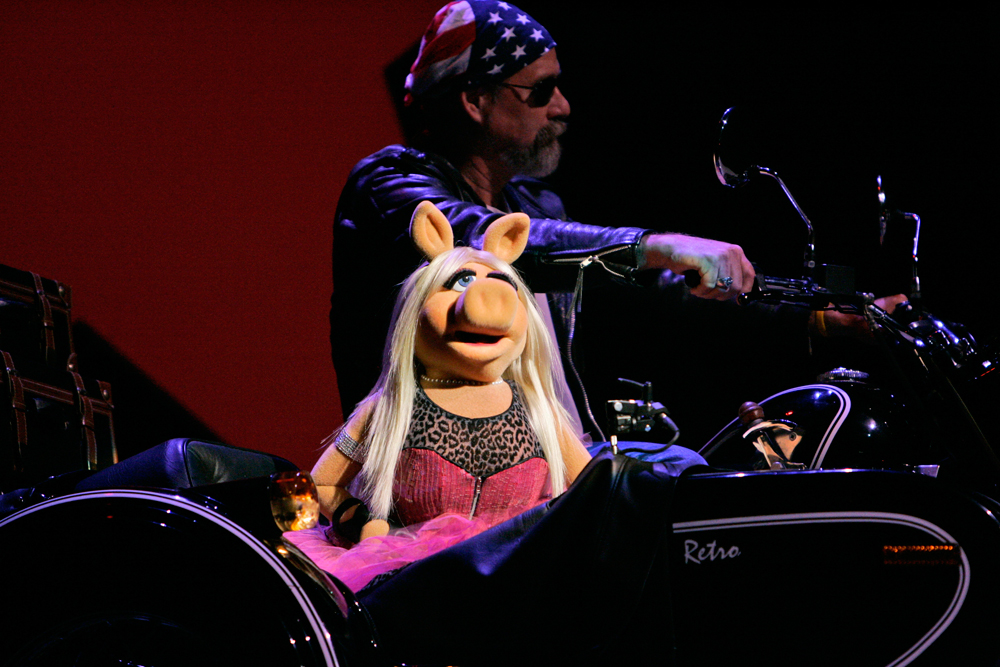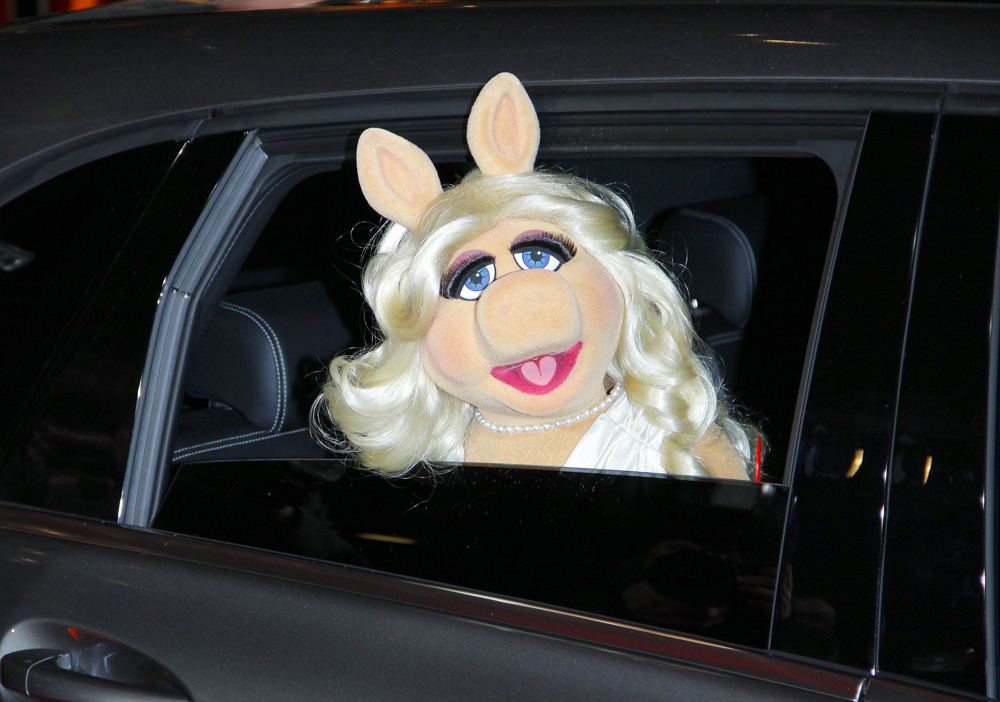 Photos courtesy of Fame/Flynet and WENN