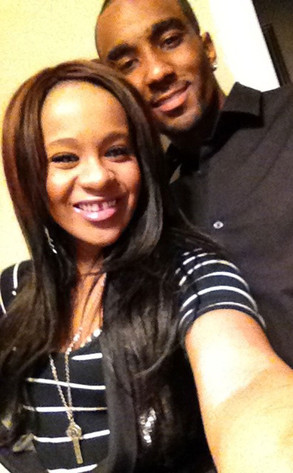 Video of Bobbi Kristina and Nick together is here
This is one controversial story that I didn't want to discuss when it came out, but now that there's more news about it we may as well. I'll start with an anecdote that comes to mind. About 15 years ago, when I was in college, I met a couple through a mutual friend that kind of blew my mind. They were step-brother and step-sister, not related at all except by marriage, and they acted like best buddies in public until one night when they started making out at a party. It skeeved both my friend and me out, but we acted cool about it and tried not to judge. I barely knew the couple and I lost touch with that friend, but I will always remember seeing them make out and wondering how that worked exactly. I have a brother and even if he wasn't my blood brother I like to think I could never view him that way. Maybe since I have a brother I'm reacting more strongly to this than I otherwise would. (There's also a couple on "Teen Mom," Catelynn and Tyler, who are step brother and sister. Their situation is different because Catelynn and Tyler were dating before their parents met and got married.)
As you know Bobbi Kristina Brown, 19, lost her mother Whitney Houston just over a month ago. It's a lot to deal with at such a young age, and she must be very vulnerable. We heard from Bobbi in an interview with Oprah last weekend. She sounded like she's coping well, but it just seemed way too soon to be interviewing her. (And one of Bobbi's aunts agrees.) Bobbi is now involved in what looks like a new romance with her "adopted brother" Nick Gordon, 22. Nick was living with Bobbi and her mom since he was 12, basically for the last 10 years, although he is not related to her at all. He's currently living with her in the late Whitney's mansion, and they were recently spotted out kissing and holding hands.
Nick has blasted his critics on twitter, and he sounds like he's being defensive about the romance, not that he's denying it at all. Outlets are reporting that Nick is tweeting that he's not dating Bobbi Kristina, but read these tweets and tell me if he's defending himself or saying he's not involved with her. (Note that he seems to have cleaned up this account and I can no longer find these tweets.)
"Yea we got a little closer and what!"

Though he was never formally adopted by Whitney Houston, Gordon was essentially Houston's "adopted son" after the late singer took him in when he was just 12-years old, her brother Michael Houston told ABCNews.com.

Similarly, Bobbi Kristina and Gordon were raised like brother and sister, though they are not blood-related.

"All the haters that don't know us or the real story can't unfollow me. I don't give a f–k," Gordon wrote on Twitter to address the rumors. "I've proved my loyalty to her and the Houston family. I don't owe any of you anything. Ha, I don't even know y'all haters."

Bobbi Kristina's "brother" also added that anyone who thought they were having an incestuous relationship because of the "sibling" label was badly mistaken.

"For the stupid ppl out there, she gave birth to 1 child. And she trusted me with EVERYTHING!!!!!!!!" he wrote.

"She called me her 'God Son,'" he continued. "I swear some ppl in this world act like they don't have a brain …"
[From The Daily News]
Now Bobbi Kristina's grandmother, Whitney's mom, has told TMZ off the record that she thinks this is like incest and that Nick is taking advantage of Bobbi. Well, Bobbi is the sole heir to her late mom's fortune. I wouldn't be surprised.
Cissy Houston — Whitney Houston's mom — has reacted fiercely to the video we posted Wednesday … showing Bobbi Kristina and Whitney's "adopted" son Nick Gordon in a romantic grip, and then kissing (below).

Cissy told a close friend, "What they're doing is incestuous." Cissy feels her granddaughter has problems and Nick is taking advantage of her.

Although Whitney never formally adopted Nick, she considered him her son and Bobbi called him her brother. For his part, Nick called Bobbi his sister.

Cissy is so concerned that Bobbi has become impressionable and therefore an easy target for Nick, she's asking the Whitney Houston Estate to take legal steps to get him evicted from Whitney's home — where Bobbi Kristina is also living.
[From TMZ]
If they called each other brother and sister for the last 10 years, I don't really get it. I do understand how relatives could be outraged. It's not that I think it's necessarily wrong, and Bobbi deserves some happiness. It's just that I can't imagine it personally, if that makes sense. Hopefully they genuinely care for each other and Nick has Bobbi's best interests at heart.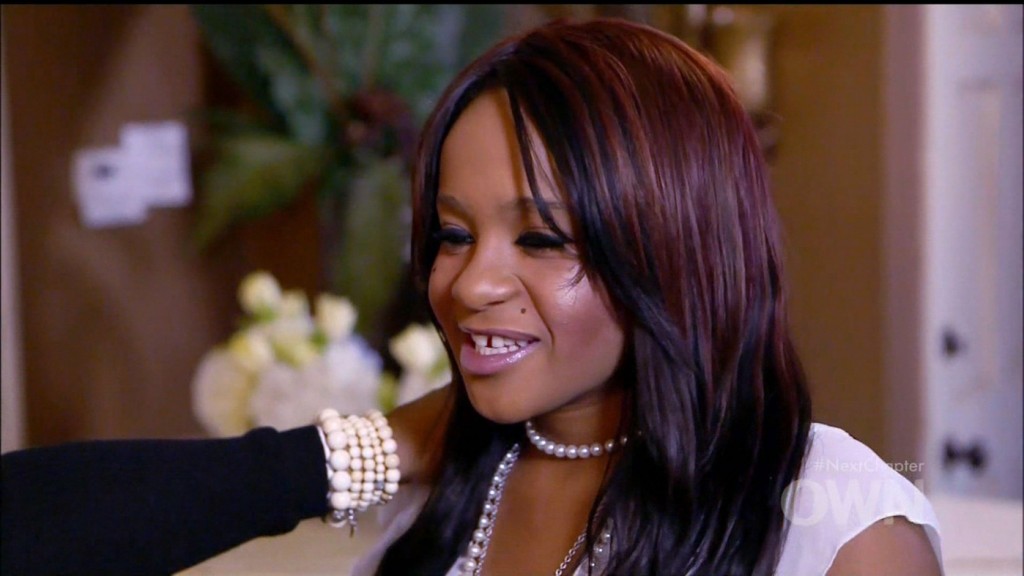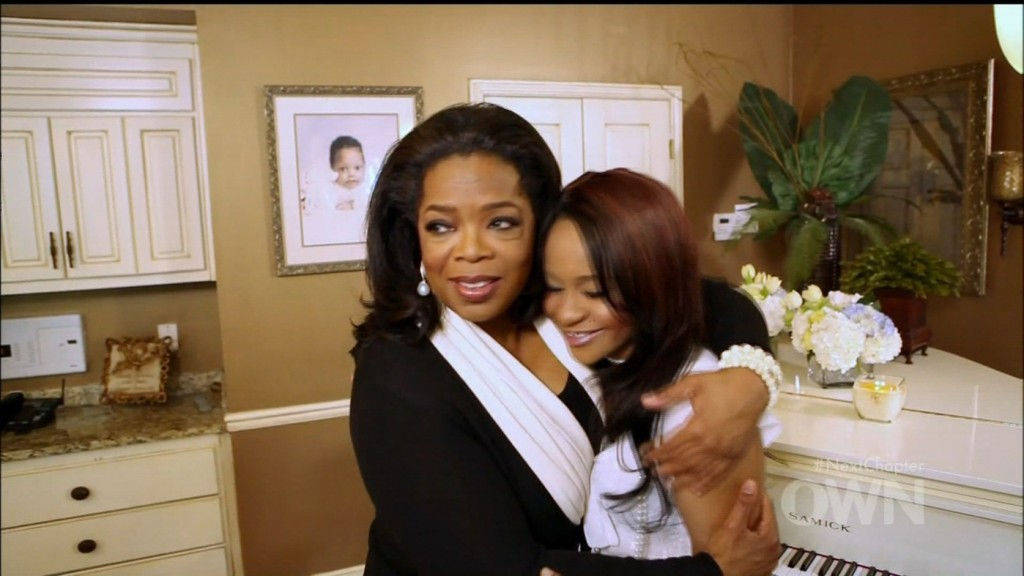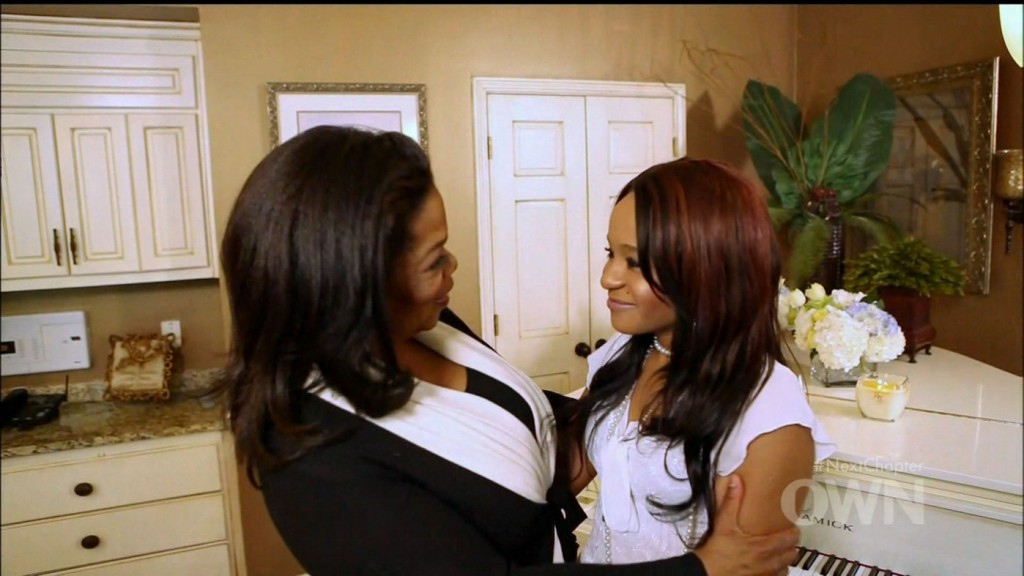 Photo credit: OWN via PCNPhotos and Twitter