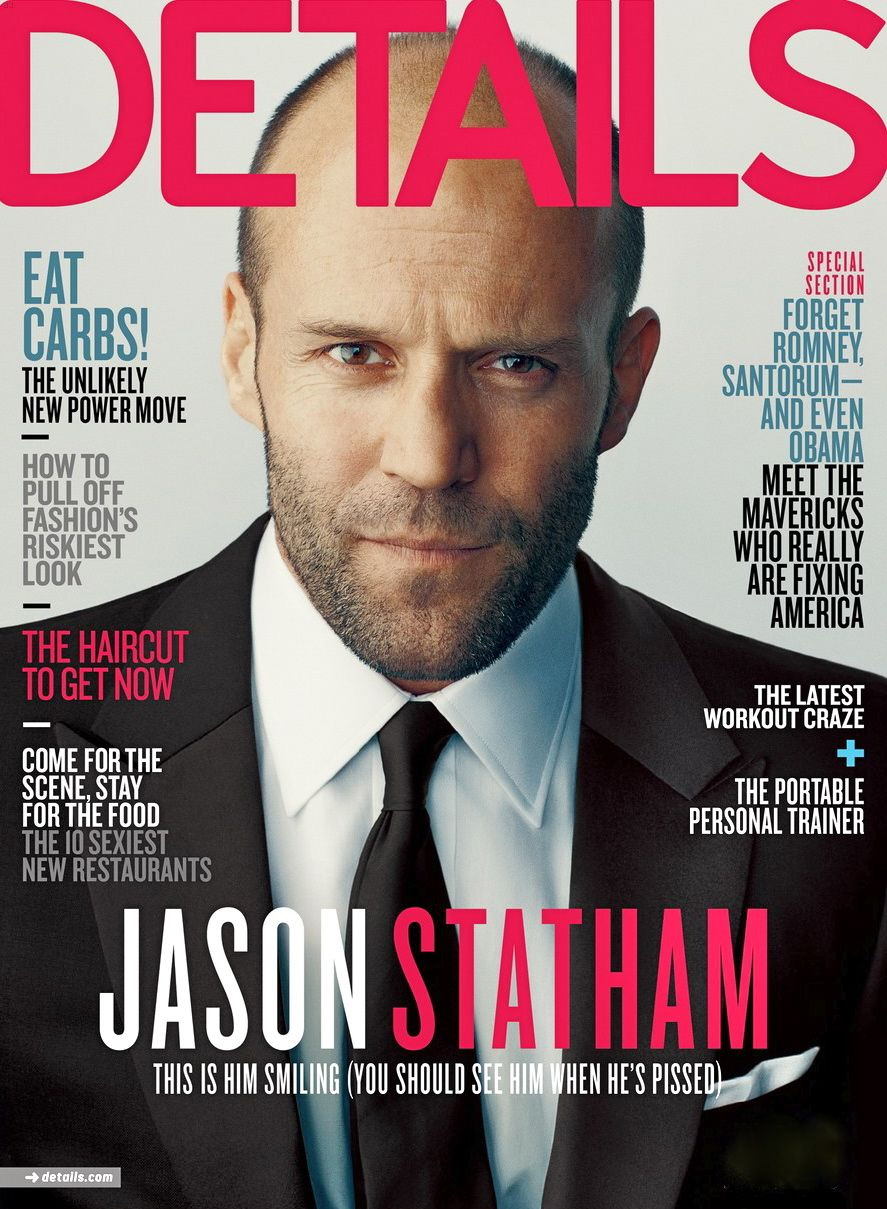 Jason Statham covers the April issue of Details Mag. All we have right now from the photo shoot is the cover – my apologies. Details hasn't released anything on their site, so I'm just going with Page Six's excerpts of the cover interview. I have to admit – I kind of lost interest in Jason after I read an interview that he and Clive Owen did together last year. Jason just came across as one of those angry little guys, always looking to pick a fight with whomever is sitting in front of him. Maybe he was just trying to show off for Clive, I don't know. But it was a turnoff. So how weird is it that in this interview, Jason misses a chance to bitch about the Kardashians? He was asked if he considers himself a "brand" and he merely name-checks the Kardashians and leaves it at that. Daniel Craig and Jon Hamm went a lot further – maybe Jason just doesn't like to pick fights with girls.
Following Jon Hamm's slicing comments, another Hollywood heavyweight is weighing in on the Kim Kardashian brand. When Details asked Jason Statham, the reigning king of action films — and boyfriend of Rosie Huntington-Whiteley — if he thought of himself as a brand he said, "F–k no, why should I?"

When asked if he believes people see earnings of $30 million a film as a "brand in need of management," Statham replied, "F–k 'em. Kim Kardashian's a brand."

Statham went on to talk about his past as a street hustler in South London and how it prepared him for Hollywood. He said, "See, it's that necessity for a bargain, that relentless thirst for a discount, that let me create the illusion. That's what we played on, and, you know, that's all I ever really knew … So much of this industry is buried in bulls–t. You're pretending to be something onscreen, fine. But it's also the way it plays out here, every day. 'Yeah, we love you, can't wait to put you in a movie'. It's f–king bulls–t. Not to be entirely negative, mind you, because there's so much talent here, so many people that are righteous. But believe me, there's so much that ain't, and you see that coming in so thick. I did it for a living. I see it before it enters the room. And usually I know just to point my compass elsewhere."

On getting an agent, he added: "F–kin' useless that was."

And, on drama school: "Not for me."

And he described the surfing analogy he uses for an acting career, "They're all waiting for that wave, but it may never come, so they take what's offered, paddle back out."

But he adds, "I'm two, three duds from being back on the street. Of course I'm looking for the perfect vehicle, a more intellectual action film, perhaps."
[From Page Six]
Yeah. He wasn't insulting Kim Kardashian, he was just pointing out the difference. He's not interested in having a Statham-branded cologne or designing a line of jeans. He just wants to act in action films. Whose career do you think he admires? I'm thinking Bruce Willis, right? No one ever says Bruce Willis, but there are certainly worse examples of "action stars with substance." It will be interesting to see if Jason ever tries to do what Bruce did mid-career – which is try out his dramatic chops. Bruce was successful. But I'm not sure Jason could be.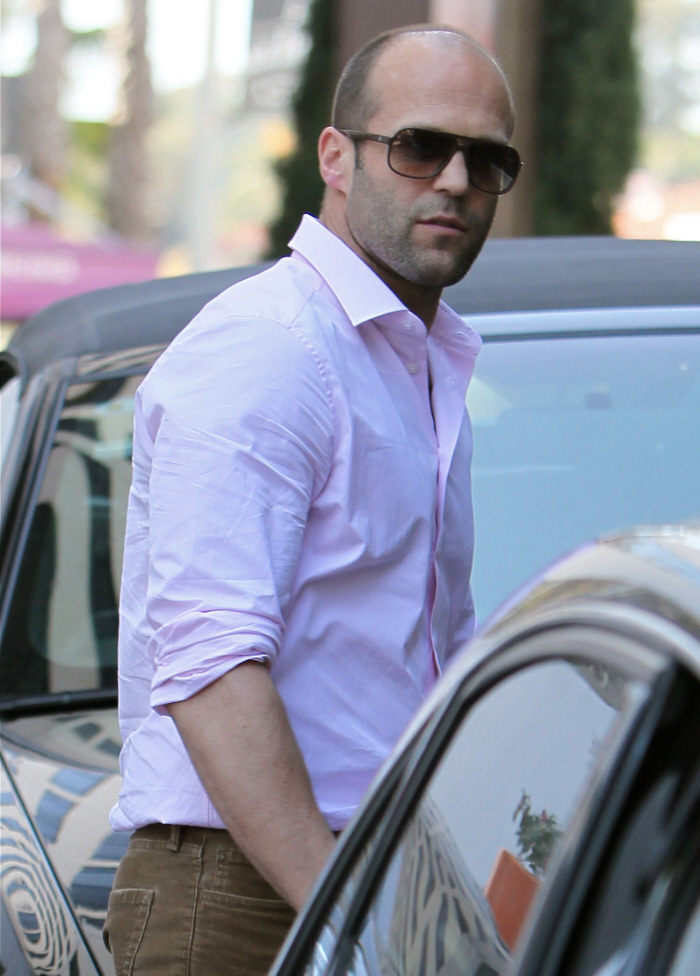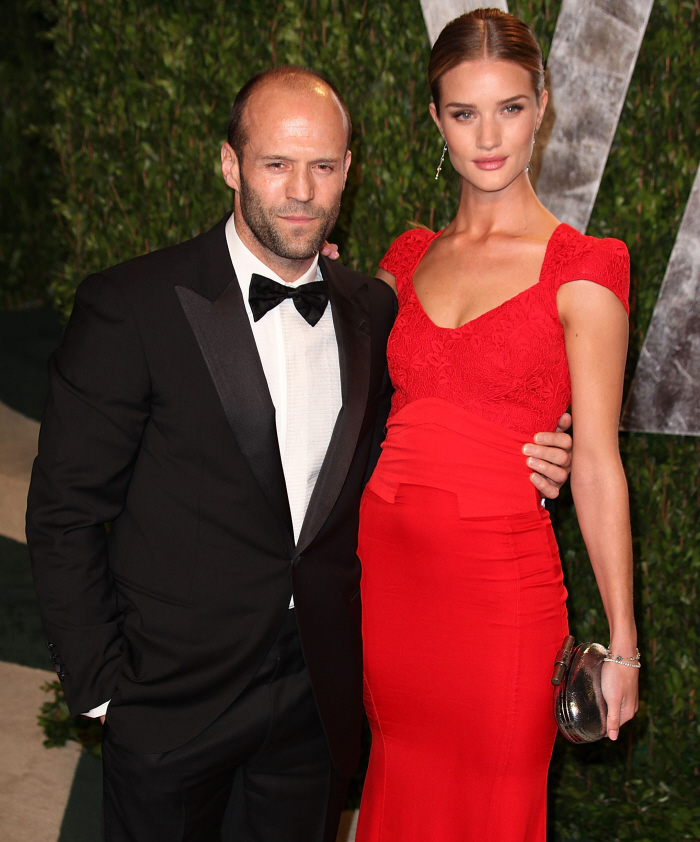 Photos courtesy of Details, WENN.