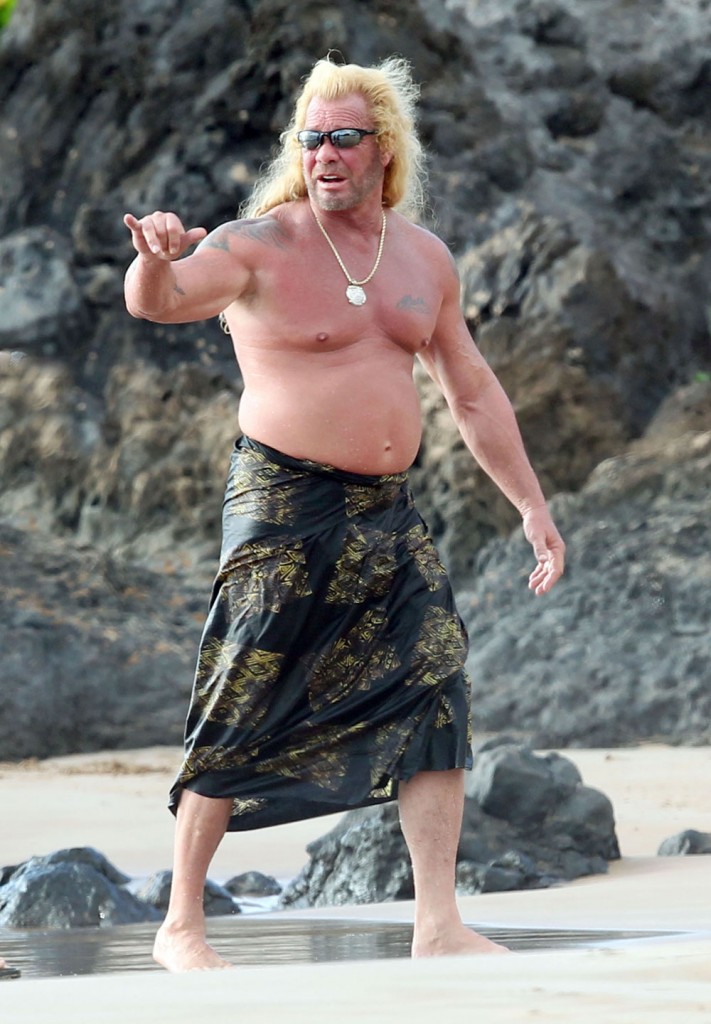 These are photos of Dog The Bounty Hunter and his wife Beth Chapman in Hawaii. Usually these type of beach photos are totally staged, but it's a stretch to imagine that these were set up. The last time we talked about this guy at all he was spouting some racist crap on tape and liberally using the N word, so I don't feel bad about pointing out that he's gained a few and looks like he has a gut full of baby (Credit: Bossip). He obviously doesn't care. Dudes. Here's the description from the photo agency:
The Bounty Hunters, Duane & Beth Chapman spend a relaxing day at the beach and they even brought their Dog! Duane "The Dog" Chapman and his wife, Beth were spotted taking some time off catching criminals to catch a little sun in Hawaii and they seemed to have had no problem as Duane was looking a little red as he cooled off in the Ocean wearing a sarong in Maui, Hawaii on March 18, 2012. Duane seems to have packed on a few pounds…look at that belly!
[From FameFlynet photo description]
Is this guy's show even still on? Yes, yes it is, and new episodes start airing March 21. I guess that explains these beach photos then. They were staged. It takes a special kind of person to bleach their hair blonde and rock an Elvis mullet. The same kind of person who would wear a sarong coverup with his gut hanging over it and proudly call the paps. You know that show Finding Bigfoot on Animal Planet? There's got to be some crossover here.