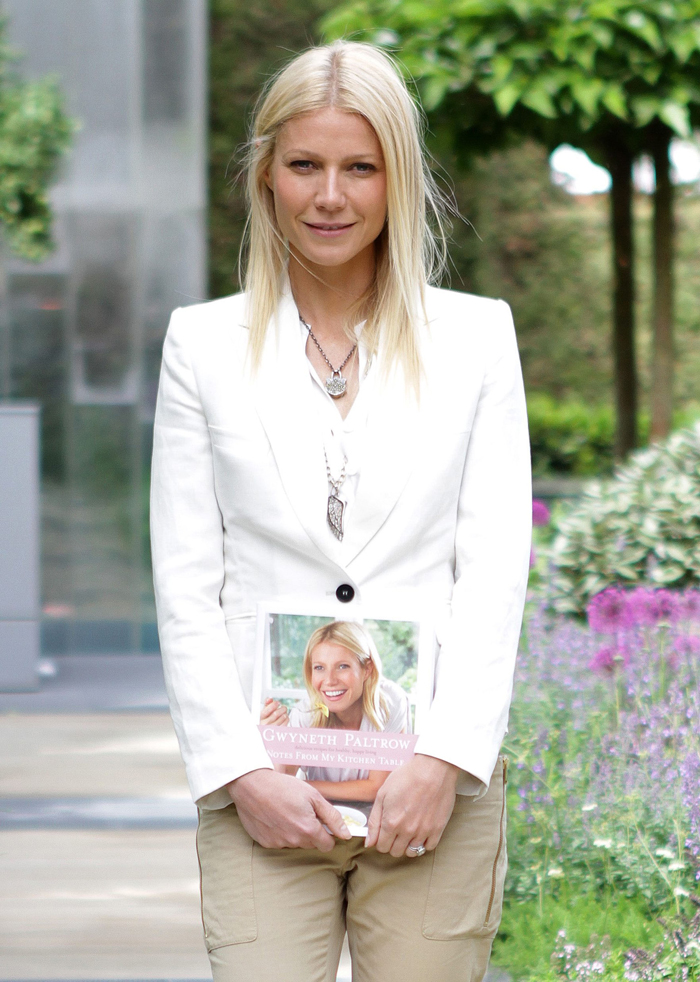 Gwyneth Paltrow and her square butt are pissed off, y'all. In case you hadn't heard, Gwyneth is the next Martha Stewart and has taken great care to develop her own Goopy lifestyle company, which is perfectly complimented by Goop's self-aggrandizing cookbook, My Father's Daughter, a compliation of 150 fancy-pants recipes. Now Goop is outraged that the New York Times has not only penned an article about cookbook ghostwriters but has included Goop's book amongst those that are guilty of the practice. How peasanty! Goop has tweeted her displeasure: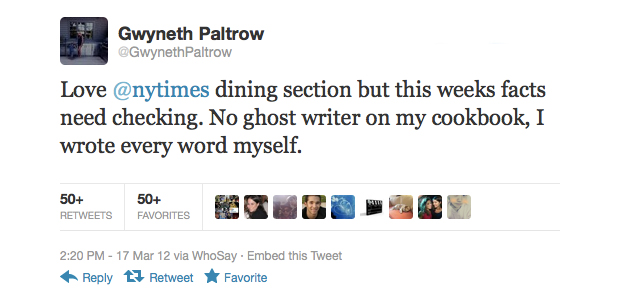 On prior occasions, Gwyneth has admitted to having help while putting together her cookbook in the form of Julia Turshen, but Goop has tried to minimize Turshen's contribution by describing her as a "kitchen assistant." Still, I can see why Goop might be freaking out because, in her eyes, this makes the Goop brand look bad — mostly because Goop is so tight with Mario Batali, and the New York Times has revealed Turshen as a former ghostwriter of Batali. Here's the relevant part of the article that has irked the Goop:
Because cookbook ghostwriting brings low pay, nonexistent royalties (most writers are paid a flat fee, or a percentage of the advance doled out by the publisher) and only a few perks, most ghosts don't last long. When a ghosted book is successful, watching someone else get credit for your work is demoralizing. And when books do not sell, which is usually the case, it is tiresome to play and then repeat the roles required: muse, publicist and interpreter.

But it can also be a gateway to better things. Julia Turshen, who is writing a second cookbook with Gwyneth Paltrow after their collaboration on My Father's Daughter, began as the ghostwriter for the ghostwriter on a book by Mario Batali, tagging along with a notebook as the chef filmed a culinary romp through Spain.

"The guy I was reporting for ended up off the project, and that's how I got started," she said. Ms. Turshen, like many younger ghosts, is generally thrilled to be paid for the combination of writing and cooking.

Oddly, one of the best qualifications for the job is ignorance: the tricky steps and specialized skills that a chef will teach the ghostwriter as they work together are the same ones the writer will have to teach to a home cook in the text of the book. The best ghosts are the ones who anticipate the reader's questions.

"It actually helps to be an idiot," Ms. Turshen said. "A hungry one."
[From New York Times]
Okay, I'll bite on this one. It is almost certain that Goop wrote every bit of her own prose during the interludes before and in between recipes. Kaiser points out that there's no one else on earth who would write that an outdoor wood-burning pizza over was "one of the best investments I've ever made" besides the Goop herself. This is not to mention other Goop-penned gems such as "One year I was given a birthday present I'll never forget — a cooking lesson from Jamie Oliver," "I grew up going to the island of Nantucket (off the coast of Massachusetts) at the end of every summer," "I basically love anything that comes in a hot dog bun… except hot dogs (sorry, Dad)," and "When I pass a flowering zucchini plant in a garden, my heart skips a beat." Stuff like that is the bread and butter of Goopy condescension, and it's all Gwyneth. So Goop wins on that point, but technically speaking, did she "write" the entire cookbook (which is mostly recipes) on her own? No way. Goop did not author those 150 recipes all by her lonesome. In fact, I'd be willing to bet that Goop had help concocting most of those recipes that weren't already written by her father.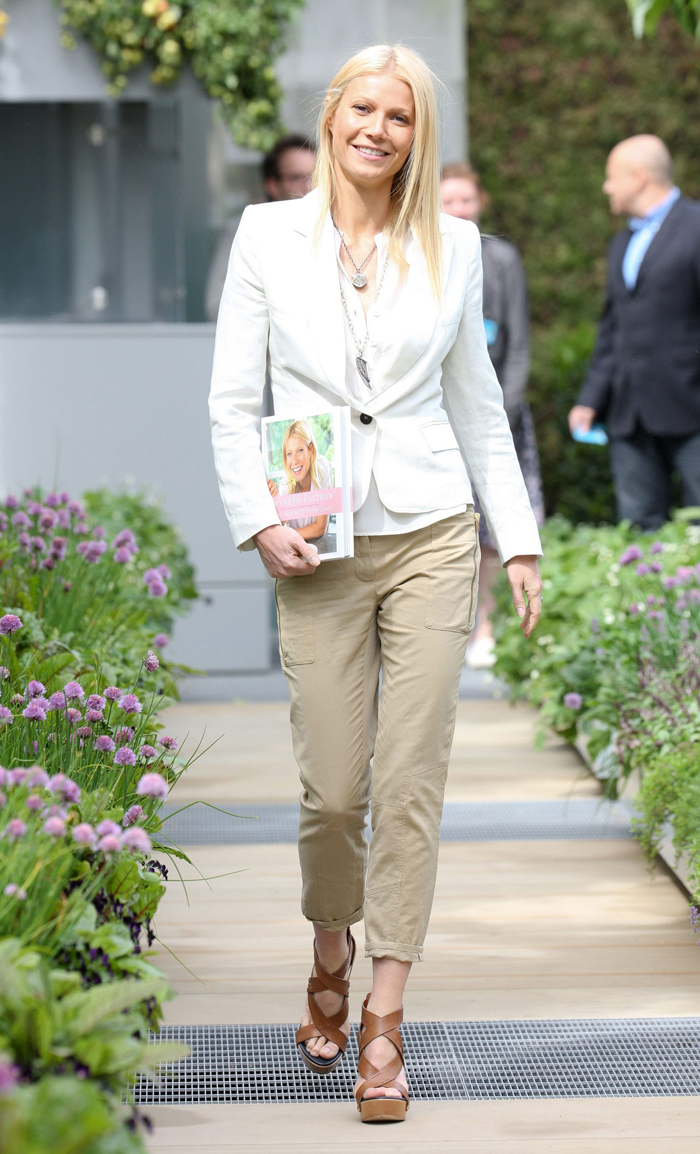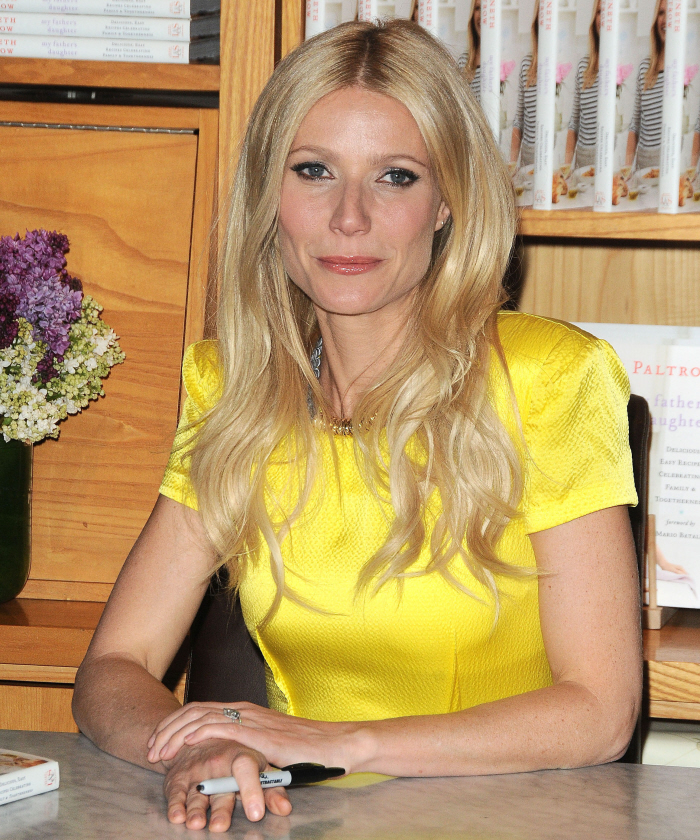 Photos courtesy of Fame/Flynet