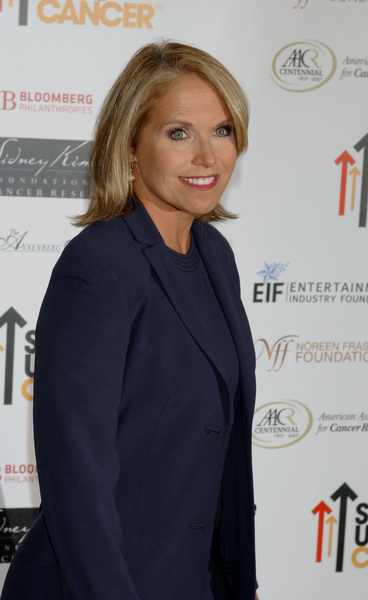 Katie Couric has a little bit of terse advice for Sarah Palin if she wants to be seriously considered as a candidate in the next election. Although Katie is pretty nice about it, it basically amounts to, "Acquire some knowledge and be less dumb. Then people will take you seriously." But the sentiment is wrapped in much more polite language.
CBS anchor Katie Couric thinks Sarah Palin has a thing or two to learn about politics before she contemplates a White House run in 2012. "I think she should keep her head down, work really hard and learn about governing. But I'm not anyone to give advice to anyone about anything," she told Page Six at Glamour Magazine's 2008 Women of the Year Awards dinner at the Essex House. Although her interview with Palin made the Alaska governor look dumb (while rejuvenating Couric's flagging career in the process), Couric won't give herself too much credit. "I was really just a conduit that allowed her to air her views," she said. "I don't want to judge. I'll let the voters do that."
[From Page Six]
It didn't seem that Palin was very well prepared for her interview with Couric. As Celebitchy pointed out, she was unable to name newspapers or magazines she read – and aside from Roe v. Wade, she couldn't list any Supreme Court decisions she disagreed with. She also gave a long speech to Couric about how John McCain is a reformer and does what needs to be done regardless of popularity.
Palin talks almost entirely in generalizations, forcing Couric to keep pressing her, saying, "I'm just going to ask you one more time, not to belabor the point: specific examples in his [McCain's] 26 years of pushing for more regulation." To which Palin responds, "I'll try to find you some and I'll bring 'em to ya." She's not a person who's great with concrete examples and/or specifics. Couric was nice about her advice, and she's got a good point.
Here's Katie Couric at the Stand Up to Cancer Benefit in Hollywood on September 5th. Images thanks to PR Photos.