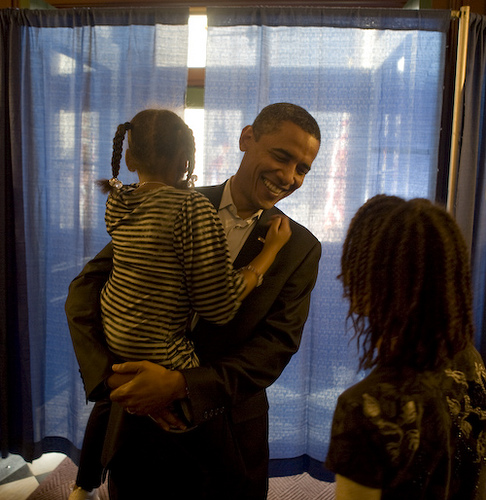 President-elect Barack Obama is going to be under a lot of scrutiny for at least the next four years. And not just when it comes to the country, but also in terms of his parenting. While there have been many children in the White House, young kids have been a bit of a rarity. Obama has said he thinks he's a "cool dad" to Malia, 10, and Sasha, 7 – and it's clear that he places a huge priority on his family.
The new issue of Us Weekly, on newsstands now, details the special bond between Obama and his daughters, and how the President-elect is the first leader who acts like a modern dad too: sharing parenting duties, attending school conferences and squeezing in the occasional date night with his wife, Michelle.

Case in point: before jetting off to the White House Monday, he kissed his daughters, Malia, 10, and Sasha, 7, goodbye and dropped them off at school. During the campaign, Michelle told Us: "He's an incredible husband and father. Not sure if the world knows yet, but they should!"

Adds Michelle's former colleague, Paul Schmitz: "The Obamas are true to their word when they say they're going to balance work and family." So how will they actually do that? Presidential historian Doris Kearns Goodwin says it may be easier now than it was on the trail: "The family is more together here than during the campaign," she tells Us.

So how will life for this once normal family from Chicago be changing? Earlier this week, Michelle began visiting potential schools for the girls ahead of the January 20 Inauguration. And even though they'll have a chef whipping up their favorite treats – and a personal movie theater – in the White House, they'll still be focusing on, "homework, chores, dance and soccer," Michelle told Us before the election. "We have to put [children's] education…first," Michelle has said.

"I think I'm a pretty cool dad," Obama told Us earlier in the campaign.
[From Us Weekly]
The Huffington Post has a really great gallery of pictures of the Obamas having special family moments with their daughters. It really is great to have a father of young children in the White House – Obama serves as a role model not just professionally but also as a parent.
Michelle Obama will be featured in the upcoming issue of OK! Magazine. She's getting just as much attention as her husband in terms of her parenting. It's hard not to wonder how in the world they both manage to have such busy careers and still make enough time for their kids, but it's clearly they've definitely figured out how to manage it.
In related news, the Obamas are also big sellers. The magazines that didn't feature Obama last week (most notably OK!) sold a small fraction compared to the magazines that did. Us Weekly and People sold approximately one and two million issues respectively. That's a pretty huge difference – one that OK! is obviously trying to make up for. They apparently thought Suri Cruise was a better bet than the next president of the United States.
Photos from Barack Obama's flickr used under Creative Commons license. Credit: David Katz/Obama for America