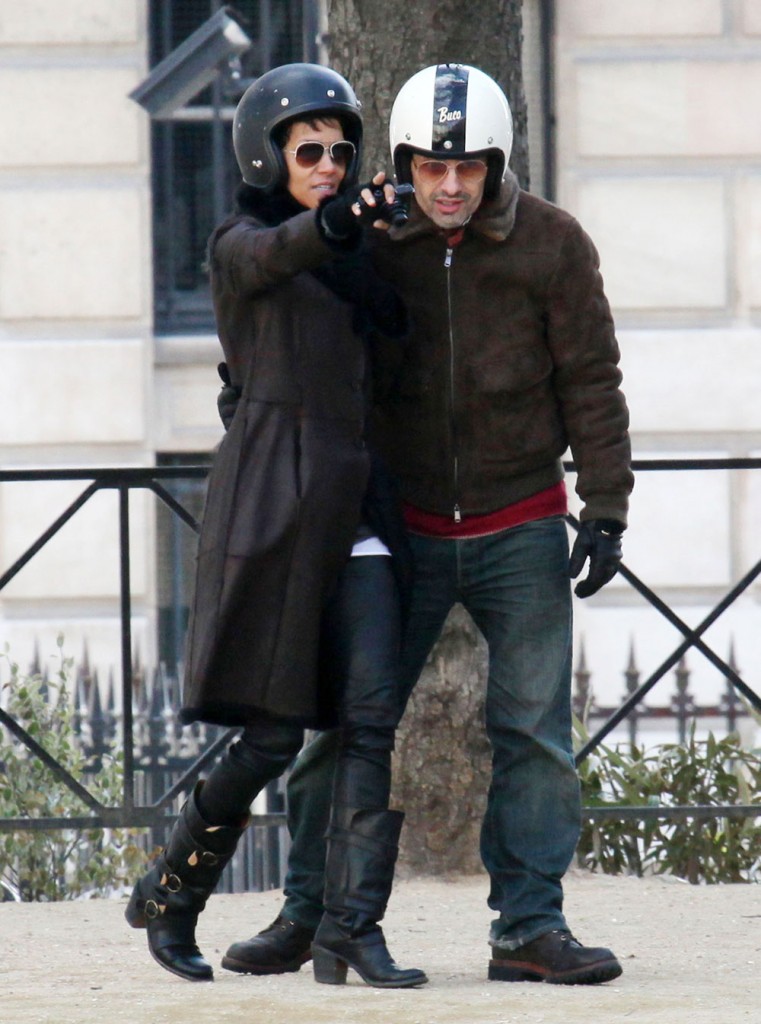 The last we heard about Halle Berry's custody battle, her ex Gabriel Aubry was triumphant in court and maintained custody of their daughter. A temporary order requiring supervised visits for Aubry was lifted, after Halle's earlier attempts to request a move to Paris were denied. (After which Halle fired her lawyer and replaced him with one that was both pushier and easier to influence.) Reports claim that the judge has stated that "absolutely no ruling [on Halle's request to relocate to Paris] will be made for at least 6-9 months, and that will be after the psychologists, Nahla's court appointed lawyer and the custody evaluator submit their reports." Despite repeated setbacks in her court battle to strip her ex of visitation rights and/or move out of the country, Halle hasn't given up hope. She was photographed in Paris yesterday with her fiance, Oliver Martinez, visiting a school, presumably for Nahla. She knew there were paparazzi around her. Multiple agencies have these photos. She did this on purpose as a message to Gabriel. Here's more, from TMZ, which has had so many stories from Halle's camp that you can assume she called them up and told them what to run:
Halle Berry is banking on her custody judge giving her the green light to move to Paris with 4-year-old Nahla — because we got pics of her checking out preschools in Paris.

TMZ broke the story … Halle wants to move to France with her fiance Olivier Martinez and Nahla to escape the paparazzi that dogs her in the states. She also feels unsafe in the U.S. because of ongoing stalker issues and fears for Nahla's safety.

Baby daddy Gabriel Aubry is fighting the move, claiming it's bad for Nahla to sever meaningful contact with him.

The judge has yet to rule on the move.
[From TMZ]
TMZ "forgot" to add that the judge's ruling may not happen until 2013, although Halle is probably counting on it by the time school starts this fall. I just hope that the judge in this custody case is clued in to some of these stories that are in the press. Halle is pushing this so hard that it's going to snap back at her. She better be careful or that tell all that Gabriel keeps threatening just might happen.
Here's Halle in Paris without her foot cast yesterday. She lost it just in time to ride on Oliver's motorcycle, since she was sporting it in these other paparazzi photos taken in LA on 3-14. Photo credit: WENN.com and FameFlynet