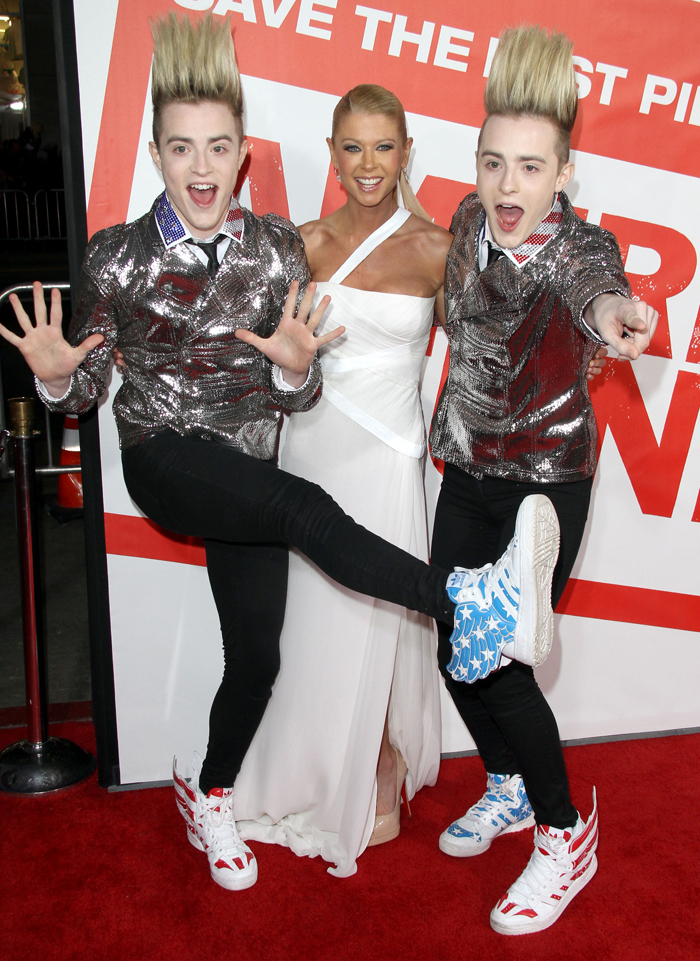 Last night was the Los Angeles premiere of American Reunion at The Grauman's Chinese Theatre. After several straight-to-DVD sequels, I don't understand at all why this reunion movie even bothered with a theatrical release. Not that I watched those other installments — although I did try to stomach the second movie (the one where they painted a summer house?) and just couldn't make it past the first half. So awful.
Tara Reid was the big star on this red carpet, which is odd considering that it was rumored that she's the lowest paid returning cast member. She brought the Jedward twins along as her "date" after she became BFFs with them in the "Celebrity Big Brother" house last year. Although I'll admit to experiencing some girlish delight at the sight of these ridiculous twins, Tara really should've left them at home. I mean, this is probably the last chance for a lot of the (below) actors to ever walk a red carpet, and these guys are totally Jedwarding out and stealing the limelight. Not really fair.
Anyway, poor Tara. She was supposed to really go places after the first movie, you know? It seems so weird in retrospect, but I think Hollywood expected her to become a romcom queen, and it just didn't work out. Truly, the most interesting thing that Tara's done lately is flash her panties while out on the town with her fake random husband. Tara looks fairly understated here and really good considering that she's Tara Reid.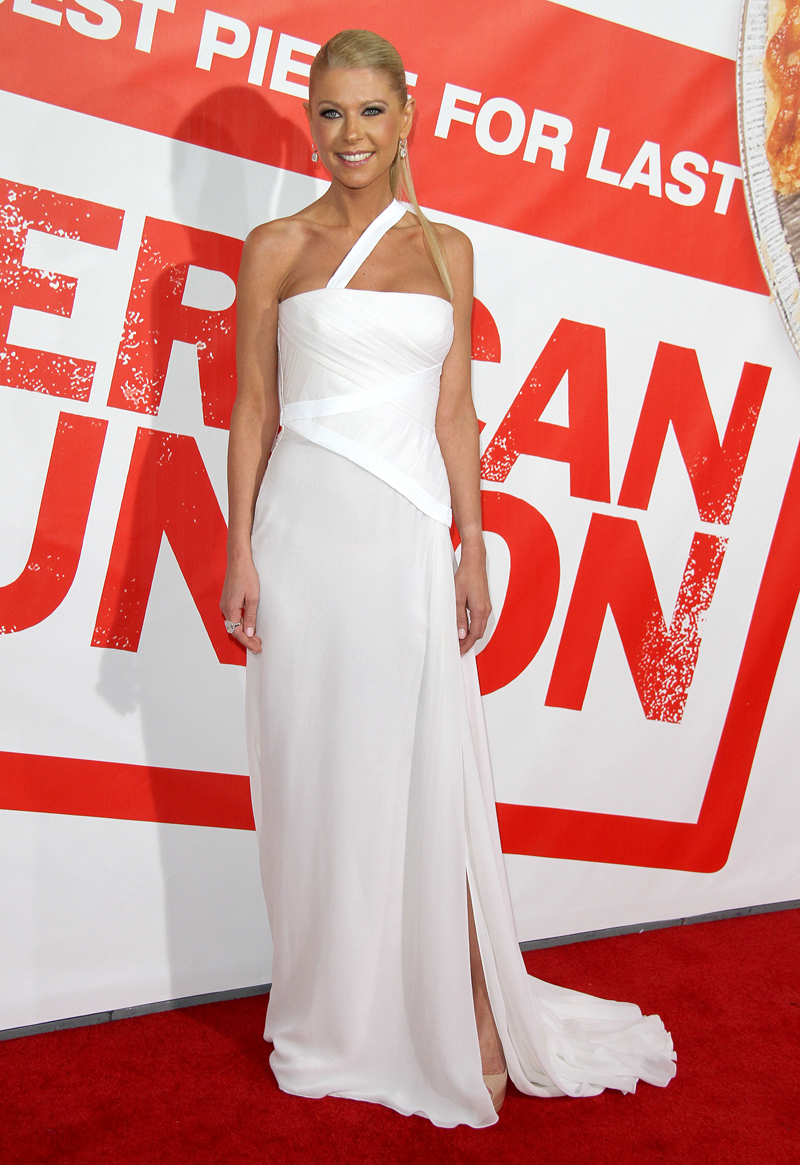 As a slight diversion (before the rest of the red carpet photos), Tara has been talking to media outlets about how all of her wild, drunken antics (including partying until her tooth fell out) weren't so bad at all:
Tara Reid might be best known for her wild past, which included heavy partying and red carpet wardrobe malfunctions – but the 36-year-old star says her life has changed.

The American Reunion star stopped by Access Hollywood Live on Thursday, where she revealed to Billy Bush and Kit Hoover what she's learned over the years about having fun and staying in control.

"It's really important how you keep things private," she said when asked about her at-times very public past. "You wanna try to have a good time and try to keep it at home… especially today with the paparazzi, try to control it as much as you can," she continued.

The actress takes ownership of her public snafus, but also points out that she never got arrested or harmed anyone in the process. "It was my fault, I did it… [but,] it wasn't that bad what I did," she explained. "At the end of the day, I really [just] had fun. I wasn't doing crimes. I wasn't getting in trouble like that."

Tara admitted that she still enjoys a night out, but keeps it in check. "I like to have a good time, who doesn't? I just learned to be more discrete," she explained. "Who you keep around and what you do is very important."

When asked about her past cosmetic surgery complications, Tara said all of that is behind her, telling Billy and Kit, "It's good, I'm good, life goes on. [I] might being doing a television show," she said, explaining that the details are still being worked out.
[From Access Hollywood]
She has a definite point. Tara never got arrested for any of her exploits. She didn't get caught with drugs like Paris Hilton or steal someone's car while blazingly drunk like Lindsay Lohan. All Tara did was act really stupid and get some very bad plastic surgery. Again, Tara looks remarkably polished at this premiere. She still looks pretty cheap with all of the crazy dark eyeliner, but her skin is vibrant and clear and the hair is impeccable.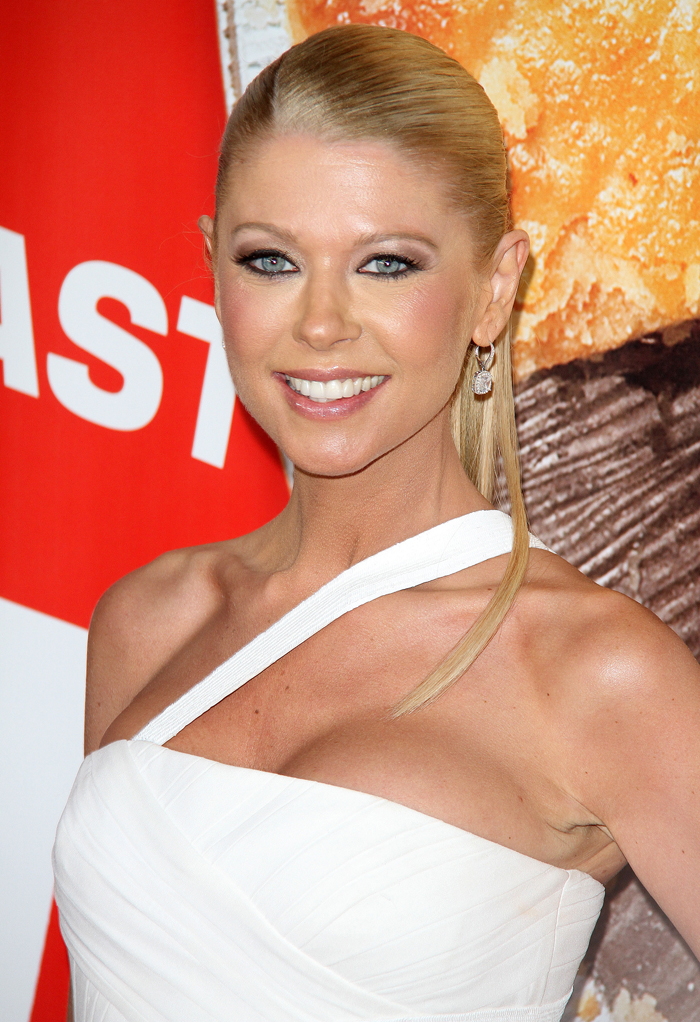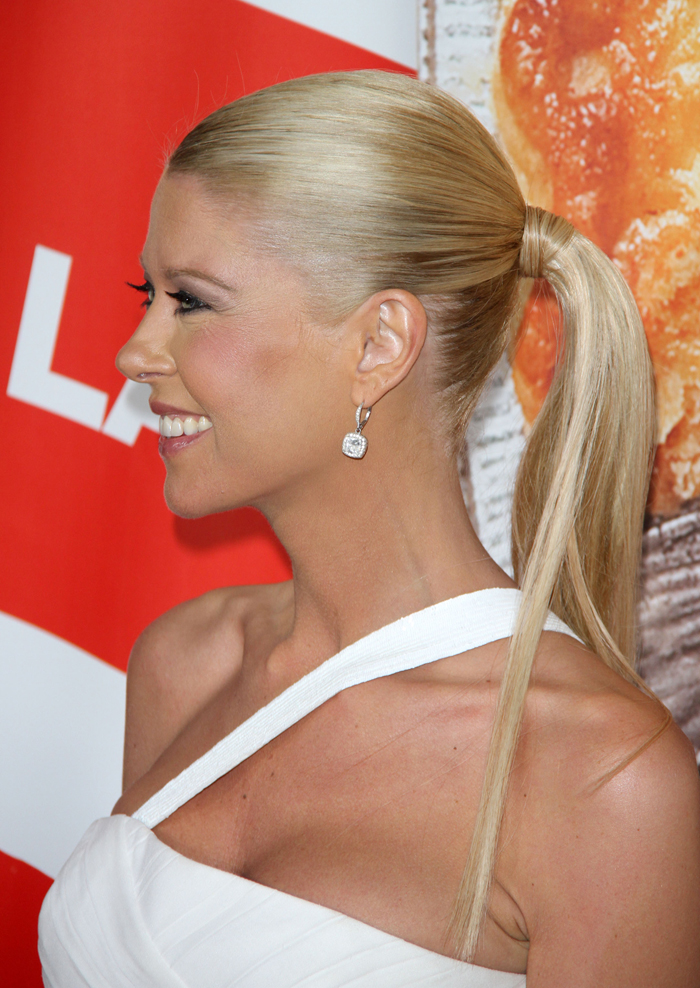 Here's pregnant Alyson Hannigan (with husband Alexis Denisof), who has easily enjoyed the most successful post-Pie career ("Buffy the Vampire Slayer," "How I Met Your Mother") out of the entire cast. Who knew that Band Camp Girl would've gone so far? She looks adorable, and the green dress suits her complexion quite well although some pantyhose would've been a welcome addition.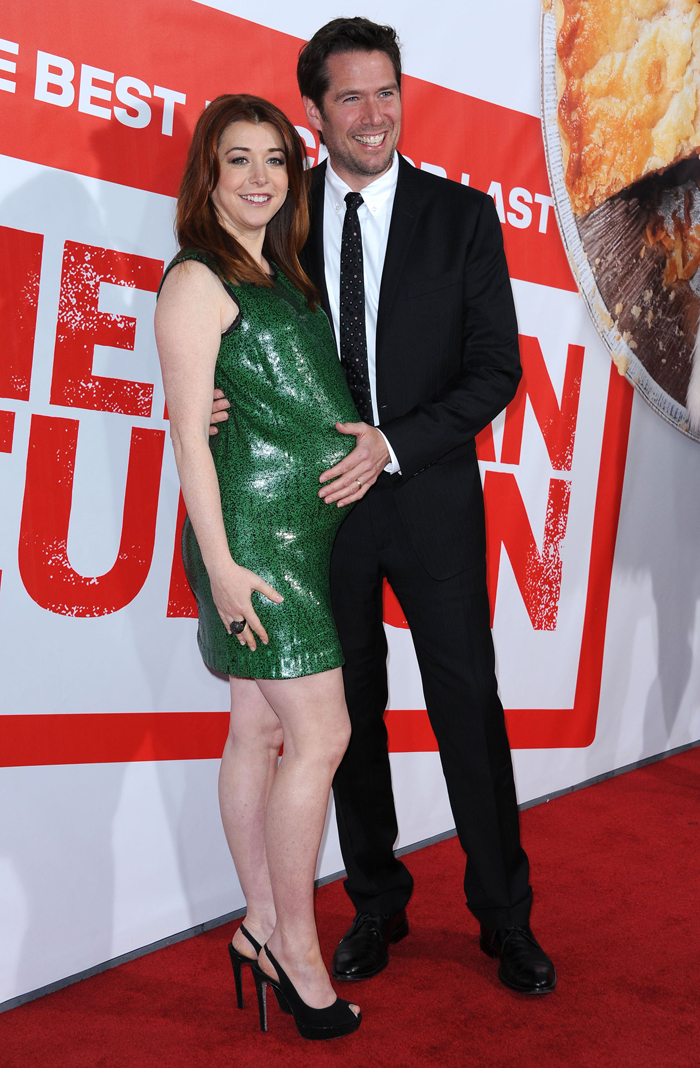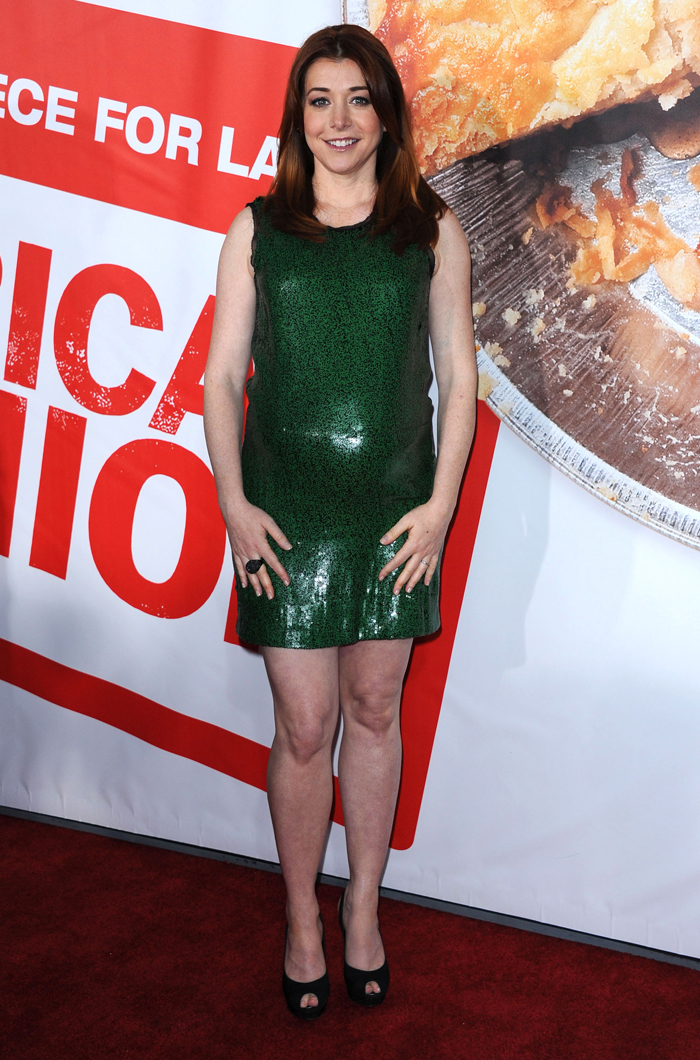 Mena Suvari did her weirdo thing on the red carpet too. She seems drugged up or drunk, but her hair and makeup are appropriate and the dress is adequate. I have to admit that I expected a bit more from Mena's career after she didn't embarrass herself in American Beauty. Mena doesn't really seem too into the Hollywood game though and pulled a tattooed, shaved-head routine for a few years. She's still a very pretty girl.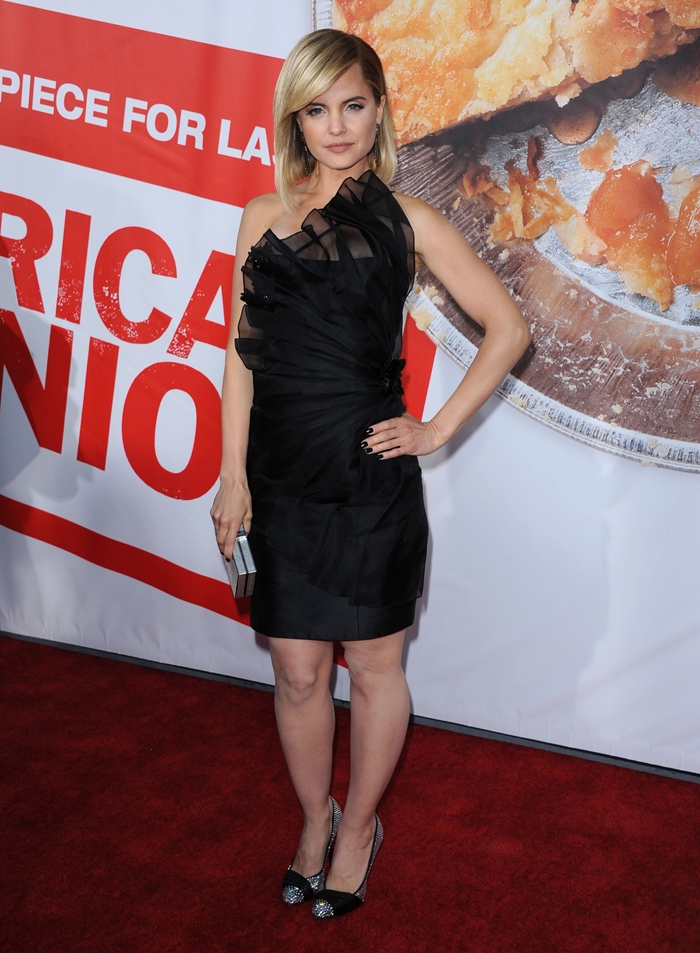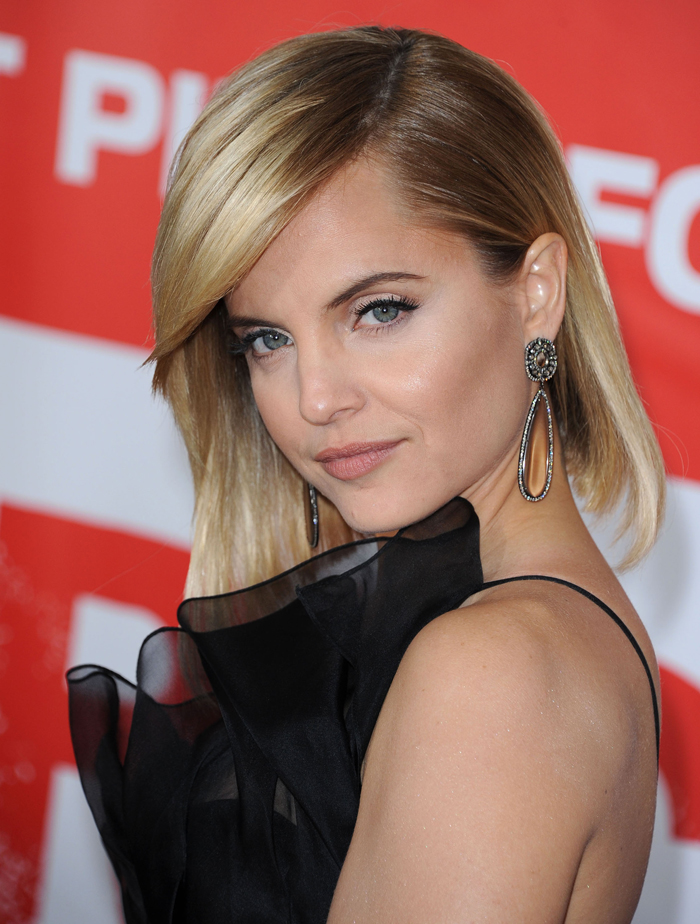 Shannon Elizabeth was in attendance as well in a dress that looks like cheap lingerie. She's had some work done, right?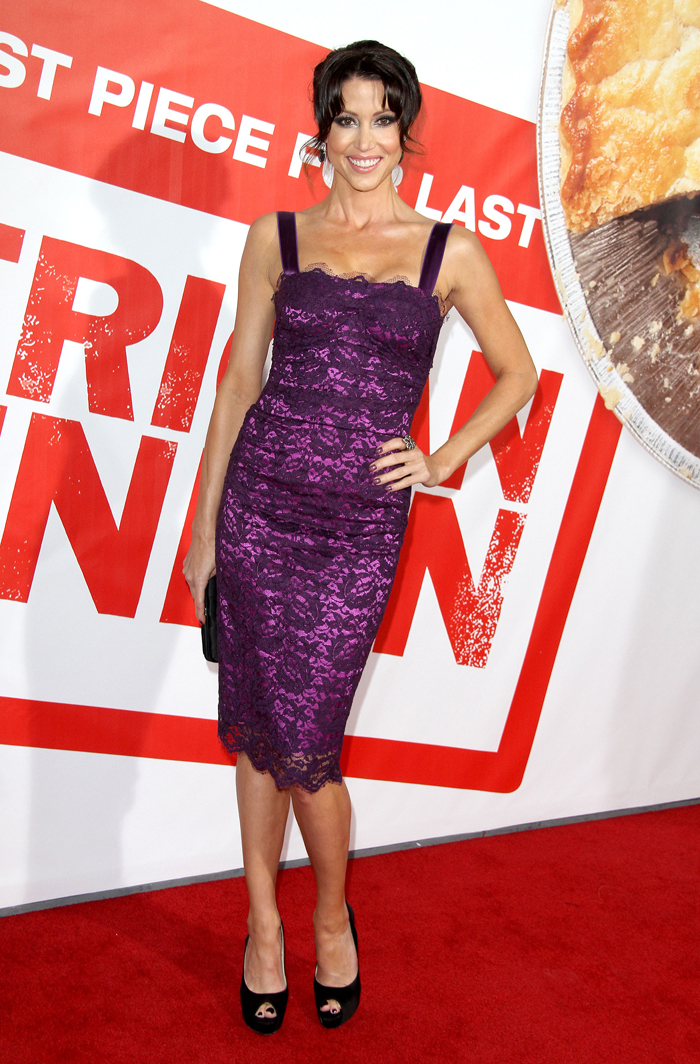 Chris Klein showed up too, of course. My brother strongly resembles how Chris looked in the first few movies and used to be flattered by the comparison. Now when people mention it, he's all like, "Shut it."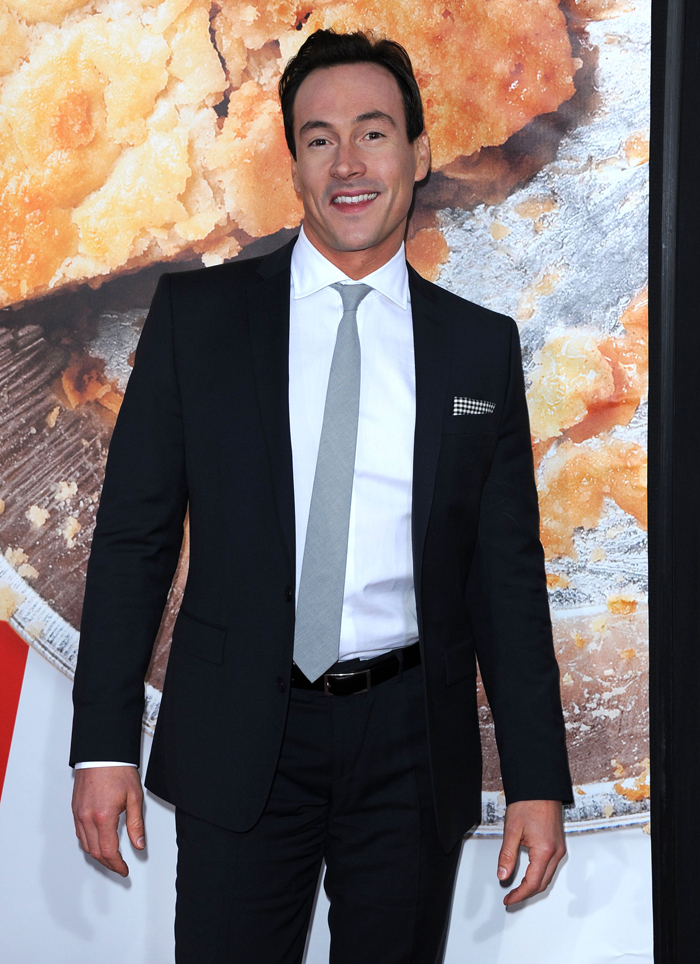 Here's Jason Biggs (the guy who f—ed an apple pie) and Jenny Mollen, who semi-famously penned an essay about hiring a hooker for her husband last year. These two are pretty much made for each other.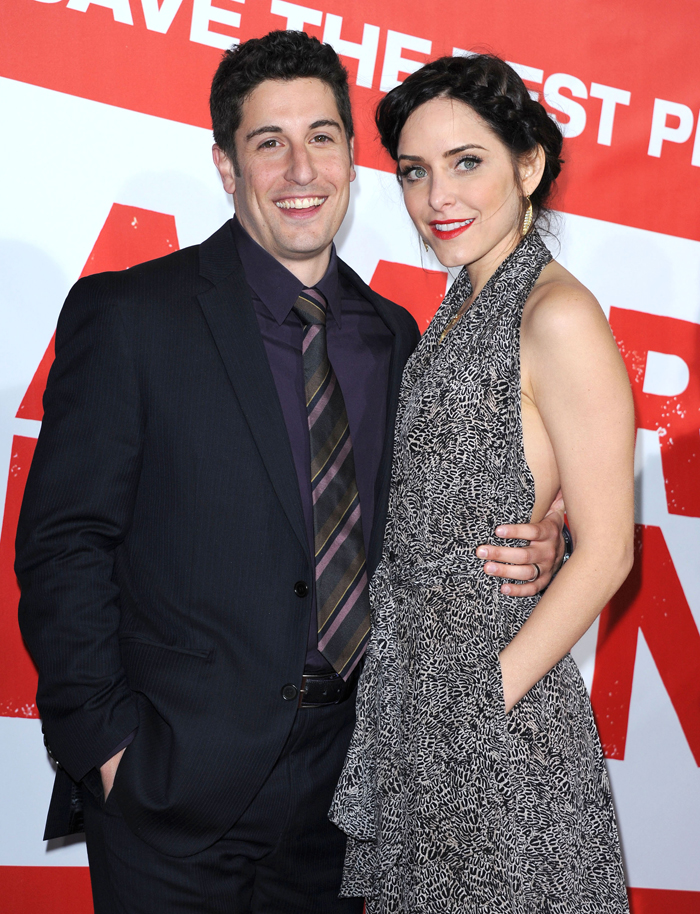 Finally, we have Seann William Scott. His tie has … personality, and there's a guy at my gym who looks just like him. That's all I've got.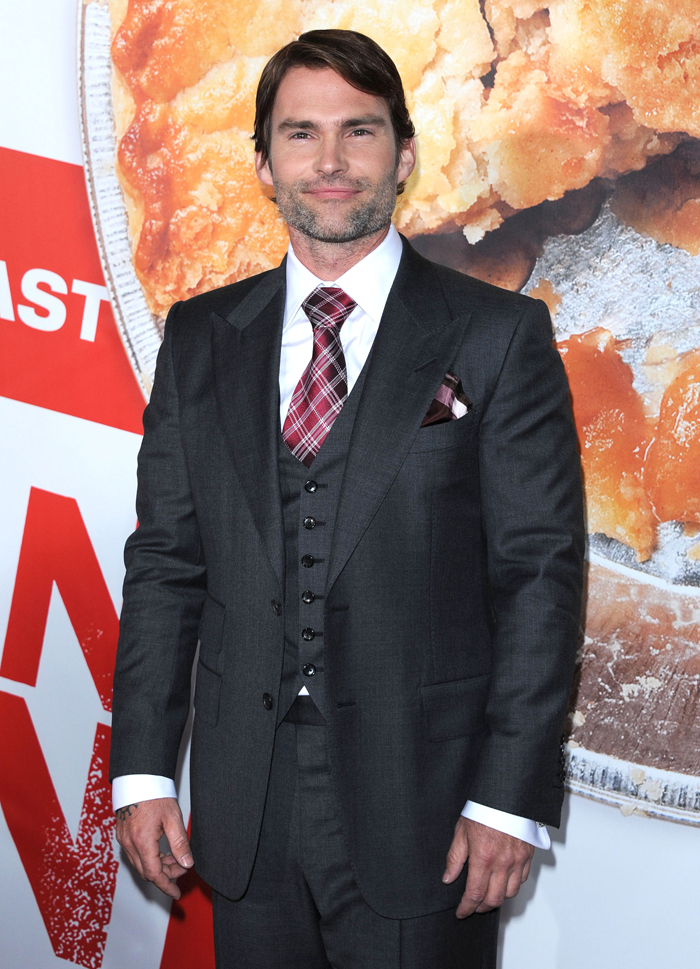 Photos courtesy Fame/Flynet