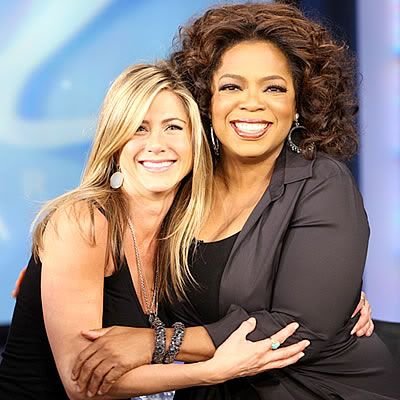 Last week Brad Pitt taped an appearance on talk show queen Oprah's show, which some eyewitnesses say was filled with awkward silences and some strange moments as Pitt refused to answer a question or two. Pitt was joined on Oprah by Cate Blanchett, his co-star in the upcoming film The Curious Case of Benjamin Button. Their film opens on Christmas in the US and will directly compete with Jennifer Aniston and Owen Wilson's dog-centric story, Marley and Me, which is said to be a real tear jerker.
These Boots are Made for Stalking, a blog based out of Chicago, has some advance details from an audience member at Aniston's last Oprah interview, which was taped yesterday. They say that Aniston, a longtime friend of Oprah's, had a natural and friendly rapport with the media mogul and her interview had a better flow than her ex husband's.
She was said to be gracious and friendly and to answer questions about her ex husband and his new partner with panache. Having already opened up about her personal life in an interview with Vogue, Aniston was candid and is said to have gushed about her relationship with John Mayer. She also expressed how faraway and distant her marriage with Pitt seems, as if it was ages ago:
Audience members said that Jennifer Aniston was in a "great mood" during today's interview with Oprah Winfrey and absolutely "glowed" when she talked about her boyfriend John Mayer.

Audience member Niveen Atieh said that Aniston did confirm that the is dating Mayer and that she got really excited when she gushed about him.

"She was glowing and very excited about the relationship," Atieh said.

Audience members also said that Aniston was very nice when the topic of Brad Pitt and Angelina Jolie came up and she handled it really well.

"Jen was nice in the interview and when she was asked questions about Angelina," Jared Campbell said. "She handled it very well."

Insiders also said that the rapport between O and Jen was amazing and, unlike Pitt's interview with the talk show queen, there was no awkwardness at all.

"Things between O and Jen were great," Campbell said. "They were like two old friends"

Eyewitnesses also said that it seems that Jen is really happy for Brad and Angelina and boasted about how her marriage to Pitt seems like a 100 years ago.
[From These Boots are Made for Stalking via Us Weekly]
I really wish Aniston the best in her relationship with Mayer, but I can't help but think it's a terrible idea to speak so publicly about their relationship, particularly on Oprah. Reading all the crap that Mayer spews and the way he acts with the media, I just don't think he's mature enough to handle all the attention this relationship is getting, as much as he seeks the spotlight for it.
Is Aniston making a key female relationship error?
In her Vogue interview, Aniston expressed some reservations about her upcoming movie based on the self help book He's Just Not That Into You. She said the plot of the film was too much "whining and complaining about wanting a man," that she didn't believe in it and "there is nothing you can control about love." She also said that "love just shows up" and I got the impression that she thought it was something completely natural that you went with and threw yourself into. I don't agree with all the manipulation recommended in He's Just Not That Into You, but there's a reason that almost all relationship advice for women recommends that we hold back and play hard to get. It's not about "games" so much as it is preserving your own life and friends and not getting enmeshed in the other person too soon.
Mayer is a younger guy who by a lot of estimates isn't ready for a long term commitment. If he is going to be convinced, it's the kind of thing he's needs to believe he came up with on his own. Aniston would do well to hold this relationship a little closer to her chest.