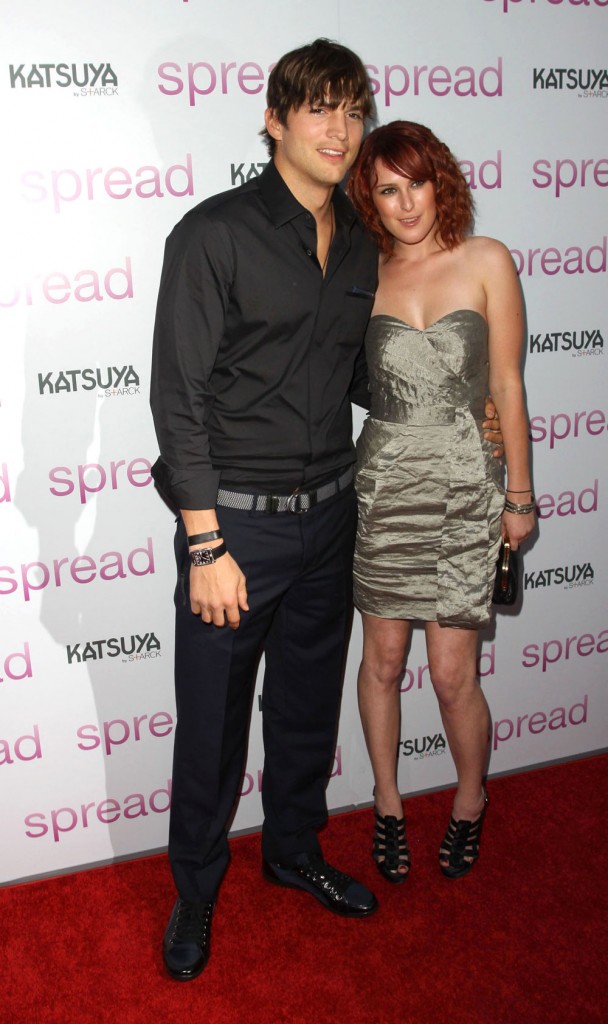 This photo is from 2009
In last week's Star Magazine, there was a story that Rumer Willis was hanging out with Ashton Kutcher. The two were supposedly spotted at a specific place and time, which made it sound to me like it really happened. (I was considering reporting it, but I skipped it.) Here's part of Star's report as background for this story, and of course Star spun it into Demi being pissed off and allegedly "not at all happy that they're hanging out." Their source claimed that "it's disrespectful and is not helping [Demi's] recovery." Demi's addiction and recovery are her own responsibility, and we've heard similar stories about how it's all Ashton's fault. I think he's a massive douche, but that doesn't make him culpable for Demi's problems.
On Tuesday, March 6, Demi Moore was finally back in Los Angeles after a weeks-long stint in rehab. But her daughter Rumer Willis wasn't by fragile Demi's side. Instead she was hanging out at a nightclub with the man who sparked Demi's breakdown in the first place – Ashton Kutcher!

Ashton and Rumer were spotted catching up at The Sayers Club, where Rumer hopped on stage to perform a few songs. "They have obviously remained great friends," an eyewitness tells Star. "It was lovely to watch." Another eyewitness adds, "Ashton was watching her with just pure delight, smiling the whole time. They appeared very, very close."
[From Star Magazine, print edition, March 26, 2012]
That story actually made me feel for Rumer, because the source told Star "She was forced [to take sides] when Demi and Bruce broke up, and she doesn't want to play that game anymore. She loves them both and thinks they both made mistakes during their marriage. She's torn." We've heard that Ashton helped buy Rumer a house in 2010, and that he really wanted to continue to have a relationship with his stepdaughters after his breakup with Demi. I think it's nice and I don't buy that there's any romance between them, at least I hope not.
Anyway Mike Walker in this week's Enquirer claims that Demi's other two daughters, Scout and Tallulah, are firmly in camp "blame Ashton" and are super pissed off at "traitor" Rumer for being so friendly with their mom's ex. Walker claims that Rumer was trying to keep Ashton away from Demi in rehab, too, and now that she's so chummy with him her sisters think she's switching sides and hanging with the enemy.
The shamed stepdad's sudden tight bonding with eldest daughter Rumer Willis has enraged sisters Scout and Tallulah – especially since Rumer was the ringleader in the trio's heartfelt vow to ban Ashton from visiting their Mom after his cheating triggered her breakdown! "Rumers sisters are livid," said a family source. "They're calling their sister a traitor. Ashton, who can be charming and very persuasive, now has Rumer under his thumb. They talk constantly on the phone, and he's convinced her he can play a positive role in Demi's recovery battle. But the infighting among the girls is causing family stress. Tension's so thick you could cut it with a knife!"
[From The National Enquirer, print edition, Mike Walker's column, April 2, 2012]
I would normally say "oh this can't be true that they would let this come between them," but I have seen this happen with friends in similar situations, where it's like family is forced to take sides and they end up not talking to each other. It sucks. I cover gossip every day, but it actually makes me upset to think of family drama like this, which is why I'm not a fan of reality shows. Maybe this is the reason Rumer has lost weight recently – she's stressed out.
But I hope it's not true that Rumer is talking to Ashton so much. Being friendly and hanging out once in a while is fine, but it sounds like more than that. I also hope that Demi is trying to move on and that Ashton doesn't really think he should help her "recovery." He can help her by staying away.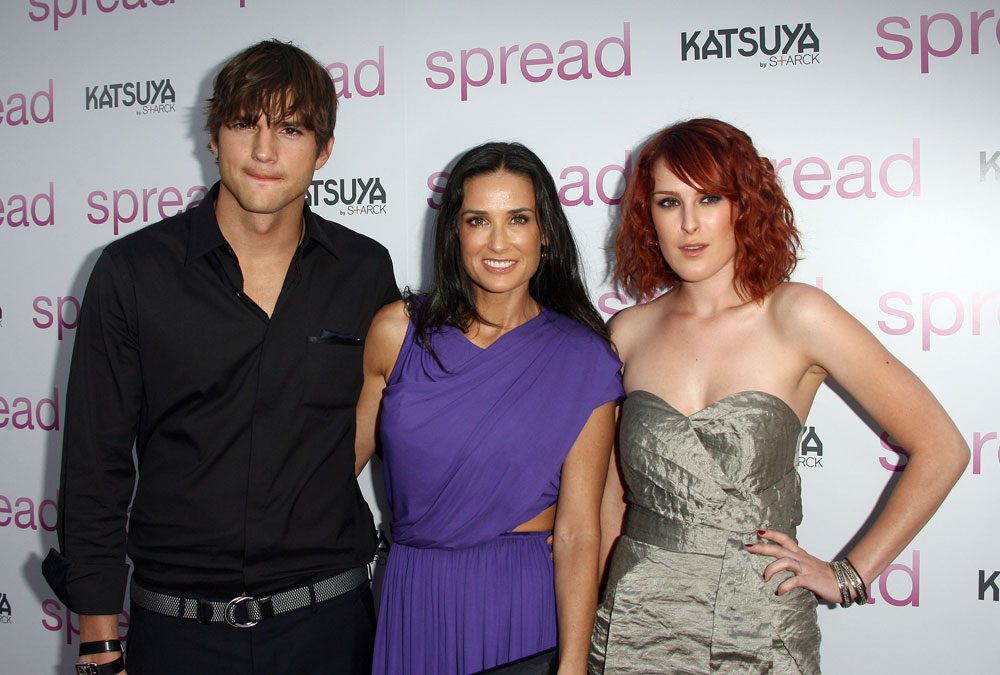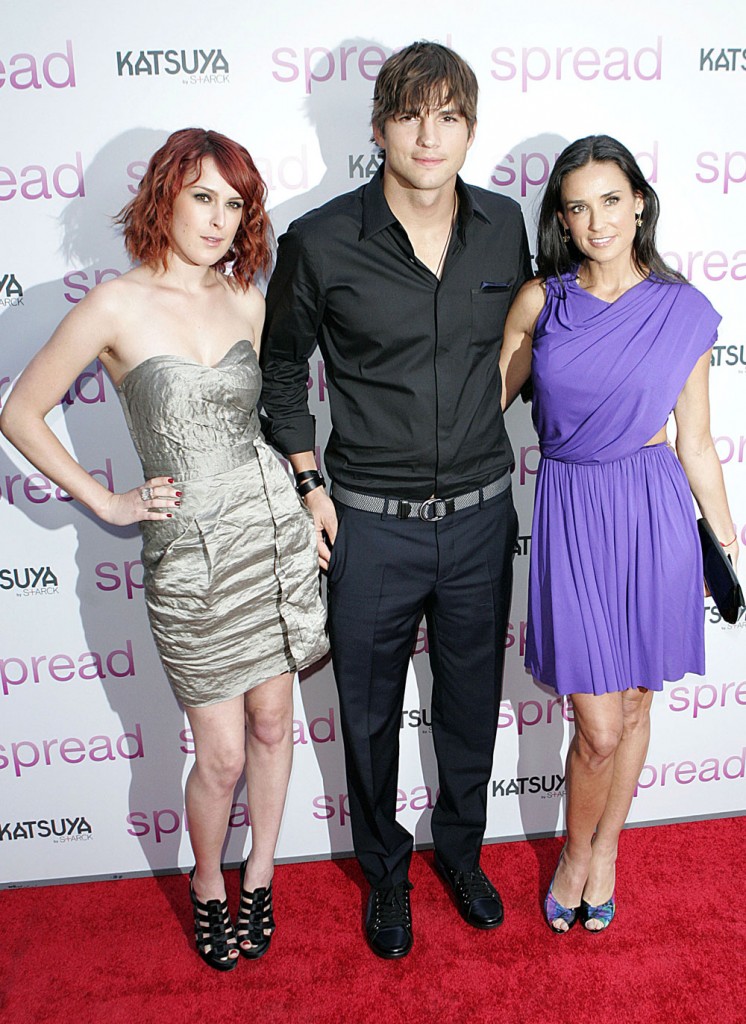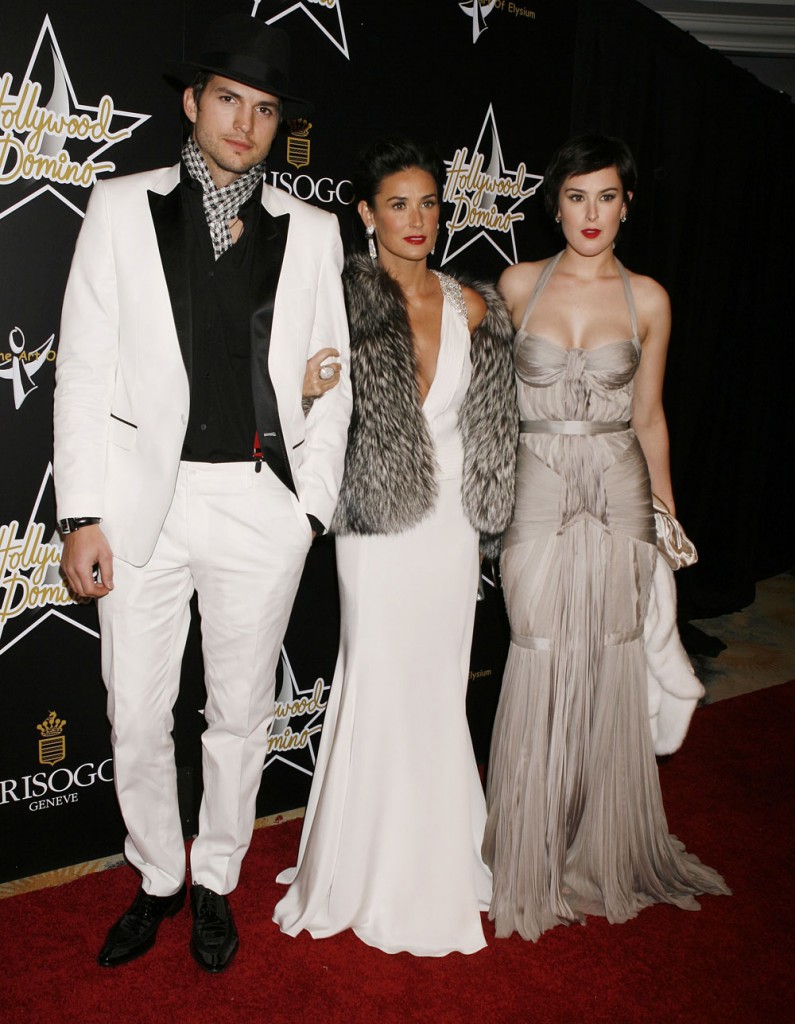 The last image above is from 2008. It's funny, right? Credit: WENN.com