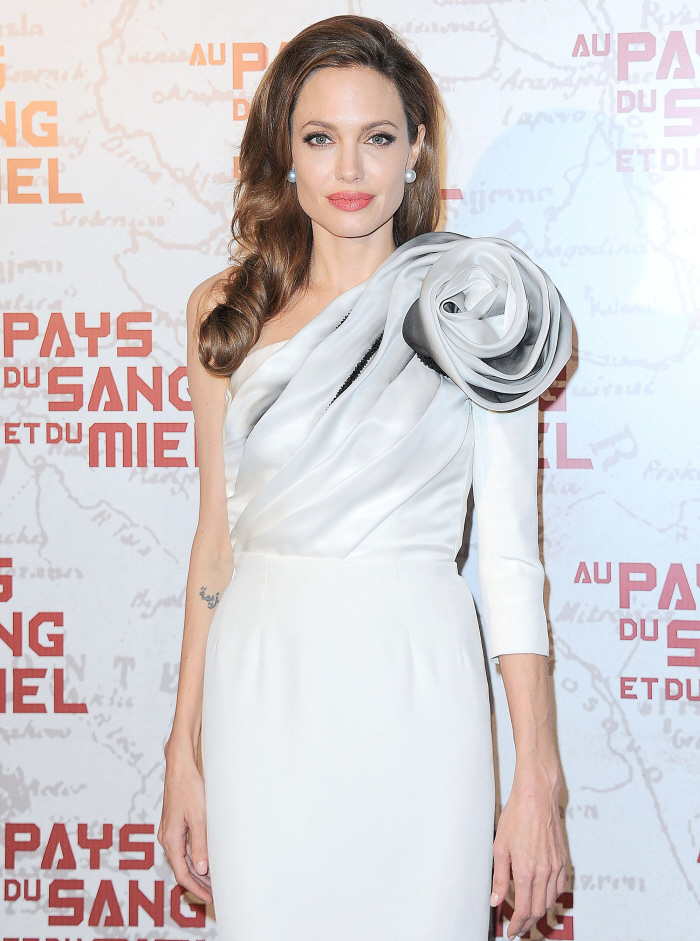 Angelina Jolie has a massive interview with Entertainment Weekly this week, likely to promote the DVD release of In the Land of Blood and Honey. You can read the full EW piece here – I'll just be doing some highlights, since the interview is so long (and a lot of it is about ITLOBAH). Some of you theorized that HuffPo got an advanced copy of the interview, and switched around some of Jolie's quotes for their story about her reaction to The Leg controversy. It could be – Angelina uses some of the same wording, but my reaction to her statement in the context of the EW piece was less eyeroll-y. Basically, she doesn't sound ridiculously full of herself here.
EW: Wow, so you caused quite a stir at the Oscars. That's usually a pretty stuffy affair, but you definitely widened people's eyes.
ANGELINA JOLIE: [Laughs] I don't pay any attention to that stuff. I just heard something as simple as that and thought, well, I don't know. I do what I feel like doing, but don't actually consider the effect. I just try to, you know, be as I feel like being on a night like that.

Fashion websites say that pose is becoming a trend. Other actresses and models, like Jennifer Lawrence at The Hunger Games premiere, are wearing dresses with the high slit and posing with their legs out. So on behalf of guys everywhere, allow me to say, thank you very much.
[Laughs] That's funny, very funny.

You've heard of Tebowing, right? Where people imitate Tim Tebow by getting down on one knee.
Uh-huh, I have.

There are whole websites that popped up where people were striking your pose. That must have caught you by surprise.
What's funny is when you have no actual, conscious thought of anything [like that]. You just feel like, "Eh, I like this dress. I feel comfortable in this one." It's interesting that you just really never know…

You pulled it off much better than Jim Rash [pictured, the Best Adapted Screenplay winner, who struck her provocative pose onstage after she presented him the Oscar.] Did you find what he did funny?
Of course! [Laughs] No, I had a great night. It was a really fun night.

Just before the Oscars, you came home from the European premieres of In the Land of Blood and Honey. I imagine that must have been pretty emotional. It's a heavy movie to live with for a couple of years, but you were finally showing it to the people who lived through the Bosnian War.
Yeah, it was more challenging because we knew we'd be going face to face with the region itself. We went to Berlin first, then Sarajevo, then Paris and also Croatia. This whole process has been very nerve-wracking because it's my first film, and I'm not that confident, but I wanted to do this because I love the subject matter and I wanted to learn. I had these great two years where I learned so much about a region and history and worked with these actors from another part of the world.

Let's start with how it was received in Paris and Berlin.
It was also difficult for them. They were right next door. So there's a question of when [the U.S.] got involved, but they were right next door and didn't get involved. There are a lot of feelings for everybody, deep-seated guilt in all of us. Nobody walks away feeling good about this time in history. [The film] is supposed to make us look back and question what went wrong.

You've said you're writing a script about the war in Afghanistan next. How's that coming along?
I have been writing something, because I've been there a few times — Afghanistan and Pakistan — in the last 11 years, and it's a part of the world we're all quite aware of now, but… I'm not sure. I'm going to actually see this weekend what people think of [the script]. But I like it and I've enjoyed doing the research.

What's next for you as an actor? You were in talks to do a Luc Besson film?
I do hope to work with Luc one day, but we haven't figured out what that is. The next thing I'm doing is Maleficent for Disney. I start it in June, and it's a really great script. I'm having a lot of fun. I've already got my horns fitted. My kids are very happy.

In this version, Sleeping Beauty is the nemesis instead of the good guy?
It's not anti-princess, but it's the first time they're looking at this epic woman.

Is it sympathetic to her, or is she a straight-up villain?
It's both. I hope in the end you see a woman who is capable of being many things, and just because she protects herself and is aggressive, it doesn't mean she can't have other [warmer] qualities. You have to figure out the puzzle of what she is.

So there are some redeeming qualities to Maleficent the witch?
It sounds really crazy to say that there will be something that's good for young girls in this, because it sounds like you're saying they should be a villain. [Maleficent] is actually a great person. But she's not perfect. She's far from perfect.

Since it's a Disney film, will this version of Maleficent be close to the one we know from their 1959 animated film?
We're still figuring out the look. We're experimenting with different things. But the horns are the horns — you can't deny them. You have to have horns.
[From EW]
OK, that interview actually got me excited about Maleficent! I like that Angelina is embracing the horns – I've always wanted Angelina to play a larger-than-life "cartoon" type of anti-heroine, like a Bond villain or something, and my guess is that she'll excel at playing Maleficent. Can you believe that she hasn't been in front of a camera (for a film) since The Tourist? Jolie needs to get to work!
As for the further discussion about The Leg – in this interview, she seems much less defensive, embracing an attitude of "whatever, I had fun, meh." Also: she knows about Tebowing?!?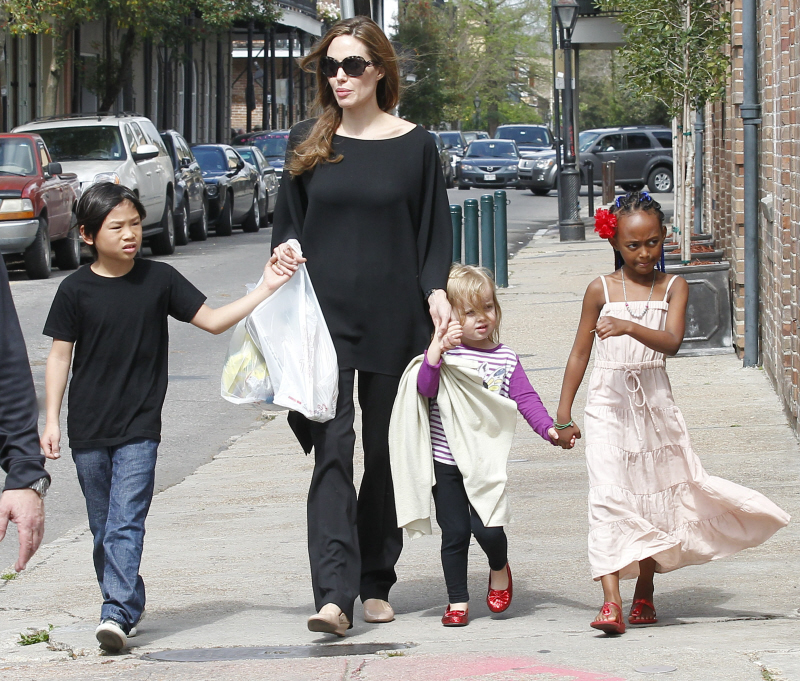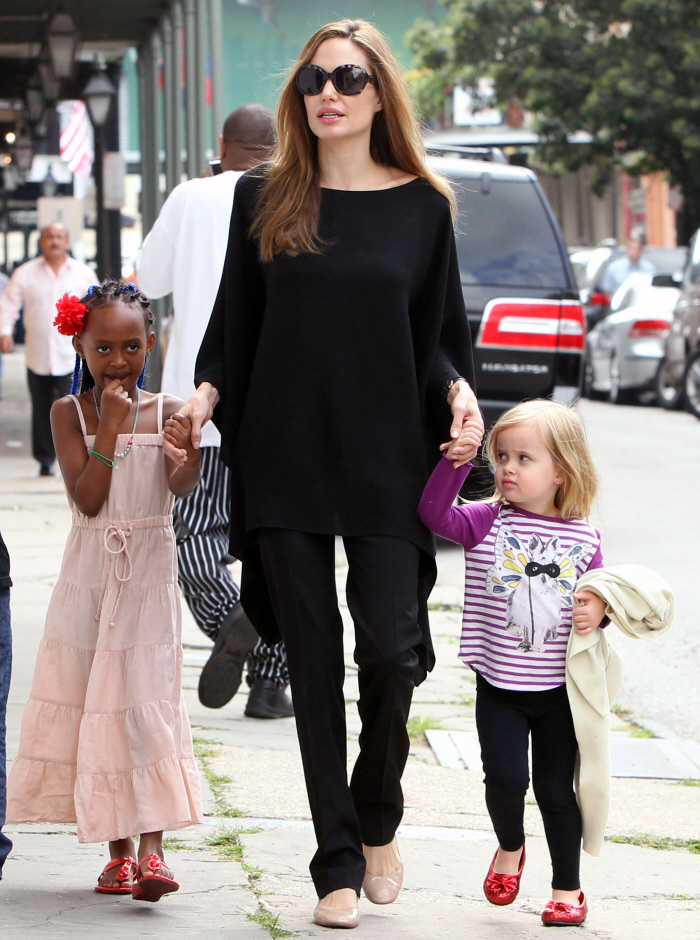 Photos courtesy of WENN and Fame/Flynet.