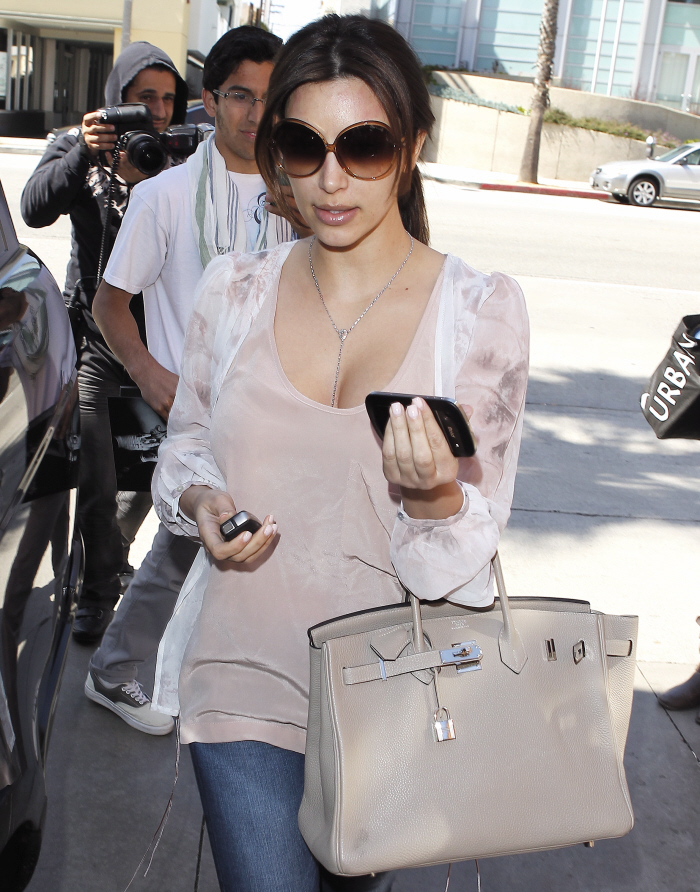 Let me describe Kim Kardashian's activities of Tuesday. First, she went to the gym. Then she went to The Laser Away Salon/Spa specializing in Botox – that's her leaving the Botox place in the header photo. Then she went to dinner at Mr. Chow's and then she went to an event for Valentino (I'm including those photos at the end of the post). I'm just trying to emphasize what a "normal day" consists of for Kim Kardashian. A little 'Tox, a little nosh, a little red carpet. And this is what Kim means when she talks about how hard she works, and how she's an amazing businesswoman. In her mind, she's the Steve Jobs of cat-faced famewhoring. Anyway, here's more about the 'Tox:
Whatever her detractors say, you can't deny that Kim Kardashian always looks sensational. Even the 31-year-old's off days are pretty on, and given the fact that she's admitted to suffering from the condition psorisis… her skin is bound to have issues.

Having her resources though, means that the best treatment is available to deal with any problems and today, ahead of an appearance at Valentino party, she did just that. The high maintenance brunette perhaps headed for facial, to ensure her skin was red carpet ready for the high-profile.

There is no suggestion she had Botox injections, despite the fact that the salon advertises it as a speciality. And Kim has admitted to trying the face freezer in the past. She was even filmed having the injections around her eyes in 2010, though she suffered an allergic reaction to the substance and her eyes became swollen and bruised.

'I'm never doing this again… at least not until I'm 40,' Kim told her family after learning that her bruises were a natural result of the injections.

While Kim has confessed to having Botox injections but claims she has not had any actual invasive plastic surgery.

'Trust me honey, if I take this bra off you will tell me I need to get them done,' she said of her breasts on Nightline again in 2010. 'I'm totally not against plastic surgery. … I've tried Botox before. That's the only thing that I've done.'

Last night the reality TV personality had a relatively late night at Hollywood's trendy Soho House. The E! TV personality donned an eye-catching yellow and black leather outfit and stayed out until around 10.30pm before heading home to her Los Angeles home. She appeared to be keen to show off the result of her hard work at Barry's Bootcamp in her sexy outfit.

Kim has been attending fitness classes in earnest, tweeting yesterday how she was working on her arms and abs.

In a concerted effort to keep trim, she told her Twitter followers: 'Up early to get this workout in! Get fit or die trying '
Bulls–t. In my opinion, Kim gets regular Botox (she got it on her show once) and filler treatments, plus collagen injections in her lips, plus electrolysis, plus she's actually had PLASTIC SURGERY. Whatever. Just look at Kim at the Valentino event and tell me that she's super-all-natural.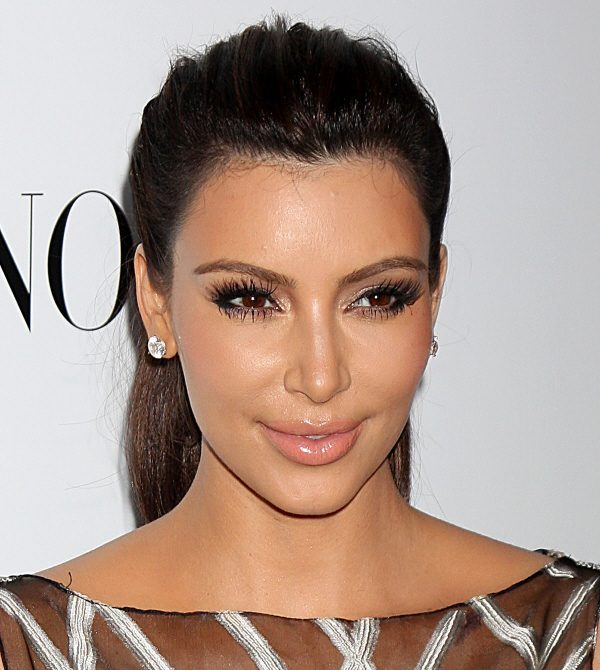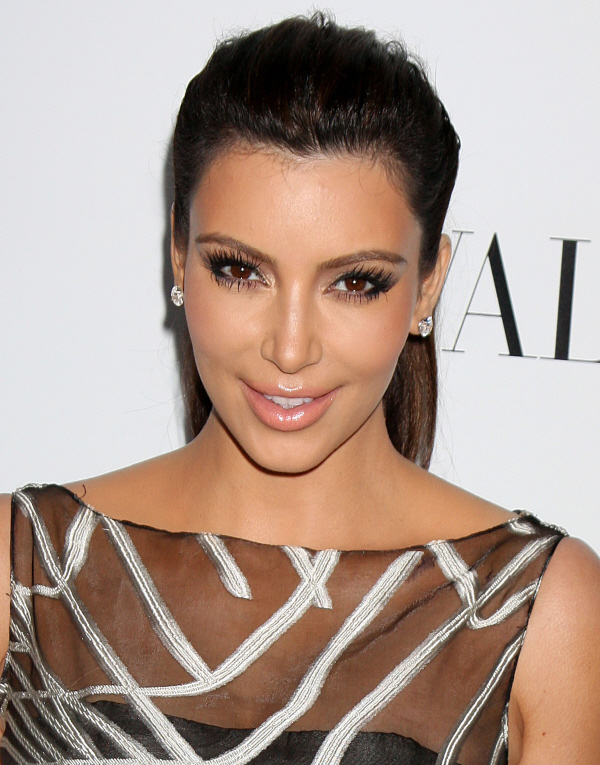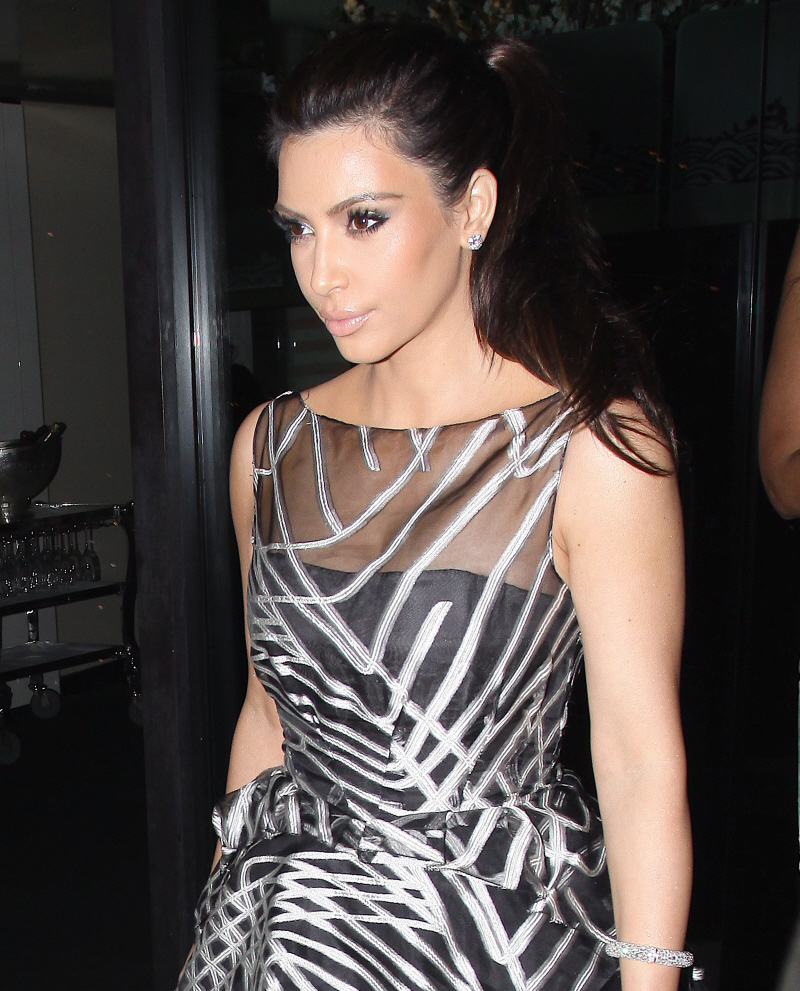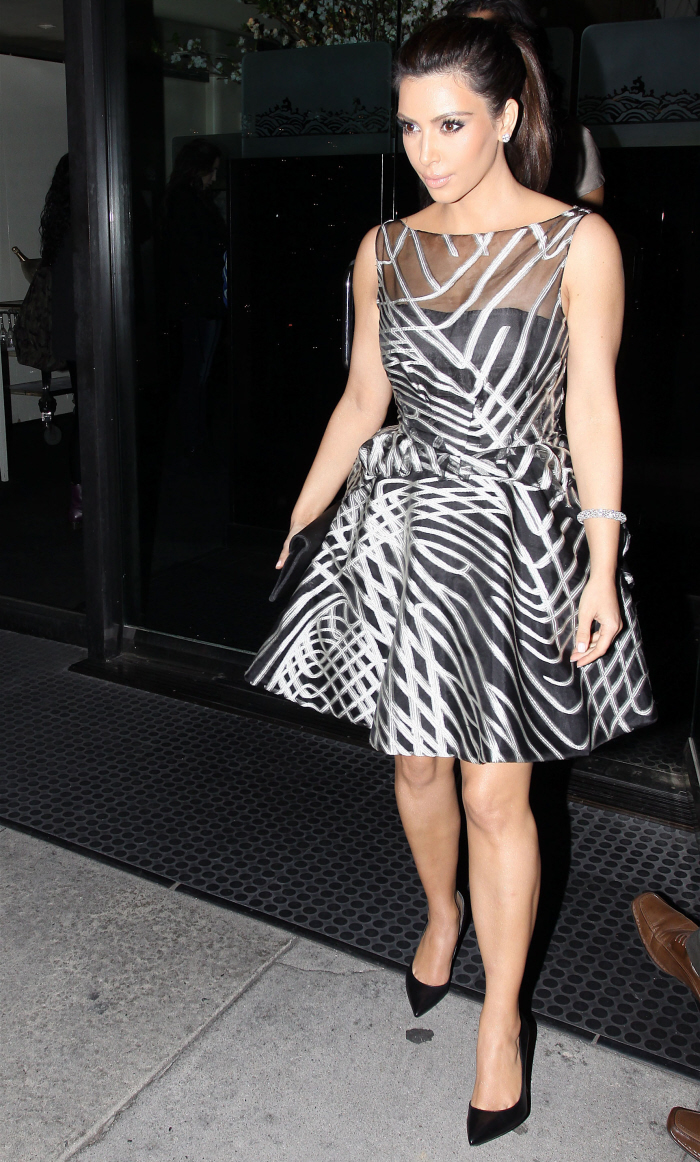 Photos courtesy of WENN.