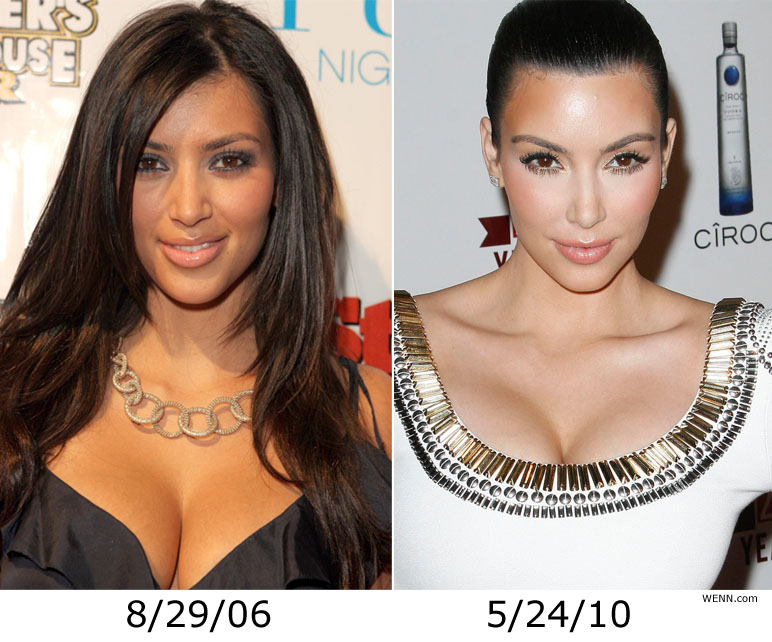 For some strange reason, the Kardashian/Jenner women made an appearance on ABC's Nightline last night. Well, I mean Kim, Khloe, Kourtney and Kris Jenner, not the youngest Jenner girls. The whole thing was not really to promote anything as far as I can tell, they just seemed to want to correct the record on certain tabloid reports. Like, say, plastic surgery, a subject that I've been covering despite my ambivalence towards their plastic, waxy faces. I suppose the biggest headline out of this interview is that Kim once again denies having plastic surgery, but does admit to trying Botox. You decide… here's In Touch Weekly's before and after cover (from last month) of Kim's face: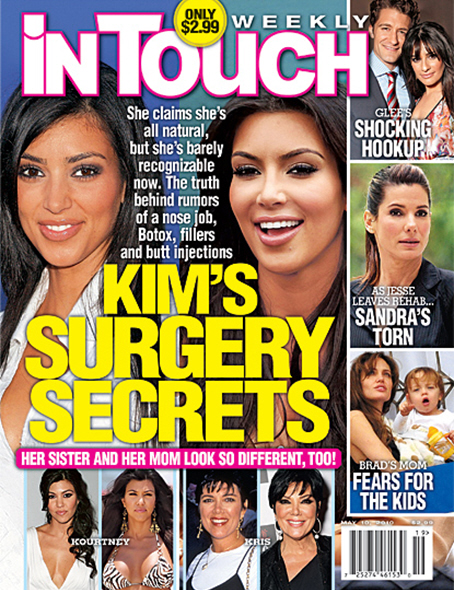 Yeah, she had a nose job. Nothing huge, but it's smaller and the tip is different. Here's more from the interview:
Kim Kardashian has never had work done on her nose, Khloe Kardashian's wedding was not paid for by E! and, no, the Kardashian clan does not intend to pull the plug on the reality TV show based on their lives. Those are just a few of the myths the family is out to dispel.

"We do the show 'cause we're happy and it's fun for us," said Khloe Kardashian. "So until it starts becoming a pain or something that we don't want to do…"

"Season 52," joked mom, Kris Kardashian, referring to her youngest daughter: "Kylie gets married."

In an exclusive interview, the women at the core of "Keeping Up With the Kardashians" — Kris, Kourtney, Kim and Khloe — sat down with "Nightline" co-anchor Cynthia McFadden for a conversation that ranged from their business empire to who has had plastic surgery and who takes the longest to get ready to Kourtney's baby and Kim's Playboy appearance.

"We have a really good time doing what we're doing," said Kim. "We love every project that we're into. We're just having a good time."

Kourtney Kardashian, who gave birth to her first child, Mason, a son, in December 2009, said her breast implants were no secret.

"I have had breast implants, but it's so funny 'cause it's not a secret, I could care less," said Kourtney. "It's so funny because the 'before' picture that they [In Touch magazine] showed was after I had my boob job, so I'm like, they should have written 'before Mason' and 'after Mason.' Like my boobs have like tripled since breastfeeding."

"Oh, right," said Kris, with a wry smile.

Kim denied rumors that she had plastic surgery on her breasts or nose.

"Trust me honey," she joked to McFadden, "if I take this bra off you will tell me I need to get them done. I'm totally not against plastic surgery. … I've tried Botox before. That's the only thing that I've done."

McFadden asked Kim about her nose.

"I've never had my nose done," said Kim.

"None of us have had our nose done," said Kris.

"But what's funny," said Kim, "is about my nose, it's my biggest insecurity. I always want to get my nose done. … I went to a doctor, I had them take the pictures, he showed me what it would look like and it just didn't– It– I wouldn't look the same."

McFadden asked Khloe about reports that her wedding to NBA star Lamar Odom, which appeared at the start of the reality show's fourth season, had cost $1 million — and that E!, the entertainment network, paid for it.

Are the rumors true? "We wish," said Kourtney.

"E! produced the wedding and filmed the wedding," said Kris, "and they paid for the things that were set up to produce the wedding, but no–"

"They had to pay for movie lighting," said Khloe. "Whatever their expenses were, that has nothing to do with me. … So whatever they needed for filming purposes, that's what they had to pay for."

McFadden asked about another rumor, that the wedding was more about TV ratings than a love connection.

"Well, I'm still married," said Khloe. "I don't need ratings like that."

"I don't think anyone can fall in love for ratings," said Kourtney.

"We grew up in this life of privilege, but we were always taught when we're 18, we're gonna be cut off. We'd better figure it out, and we'd better get a job," Kim said. "My father taught us really well, and I think really instilled a good work ethic in us. We didn't have the credit cards. We didn't have the cell phones. We didn't have that, like all of our friends did, growing up."

When asked what their dad would think of their lifestyle and success, Kim said, "I just know he would be so proud of us. He would see that the whole entrepreneur side that he instilled in me. He would be so happy."

McFadden asked Kris about reports that she had encouraged daughter Kim to pose for Playboy.

"I thought it was a good idea," said Kris. "I thought that so many iconic women have done Playboy. And I thought, you know for Marilyn Monroe."

"You were pushing her," said McFadden. "Let's be honest."

"She wanted to do it, too," said Kris. "I mean, I didn't force her to go do Playboy."

"That opportunity came about to do Playboy," said Kim, "I was on the fence about it. Do I want to be viewed this way or do I want to show women that, hey, I am curvy. I'm not like all these like stick-skinny models that I see on the cover of all of these magazines, including Playboy. And I thought that it would be empowering. And so, I did it. And at the end, I was uncomfortable. And at the end, I had a great time. I really love my relationship with Hef. I love meeting all these people. And I got a completely different fan base."

McFadden noted reports that Kim regretted appearing in Playboy.

"When I said that comment, I had said…'I'm sorry that I did Playboy then, when I was in the shape that I was in,'" said Kim. "Not the shape that I'm in now. Because I had lost 15 pounds. … So it kind of got misconstrued a little bit."
[From ABC News]
Khloe is still kind of my favorite. I realized that several months ago – that Khloe was the one I rooted for. Her older sisters treat her like crap, and yes, Khloe is loud and kind of obnoxious. But she's the funniest! Oh, but I think she and Kris are playing fast and loose with the cost of the wedding and who paid for what. True, E! might not have paid for everything, but I'm sure E! plus several tabloids – many of whom were running "exclusives" about Khloe and Lamar – paid big. Oh, and does anyone else think Khloe might already be pregnant? I think that's why she's been so low-key lately. She's waiting to announce it and make a big splash.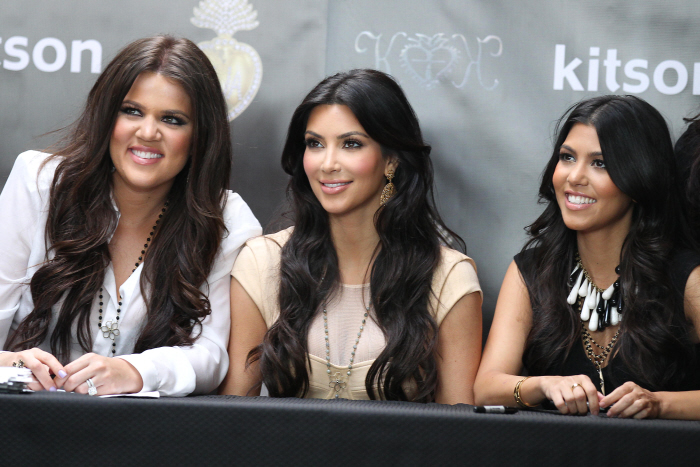 Header: The Kardashian sisters on May 11, 2010. Credit: WENN.