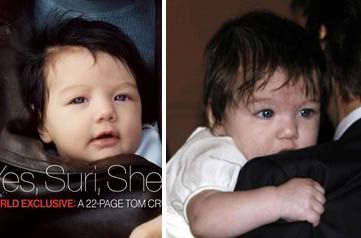 Back in early August we reported a rumor from the PopBitch e-mail newsletter that elusive baby Suri had yet to be seen because she had a large birthmark. The eagle-eyed Celebrity Baby Blog has confirmed that rumor by pointing out that Suri has a birthmark on her forehead that's visible in the latest candids of her out with her parents in Rome. When compared to the pictures of Suri in Vanity Fair, which were said to be airbrushed because she was a "runt," it's clear that the pictures were Photoshopped to remove the mark.
We've been very excited to see the new photos of Suri Cruise, 7 months old, taken this week leading up to Tom Cruise and Katie Holmes' wedding. These first candid photos of their baby are exciting for several reasons. The first is that we've been deprived of photos of her since her Vanity Fair debut, the second is that we've been deprived of candid photos of her up to this point, but thirdly because the photos reveal what may be the true reason Suri has been kept out of the public eye.

We'd like to call your attention to what appears to be a slight but distinctive birthmark located in the middle of her forehead between her eyes visible in several photos that was not visible in the Vanity Fair photos. It was rumored that there was a lot of airbrushing involved in her Vanity Fair shoot and this is what was probably airbrushed. In these new candid shots of her, her thick black hair is combed forward, most likely in an attempt to conceal the mark. Of course, it is also possible Suri fell and bruised her face.

We don't know what type of birthmark this is, but it's likely they have tried to have it removed or reduced because the color is very subtle.
There you go, although I still think the Scientologists, who are keen to comment on this blog as well as influence online polls, kept Suri out of the public eye according to the random, drug-fueled teachings of their leader L Ron.
No matter this minor birthmark, Suri sure is cute.
Here are pictures of Tom, Katie and Suri heading to their rehearsal dinner on 11/16. [via]