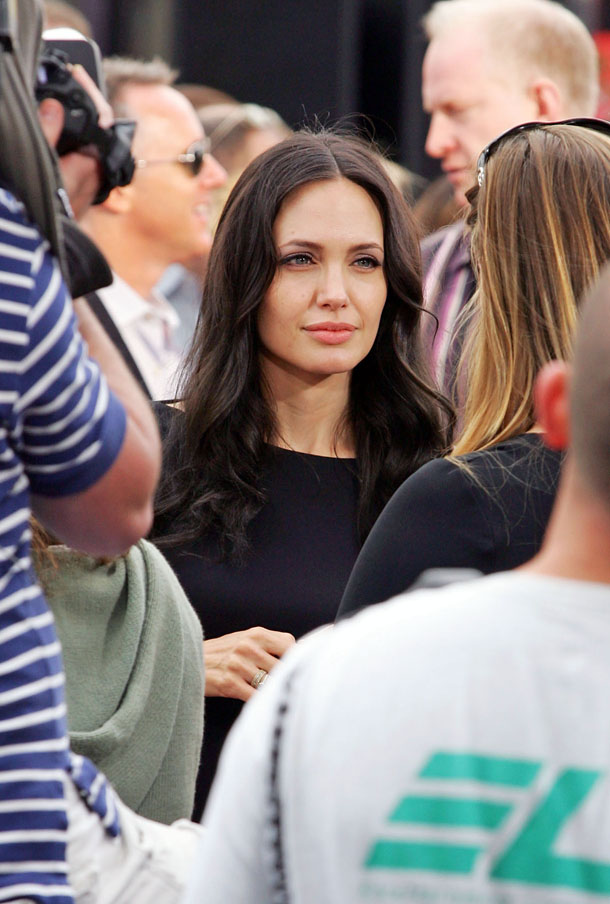 Angelina Jolie says that she's ready to quit working and "fade away." She's made frequent comments lately about how her kids are her first priority and she doesn't feel as inclined to act as she used to. Now she's made it perfectly clear that she has a few upcoming projects planned but after that she doesn't want to work anymore.
Angelina Jolie says she plans to give up acting to be a full-time mother.

"I don't plan to keep acting very long. I'm ready to do a few things now and fade away and get ready to be a grandma one day," she tells BBC News in a new interview. "I'm not so worried that I want to keep this pace up and try to be something and be a celebrity."

She says she's lucky to take on great roles but "everything comes in seasons. I hopefully won't be needing to do that later in my life anyway," she adds.

The 33-year-old Changeling star — who says she won't work for a year after she returns to work in February — stresses, "I don't think I'll ever say I'm never, ever gonna work because maybe there's that interesting project where I feel creative.

"I like being home a lot," the mother of six adds. "First and foremost, I have a lot of children, and I need to make sure they're growing right and they've got us there for them."
[From Us Weekly]
She's still giving a bit of a mixed message. You can't "fade away" completely when you keep the door open to possibly working if the right project comes along. That just means people are constantly going to try to tempt her with the perfect film. And I don't think it's possible for her to live the low-key life she's describing. The woman is the mother of Brad Pitt's children. They travel with a cavalcade of staff wherever they go. Even if she and Brad were both to quit acting, I don't think they'd be able to fade into oblivion. People are curious about Brangelina and the more they hide the more everyone else will seek.
If I were to bet on it, I'd say Angelina will slow down the frequency of her work but still maintain a Hollywood presence.
Here's Angelina at the red carpet release party for the DVD of "Kung Fu Panda" on November 9th. Images thanks to Bauer-Griffin.