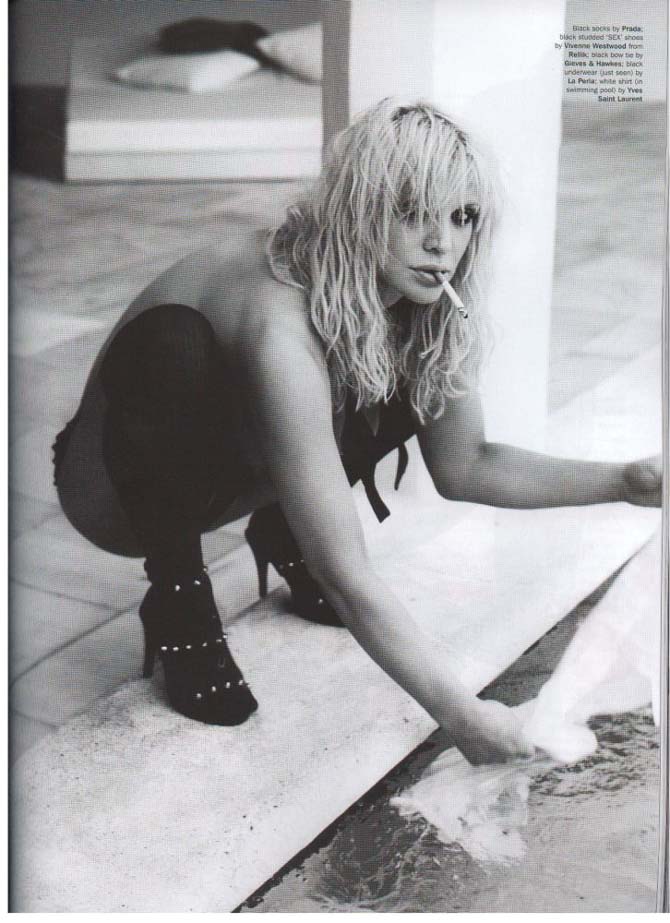 Courtney Love may be sober now apart from the chain smoking, but she remains scattered and deluded, of that there is no doubt. In this interview with British Pop magazine, in which she bears her sloppy soul and body for some publicity for her scrapbook memoir, she reveals that somehow her daughter Frances Bean turned out ok despite having her for a mother. She said that Frances has never kissed a guy or tried drugs, that she refuses to get involved with projects related to her late father, Kurt Cobain, and that she's a "square," a term Courtney uses with pride.
Courtney also claims that Gavin Rossdale sent her a diamond ring in 1996 after she had dated him for about eight months. She says she was hanging out doing chores for Edward Norton at the time, and that she got Norton to date her by tossing Rossdale's ring into the river. She seems to suggest that Rossdale would never have been with Gwen Stefani if she didn't dump him first. She states that she doesn't see Gwen Stefani as an "enemy or a problem," but clearly she does or she wouldn't phrase it that way:
Edward [Norton] was a tough one, too. It was about eight months of me pretty much going grocery shopping for him every day before we dated. Nobody knows this but I dated Gavin Rossdale for eight months and on Valentine's Day 1996 or '7 I did not go and see Bush play in Little Rock, Arkansas. Me and Edward were in Memphis and I got sent a pretty diamond ring from Gavin. Not an engagement ring but it was… something. I said to Edward, "If I throw this ring that Gavin. Not an engagement ring but it was.. something. I said to Edward, "If I throw this ring that Gavin gave me into the Mississippi river, do you think that we'll go out?" He turned to me and said, "There's a slim chance… But if you do not throw it in the river there is no chance."

So you did it? "Of course I did it. Gavin is such a gentleman. Nobody gives him credit, but he didn't kiss Gwen Stefani until the next day that I didn't show up in Little Rock. Isn't that a sweet story? I adore Gavin. I miss him, actually. That's one person who's not in my life now because he's married to Gwen and whatever. I don't consider Gwen an enemy or a problem, she's just… It is what it is."
[From Pop Magazine print edition, Winter 2006]
Courtney goes on to tell some pointless story about how she told Gwen Stefani that she would write lyrics for her the one time she met her by accident at a studio or something. Somehow Courtney was nude sitting there with a woman in her panties when she met Gwen, but supposedly they weren't doing anything sexual with each other. I didn't really get it.
Courtney said Mel Gibson got her to go to rehab by camping outside her hotel room, and claims she knew that Gibson would get busted for DUI before it happened.
She attributes all her success in life to Buddhist chanting, and says that all the successful people she knows are spiritual.
She was in a rough relationship with Steve Coogan when this interview was given, but has since broken up with him. She tried to "save" him, but says that she "cannot have people that take drugs in my life." She was also linked with comic Russell Brand recently, but claims they're just friends after meeting up one night.