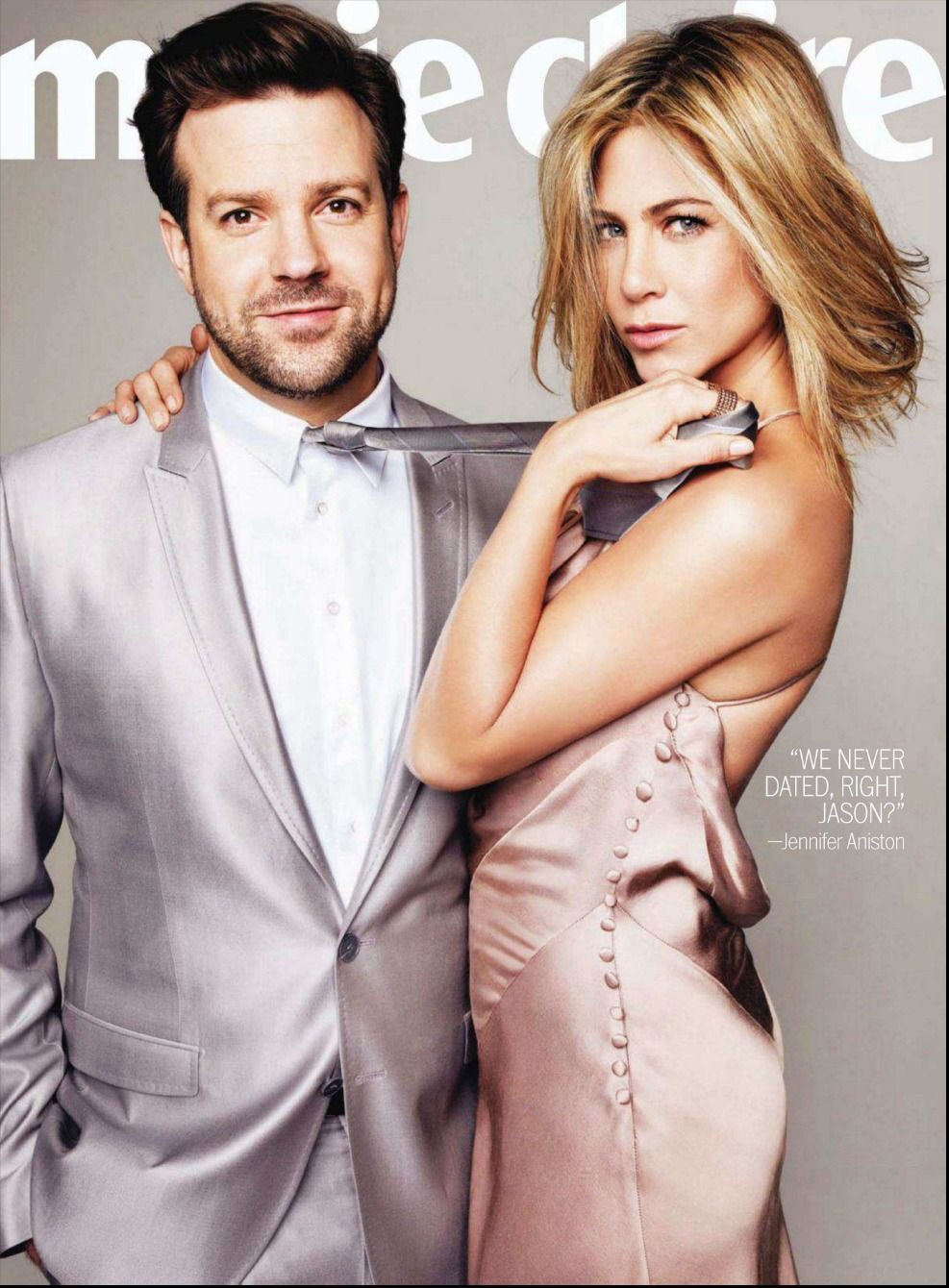 One of the biggest criticisms launched at Jennifer Aniston is that she almost always plays the same character, or the same kind of "Rachel Green/good girl" in strikingly similar romantic comedies. In most of her films, she always has a California tan, her hair is (almost always) perfectly highlighted, her costumes are always cute and there are always scarves and sleeveless pieces to show off her toned arms. Many of her roles blend together. But perhaps that's the point? Aniston has her brand – a brand which involves looking cute and playing cute. Would it be nice to see her play a different kind of character? Sure. But I also wonder if she's capable of it as an actress. So what do you make of this news – Aniston is in talks to play "the wife" in a comedy with Jason Sudeikis. But not just "the wife" – Aniston would be playing a hooker-slash-fake-wife. Epic?
Jennifer Aniston and Jason Sudeikis are in talks with New Line to reunite for the studio's long-gestating comedy We're the Millers. Rawson Marshall Thurber is attached to direct.

The dysfunctional family road-trip movie originated with Wedding Crashers writers Steve Faber and Bob Fisher but has since seen a rotating mix of writers, directors and actors attached since it was first picked up in 2002. Millers centers on a drug dealer who creates a fake family to help him pull off one last job that entails bringing 1,400 pounds of marijuana from Mexico into the U.S.

Aniston has had an offer in hand for a few weeks, but negotiations have yet to produce a commitment. The greenlight likely is dependent on her deal closing.

Aniston most recently starred in the Universal comedy Wanderlust and the New Line comedy Horrible Bosses, which also featured Sudeikis. The actors, both repped by CAA and Brillstein Entertainment, also appeared together in The Bounty Hunter for Sony.

Sudeikis also co-starred in the New Line comedies Hall Pass and Going the Distance. He stars opposite Will Ferrell and Zach Galifianakis in The Campaign, which Warner Bros. will release in August.
[From The Hollywood Reporter]
So from what I gather, Aniston's character is a hooker who gets hired by Jason's drug dealer character to pretend to be his wife? Aniston was just a "pretend wife" in Just Go With It last year! So… it sounds like more of the same with that angle. That being said, I'd like to see Aniston pull off some trashy hooker stuff. Like, I'm already envisioning her costume demands. Do hookers wear scarves and wedges? That's what Aniston will be asking.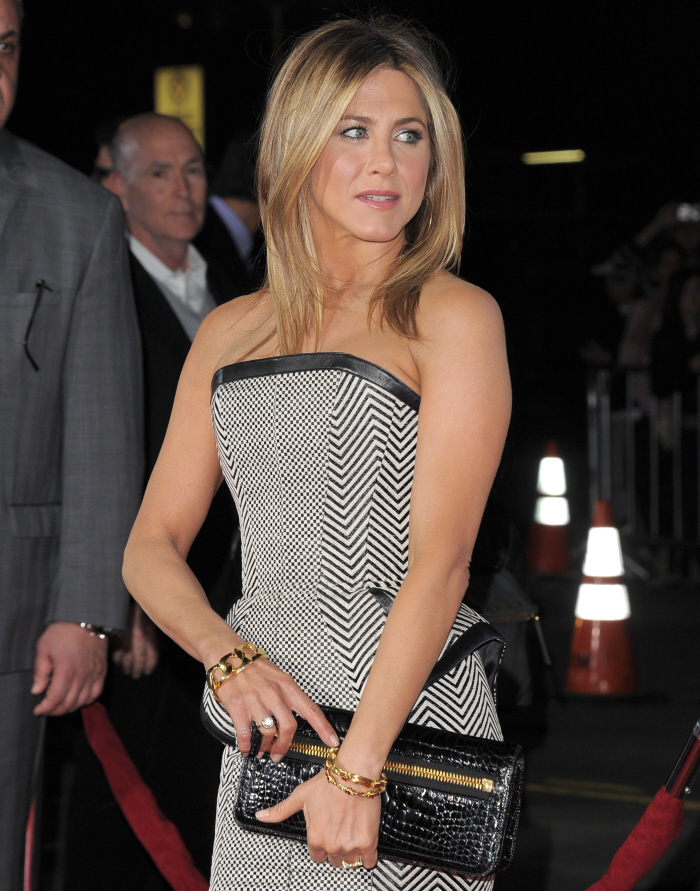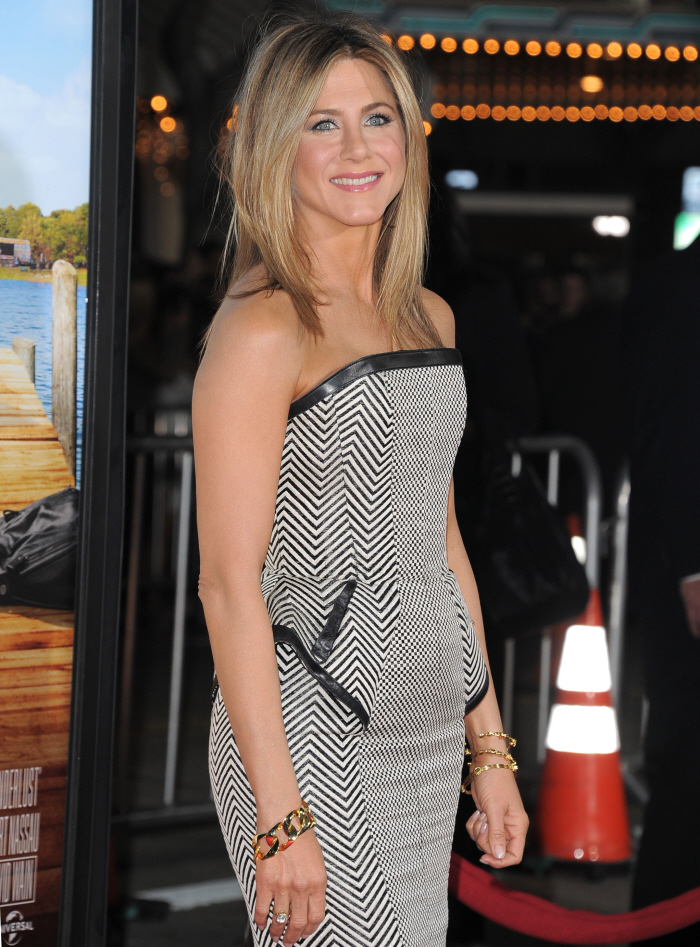 Photos courtesy of WENN.