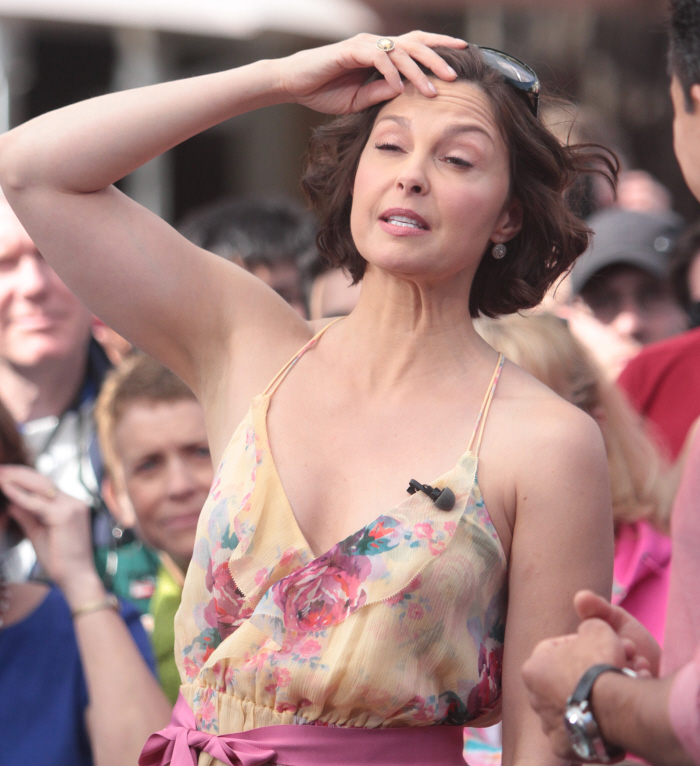 Here are some new photos of Ashley Judd yesterday, filming a segment for Extra. I'm sure she's promoting Missing, but at this point, hardly anyone is talking about her show. Everyone is talking about "the puffy-face controversy" because Ashley is still talking about it too. As we previewed yesterday, Ashley gave an interview to NBC to further explain her face and excoriate her critics, just as she did in her Daily Beast essay. Interestingly enough, Ashley continues to shill her flawed (in my opinion) argument, which amounts to "People said mean things about me, and that makes them misogynists."
Once again, I think Ashley is simply angry that people said mean things about her, and that they say harsh things about women – not that women are judged on their appearances in general. Ashley's point is NOT "We should not say things about a woman's appearance, good or bad, because a woman should be judged on her mind." Ashley's point is "People shouldn't say mean things about my appearance in particular because it's anti-woman to notice when I have a puffy face." It's absolutely fine with her if you want to compliment her "flawless skin" (her words) or say that she looks pretty.
Visit msnbc.com for breaking news, world news, and news about the economy
Visit msnbc.com for breaking news, world news, and news about the economy
In the new interview, Ashley claims, "I think it's hatred of women that invites the criticism… I think it's the objectification of girls and women and this hypersexualization of our society that invites the criticism." Hypersexualization? In my opinion, that's a separate argument. Our society does hypersexualize women, and it's especially creepy when young girls are hypersexualized. But I don't understand the point here, with Judd. Is she saying that our culture is so sexualized that we don't put worth in a woman if we don't deem her "sexy"? Valid and interesting point, but is that what she's saying? Or is it that a once-beautiful Hollywood starlet, who relied and profited from her beauty and her "sexiness" for years and years, had never before had her appearance criticized?
Judd continues, "It doesn't have anything to do with me, really, and how I look… There was no presumption of goodwill. The conversation went straight to, 'Oh my gosh.' [There was a] nasty, vitriolic and gloating tone. I started to catch the double bind where, you know, my face looks puffy, 'She's had work,' you know? And then, look at the same image in a different interpretation by a separate set of people is, 'Oh, come on, she doesn't even have any wrinkles at all, she's clearly had work.' So, I look bad, I've had work. I look too good, I've had work." Except that no one was saying she looked "too good"! Sorry. That amused me. But really, no one was like, "She looks awesome, she must have had work done." People only talked about the "puffy face" because she did look so noticeably different.
The worst part of Judd's flawed argument (once again, in my opinion) was the part where she talks about how women try to "fix" their appearances and the cycle of seeking self-worth in beauty products and exercise equipment. This, coming from a woman who had a long-standing contract with Estee Lauder. At the very least, if you consider Ashley's argument to be valid and without flaws, you have to admit that she was actively engaged with and profiting from this misogynistic system (that she's now blasting) for years.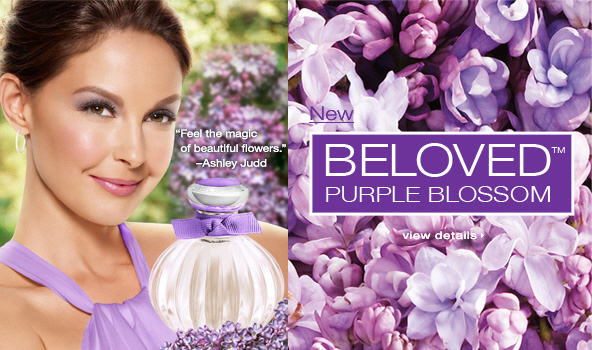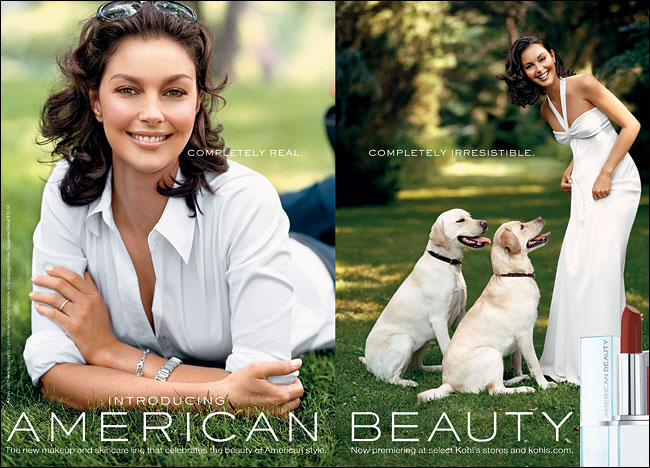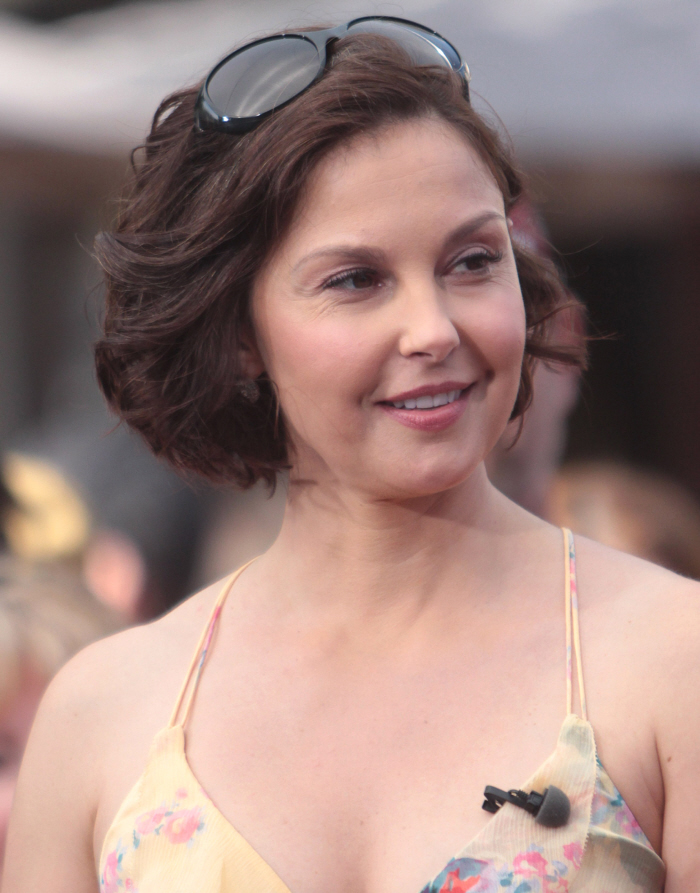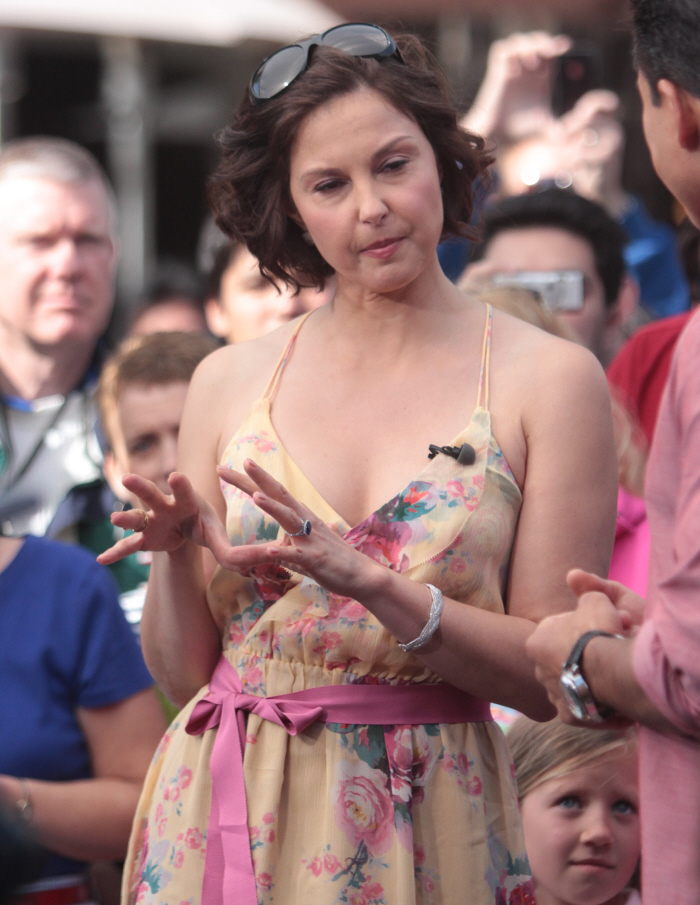 Photos courtesy of WENN.