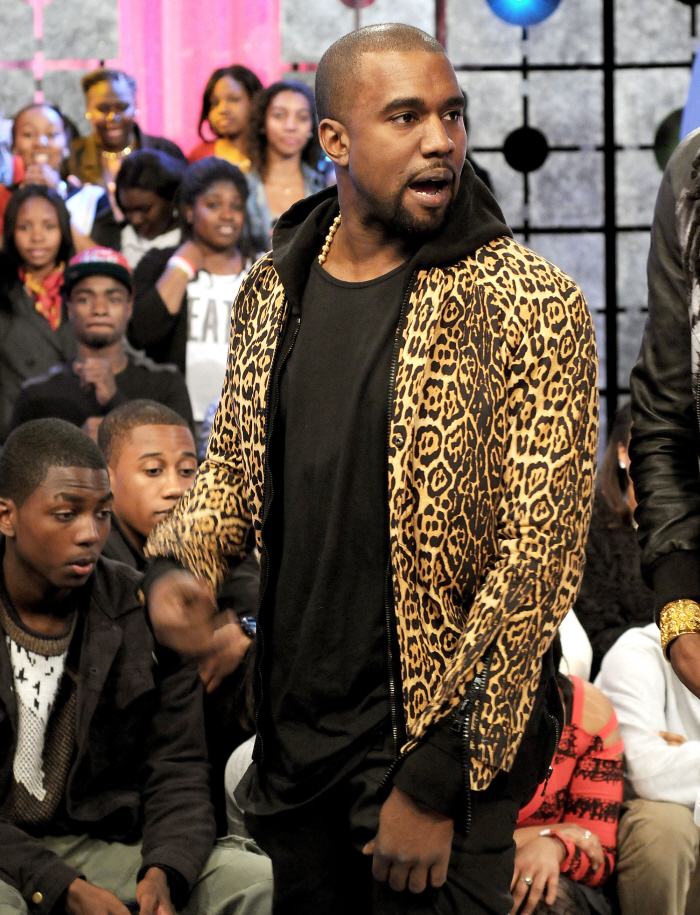 I just read a really wonderful piece in The Atlantic. I thought it was going to be about Pres. Obama and his pop-culture politics, but as it turns out, the piece is entirely about Kanye West, and how Kanye became Kanye, and what a brilliant, crazy, screwed-up mess of a man he is. I seriously can't recommend this "think piece" on Kanye enough – go here to read the complete essay. I know people are only going to concentrate on the Pres. Obama part of it, but the whole thesis – that Kanye is a brilliant artist, an "American Mozart" as well as some kind of damaged, tortured, egomaniacal monster – holds up completely. Here's the Pres. Obama part:
So here is the president of the United States, enjoying canapés and small talk at Daniel, chef Daniel Boulud's gourmet restaurant just off Park Avenue, with the right touch of upscale-whorehouse decor and enough Alice Waters in the kitchen to make it the place where every Wall Street guy takes his wife on bonus night… I get my chance to ask him the question of the moment, the question that everyone who has bought the album or spent $150 on a concert ticket wants answered. "I have a question I want to ask you, Mr. President," I venture, once I catch his attention.

"Sure," the president says.

"Kanye or Jay-Z?"

The president smiles. "Jay-Z," he says, as if the answer should be obvious. When it comes to the most meaningful pop-cultural divide of the moment, the question of whether you prefer Kanye West or Jay-Z—the top two hip-hop artists in the world, who recently joined forces for a national mega-tour called Watch the Throne—Barack Obama is clearly a Jay-Z guy. Jay-Z is about control. Jay-Z is about success. He's a natural-born leader. He is married to Beyoncé Knowles, the gorgeous, sugar-spun R&B star who recently joined with Michelle Obama in a public campaign against the epidemic of childhood obesity. Together, Jay and Beyoncé are worth something close to $1 billion. Jay-Z fills arenas and enunciates clearly—unlike Kanye West, who jumps onstage and interrupts during award ceremonies, cries on talk shows, and jets off to Rome to apprentice with the House of Fendi. Besides, the president's smile says, we are at a fund-raiser in New York, which is Jay-Z's hometown.

"Although I like Kanye," Obama continues, with an easy smile. "He's a Chicago guy. Smart. He's very talented." He is displaying his larger awareness of the question, looking relaxed, cerebral but friendly, alive to the moment, waiting for me to get to the heart of the matter.

"Even though you called him a jackass?," I ask.

"He is a jackass," Obama says, in his likable and perfectly balanced modern-professorial voice. "But he's talented." The president gives a wink, poses for a few more pictures, and then glides away to meet with the rich Manhattan lawyers in the other room, leaving behind a verdict that he intended to be funny, and also entirely deliberate: even before an audience of one, the leader of the free world is still not letting Kanye West off the hook.

Whatever you think of the many controversies he has ignited, you must admit that Kanye West is at least some kind of musical genius, ranking among the top five producers and the top five rappers of the past decade. (His singing, by contrast, is kind of a joke.) Every one of his five solo albums has gone platinum, and he has sold 30 million digital downloads of his songs, to become one of the most downloaded musical artists of all time. He has won 18 Grammys—the most of any artist in the past 10 years—while serving as a backpack-wearing icon of black nerd chic. Kanye's power resides in his wild creativity and expressiveness, his mastery of form, and his deep and uncompromising attachment to a self-made aesthetic that he expresses through means that are entirely of the moment: rap music, digital downloads, fashion, Twitter, blogs, live streaming video. He is the first true genius of the iPhone era, the Mozart of contemporary American music, intent on using his creative and emotional gifts to express the heartbreaks and fantasies of his audience.

In addition, though, Kanye West is, according to the president of the United States—the first black president of the United States—a "jackass," a narcissistic monster who tore a massive hole of self-regard in the American cultural quilt.
[From The Atlantic]
I kind of love that Pres. Obama is holding on to his "he's a jackass" statement. Remember – Obama has daughters who presumably listen to and have opinions on Taylor Swift. That was why he said something in the first place, back in 2009. While Obama threw in some compliments too, you've got to think that Kanye might have a good cry about this – or would he? Is Kanye the kind of narcissistic monster who wouldn't even be bothered by the fact that the president of the United States has just called him a "jackass" AGAIN? Or would Kanye rage and weep and pour that energy into another album? That's the brilliance/disaster that is Kanye. I have no idea.
PS… After reading that piece, I'm even more convinced that this Kim Kardashian relationship is some kind of extreme performance art on Kanye's part.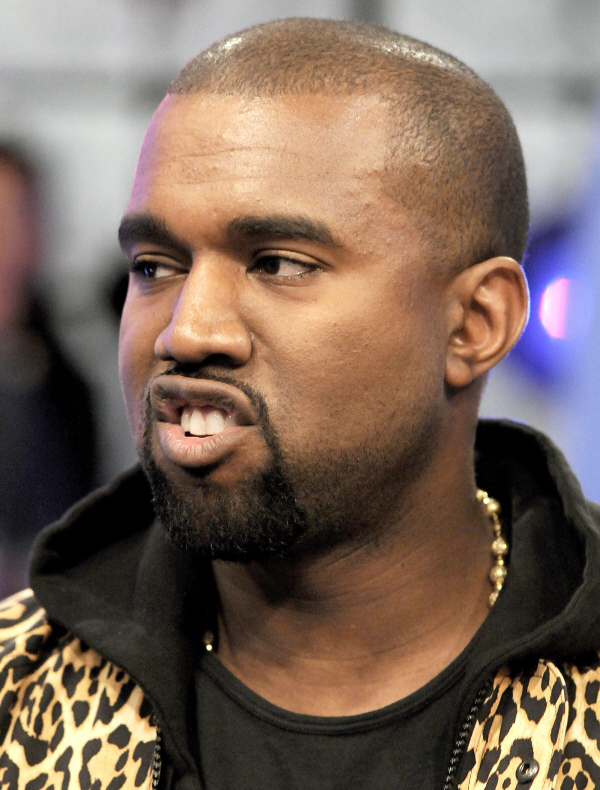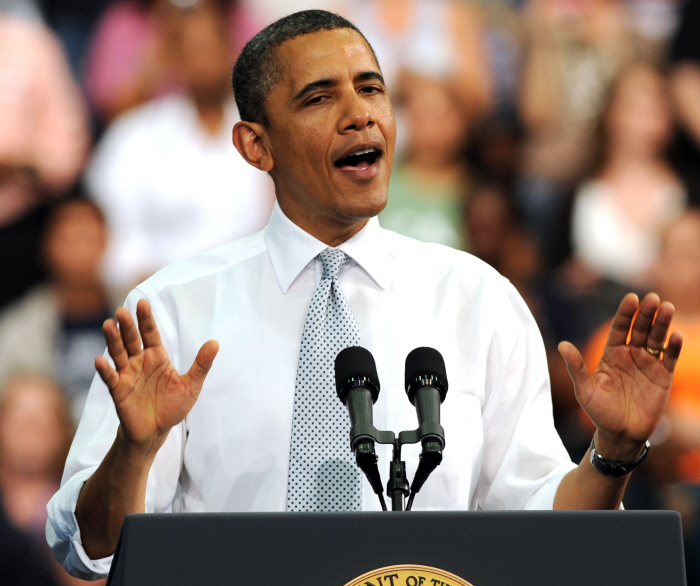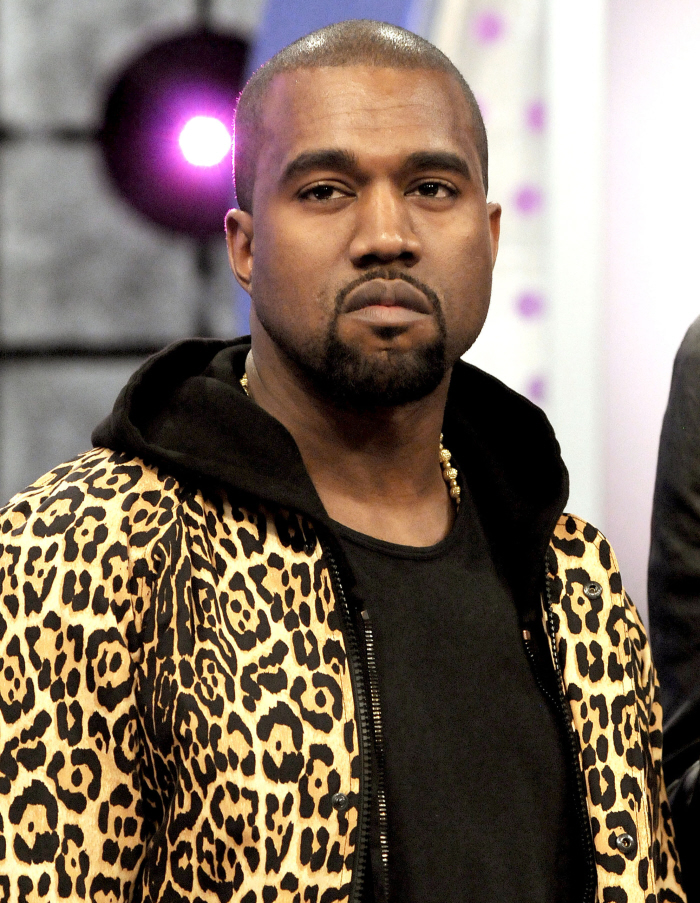 Photos courtesy of WENN.