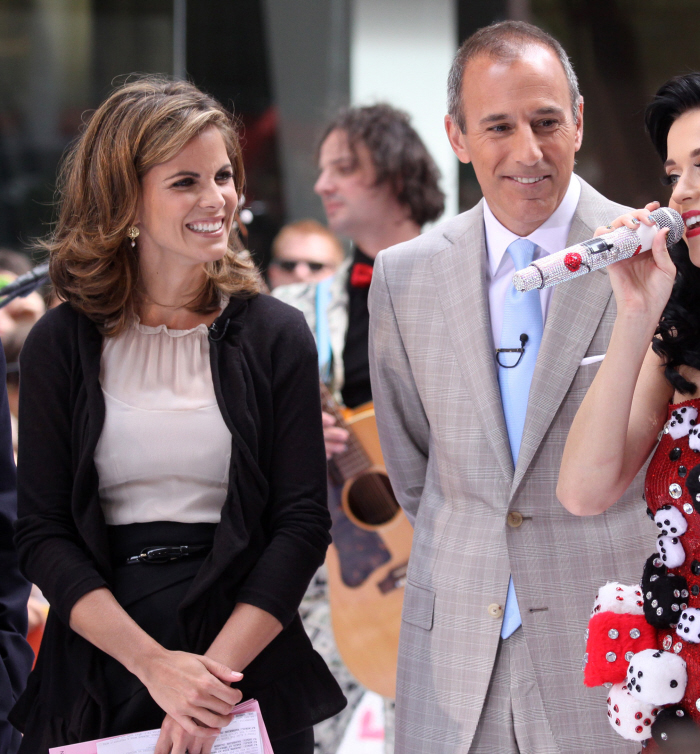 Honestly, I've heard the rumors about Matt Lauer's zipper problems before, but I never really believed them. Maybe Lauer's PR just works and I buy that he's a "nice guy." Maybe I just can't imagine Lauer being the kind of man who would end up in a bar, having drinks with an endless stream of beautiful, available women. It's not like I haven't written about the rumors before – I have. But for some reason, this is the story that I'm choosing to put my faith in. It's just SO juicy. It has to be true. It's like an off-shoot plot of Mad Men. This week, the Enquirer claims that dark forces are aligning against Matt Lauer. Lauer has just signed a huge new contract, and everyone thinks he's trying to get Ann Curry fired. So Curry's people, plus people on other networks are all trying to throw some mud at Lauer. Thus, this amazing story – Matt Lauer might have fathered Natalie Morales's youngest son. OMG!!!
Matt Lauer is caught up in an incredible shocking love child scandal! On the heels of Lauer signing a fabulous $25 million-a-year contract with NBC, insiders at competing networks ignited nasty and unbelievable rumors that the 54-year-old married newsman fathered a child with his news anchor Natalie Morales.

"I heard that Matt had an affair with Natalie, and he's the father of one of her kids," a rival network insider told The Enquirer. "Everyone's buzzing that the boy looks just like him."

Another industry source said: "The Matt Lauer love child scandal is the worst-kept-secret among the network morning shows. Everyone's talking about it – even at NBC. He's trying to get Ann Curry dumped as co-anchor, and those loyal to her also talking it up. Matt has enemies inside and outside the show's Studio 1A, and if he's got this giant skeleton in his closet, there are many who want to see it come out."

Lauer does have a tortured past, it seems. In 2006, Lauer's wife Annette – pregnant with their third child – filed for divorce before withdrawing the legal papers a month later. The divorce filing came while the rumors were surfacing that Matt had gotten involved with Morales during the Today Show coverage of the 2006 Winter Olympics in Torino, Italy.

"They got very close and became extremely fond of one another," a source told The Enquirer, "They saw each other when they returned to the US."

Two years later, the rumors again began flying when Morales announced she was 12 weeks pregnant by husband Joe Rhodes.

"There was unbelievable talk that Matt could be the father of her baby!" revealed another show source. Incredibly, when we gave Rhodes the opportunity to shoot down allegations that his wife was involved with Matt, he did not deny them to The Enquirer.

And Annette's fears about Matt's roving eye are well-grounded. Sources told The Enquirer that Lauer carried on with Jessica Thorman, a married Florida woman, until just months before his 1998 wedding to Annette. Jessica's husband Zoltan Molnar accused Lauer of wrecking their marriage, stating, "He's not the goody-goody nice guy he looks like on TV!"

Sources say Matt is determined to have Ann Curry replaced with a bigger "name". A rival network source says, "The morning show competition has never been hotter and Matt is the reigning king. Everyone wants to see him get knocked off his pedestal, and that's why these outrageous baby daddy rumors have resurfaced."

Morales remains part of the Today Show team, and she said recently that she still manages to cook dinner every night for her investment banker husband and their two sons, Josh and Luke. Meanwhile, Lauer just bough 40 acres of land in the Hamptons so he and his wife can extend their property into a horse farm. The network source says, "I think he's trying to keep Annette happy after years of causing her misery."
[From The Enquirer, print edition]
This story goes a long way towards explaining that situation in 2006 when Annette filed for divorce – someone might have told her that Lauer was having some torrid Turino love with Natalie. And when Lauer and Morales came back to NYC, their affair continued until she got pregnant with her youngest son, Luke? Of course, we have no idea if any of this is true, and we'll probably never know. But now I'm going to watch Today and look for the hidden, long-buried sexual tensions.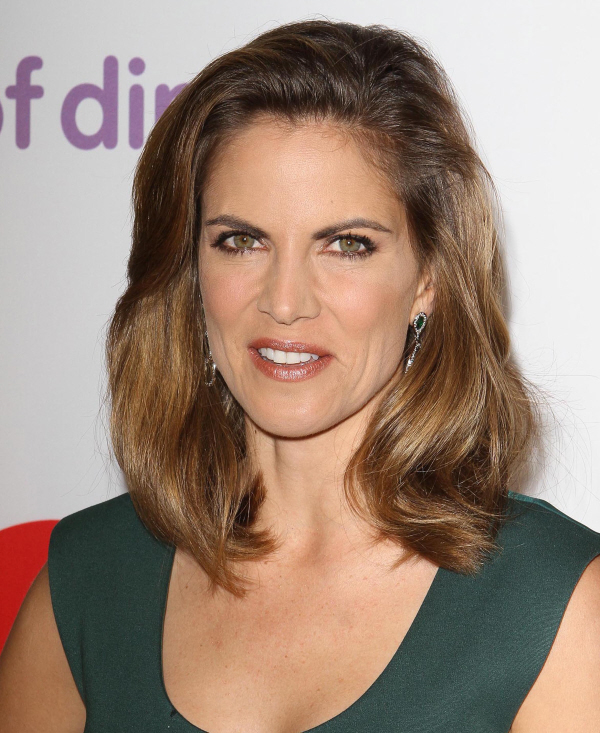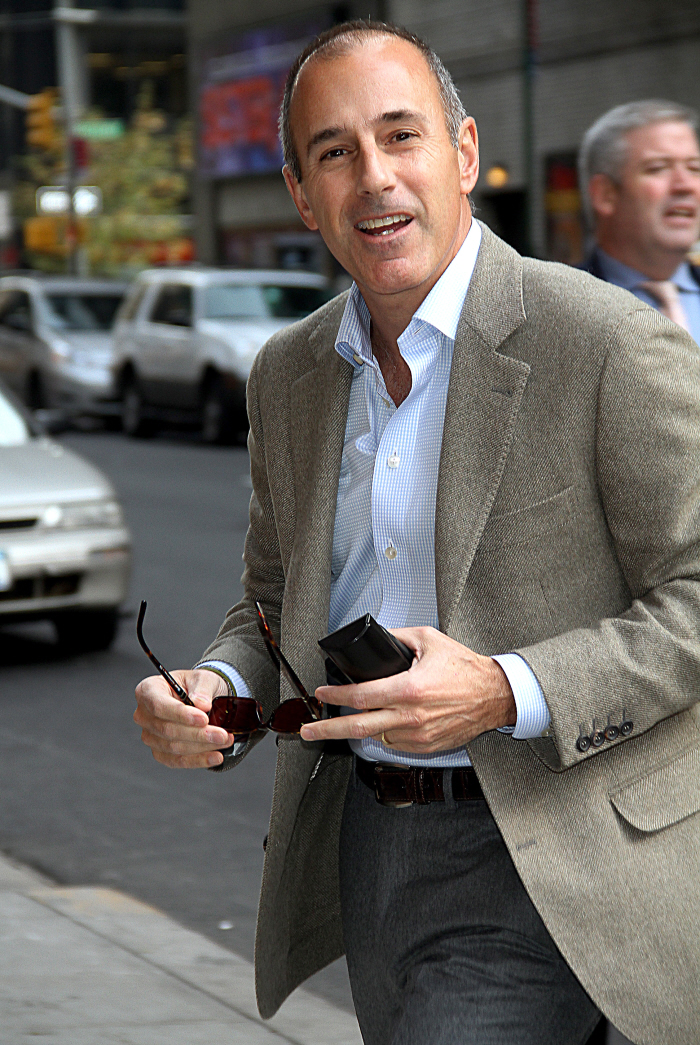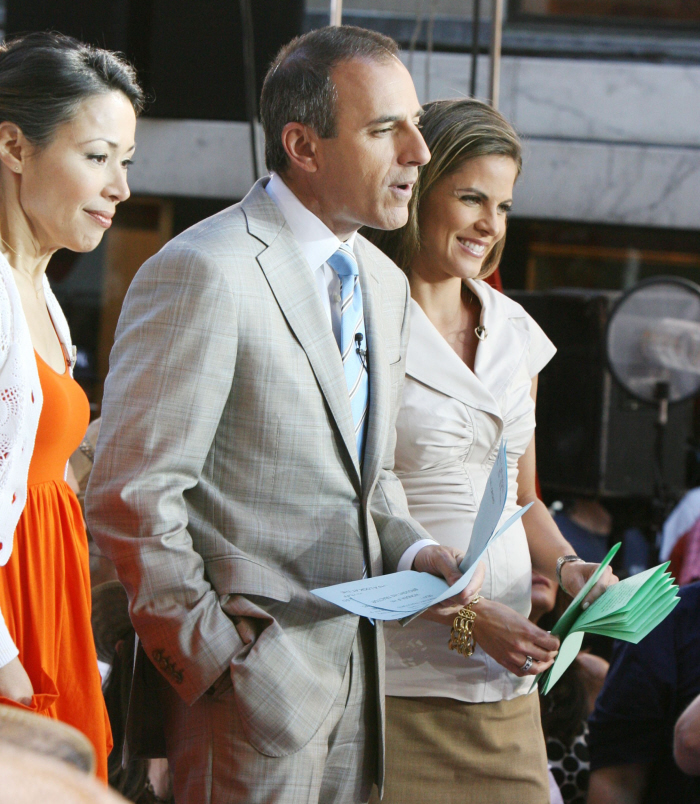 Photos courtesy of WENN.