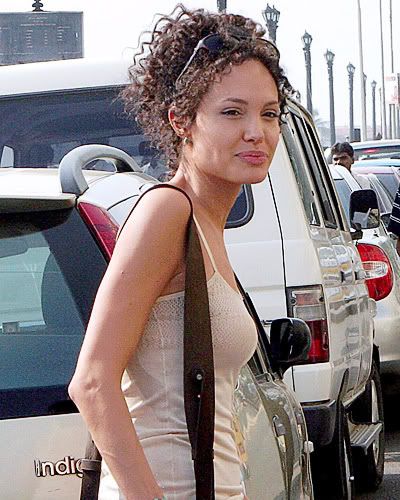 I don't really believe this at all, but I could see how other people would considering that this is the woman who proudly wore a vial of her lover's blood around her neck.
There's a story in the latest Life and Style that Angelina has forbid Brad from talking to his ex, Jennifer Aniston, after Aniston reached out to him to work together. Aniston was said to have talked to Gwyneth Paltrow while she was in London trying to make it seem as if her relationship with Vince Vaughn wasn't completely over. Paltrow told Aniston how great it was to work with Pitt, and since Aniston's career is shit now she was supposedly convinced to contact Brad to collaborate again through their Plan B production company.
It all smells like bullshit to me, but now there's an hilarious story that Angelina is casting little creepy spells on Brad to keep him in her skinny clutches. The source is some voodoo expert who just knows this is happening:
The Mr and Mrs Smith stars reportedly turned into real-life couple during the film's shooting – the period when Pitt was still married to Aniston. Later the actor dumped his wife for the puffy-lipped siren and went on to father her adopted kids. The stars also became proud parents of their first biological child, daughter Shilouh Nouvel Jolie-Pitt.

And according to a leading voodoo expert, Doctor Snake, Jolie has allegedly put a magical spell on Pitt to forbid him from rekindling his relationship with the former Friends beauty.

"That vial sounds suspiciously like a voodoo 'mojo hand', or magical charm", said the author of cult best-seller "Voodoo Spellbook" to Softpedia.

Snake is skeptical that the charm is for warding off accidents, as voodoo spells using ingredients from bats are normally used as he says in the workings of a black magic love spell.
"One dark voodoo spell uses Bat's Heart Incense, which is burnt to break up a love affair or marriage", The Post Chronicle quoted the Doctor, as saying.
And there's an earlier story from this same voodoo expert that says that's how Angelina got Brad in the first place. I'm sure it had nothing to do with the fact that she's drop dead gorgeous and smart.
Header image from MSN.