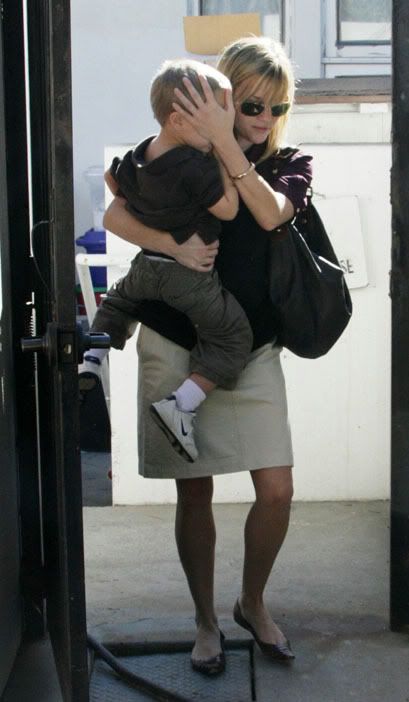 There's this story that Reese Witherspoon was crying to Renee Zellwegger over her salad at Wolfgang Puck's Beverly Hills restaurant. Bruce Willis also happened to be there and tried to cheer them up. He seems to have succeeded and Reese Renee left with him!
A downtrodden Reese Witherspoon turned to some big Hollywood shoulders, Renee Zellweger and Bruce Willis, for some solace last Friday night. A TMZ spy spotted Reese dining – or, rather, stabbing disaffectedly at a salad – at Wolfgang Puck's latest celebriteria CUT in Beverly HIlls on Friday night.

Reese looked groggy and sad, says our eyes on the scene, and Renee patted her on the shoulders and consoled her, while trying to keep things as uplifting as possible. Then, Bruce ditched his dinner companions to come over and talk to the two southern belles for about 45 minutes. Even Wolfgang himself got in on the lovefest, sauntering over to gladhand the trio. Curiously, after the meal, Renee took the chance to catwalk her way through the middle of the restaurant with hips in full swing, and left, as our cameras observed, with Willis.
They left a restaurant together, not a bar or a club at 2:00 am, so it's possible they just headed out for a drink and then went home separately. Given that it's Reese not Britney, that's the most likely outcome.
Reese was photographed with her children leaving church on Sunday, making it even more likely that her meeting with Willis was completely platonic.
Update: Thanks to commentor Iscatonic who points out that Renee left with Willis, not Reese. Ah well. Hopefully Renee got a little action that night.
Also, let me add some more to this story, because it's pretty thin as it is. Life and Style reports in its latest issue that Reese's estranged husband Ryan Phillippe had been cheating on her for a while with various women and that Reese put up with it for the sake of appearances and their children. When she found the poisoned Blackberry with messages to Abbie Cornish that was the last straw as Ryan seemed to want to get caught by so obviously dating his costar.
Header picture [via]